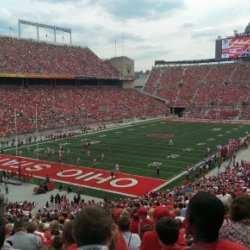 bucks4life0214
---
MEMBER SINCE September 07, 2015
Born n raised in Columbus and I BLEED SCARLET AND GREY!.
Favorites
SPORTS MOMENT: Getting Paul O'Neil's autograph at a clippers Yankees games when I was 9. Amazing experience!
COLLEGE FOOTBALL PLAYER: J.t. Barrett
NFL TEAM: Steelers
NBA TEAM: Sixers
MLB TEAM: Reds
Recent Activity
this is a political issue...maybe don't post something like this then??? Idk?
how is it a conspiracy when it was the DOCTORS who were saying it??? Are you dense? And lets be honest, 130,000 deaths out of 330,000,000 MILLION people in this country is nothing....how is a virus with a .0003 death rate dangerous???
Comment removed for violating the site's commenting policy.
guys like Kaleb usually become specialist type players in the NBA. You would normally use a guy like Kaleb for rebounding, or defense...his ability to shoot the three will help him, but that's all he has to offer. I could see a contending team drafting him, but not a team in rebuilding mode. Kaleb reminds me alot of Dejuan Blair from Pitt. Solid low post game, but not much else in the way of a mid range game, or atheltism. Blair hasn't been in the league in years. Maybe Kalebs career could be different. Good luck, and I wish you the best! Go Bucks!!
Why hasnt Gaffney seen the floor much? Wasnt he a pretty highly touted recruit coming out of high school?
YOU GTA GO UP STRONG ANDRE!!! JESUS!!!!
Wow.
Well well Andre bout time..
Just getting bullied right now
Go up strong Andre damn
How in the heck did Illinois allow him to get away?? Lol glad they did! Hes going to be a great player in the years to come
Great start! Let's keep it going!
Finally! Now let's go!!!
https://giphy.com/gifs/bizarrre-XuLXZa0PJNiV2
Andre Wesson is a waste of a scholarship
Oof.....
Fans like you infuriate me..what do you want? A so so middle of the pack program? Or a winning program? Let's start there
The OSU Basketball program needs to think about what it wants to be..does it want to be a middle tier big ten team that finishes middle of the road, maybe wins a conference tourney here and there, or a couple NCAA tourney wins...or does it want to become a top tier basketball program that can compete with the higher ups of cbb. They have the resources to be able to do it, they just need to make a decision on which route they want to take...I'd like to see them compete for a title..maybe not "every" year...but be what they were like during Mattas first 5-7 years...competing for big ten titles, and making deep tourney runs...so far, I'm not sure Holtmann is the guy that is going to get them to that level..recruiting has been so so..big ten play seems to get the better of his offensive style, and he doesn't seem to have the answers..getting blown out by a bottom feeder like this today was embarrassing..
Cant see Holtmann being here if he does nothing next year..these past two seasons have really said alot about him when it comes to playing in the Big Ten.
Maybe Carton was dealing with mental problems....or maybe he saw the writing on the wall.
Embarrassing. And theres nobody coming in next year to save it either
Amir never even progressed to regress
Anyone know why Potter left??
What's with the DVs??
He was a Role Model to many kids growing up with basketball aspirations..I'm not devastated by it although I did shed a little tear...i did the same when Robin William's died...idk man it's kind of like they were a part of your life in a weird way..I loved Robin's movies, and loved watching Kobe play..death in general isn't pleasant...your immediate reaction is to feel some kind of remorse for the fallen..that's my two cents on it anyways