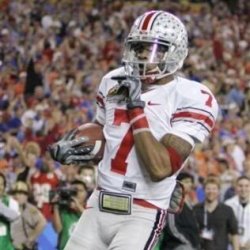 Bucks2TheNatty
---
Member since 24 August 2016 | Blog
Favorites
SPORTS MOMENT: 2015 National Championship
COLLEGE FOOTBALL PLAYER: Ted Ginn Jr.
NFL TEAM: Cincinnati Bengals
NBA TEAM: Cleveland Cavaliers
MLB TEAM: Cincinnati Reds
SOCCER TEAM: Manchester United
Recent Activity
Holtmann should be national coach of the year.
A lot of my ranking was about how much shit I had to hear from the SEC mouth breathers I interact with on a daily basis and how strong my comebacks were that could shut them the hell up.
2014: National Champs. Clear #1.
2012: Ohio State Football Is Back Baby!
BIG GAP
2015: The most talented team of my lifetime. Season was frustrating as hell, but the last 2 games were fun.
2017: Damn You Iowa bastards.
2013: Braxton was just so much fun to watch.
2016: This is the season we made Penn State relevant again and got our asses kicked by Clemson. That's enough to outweigh the awesomeness of the "Basic Defense" game and "The Game". Just a dreadful feeling.
Yeah I thought you were talking about THE Chase as in Chase Young. Yeah I'm pumped about him as well.
Yes I know Wiscy was ranked higher than Penn State, but in an 8 team playoff I think the committee gives Penn State the nod.
GTFO if you would have been against having 2 more games like the Rose Bowl last night. I mean seriously who would be against these 4 games: Clemson/ UCF, Oklahoma/ USC, Georgia/ Penn State, and Ohio State/ Alabama. How could you honestly sit back and say that would not be fun as hell?
LOL at the people who think Michigan is simply a QB away from being relevant again.
Moreno would be a great get for Holtmann. As someone who lives in KY I've seen a lot of Moreno and he's legit. Can play multiple positions. Would be cool to see him in the scarlet and grey.
I know the 2006 season didn't end the way we all wanted to, but that not only was my favorite Buckeye team to not win it all, that was my favorite Buckeye team of my lifetime. I loved that team. Ted Ginn is my all time favorite Buckeye. Heisman winner Troy Smith. The Game that year was epic. I love that team. I still believe there was not as big of a gap between us and Florida as we showed in that game.
Oklahoma actually just signed on with Jordan and they too have alternate uniforms they wear 1-2 times a years.
I feel like I'm the only Buckeye fan who actually likes Baker Mayfield. The guy plays with an edge for sure, but damn could you imagine him on this OSU team? Good lord. I'm a Bengals fan and I want us to draft him. He's the guy that opposing teams hate, but if he's on your team he's the greatest thing in the world.
If you do get ahold of it, check YouTube. There are a couple videos you can watch that walk you through how to download current rosters with every name for every player on every team. I still play NCAA 14 exclusively. It is way better than the new Madden games.
In Larry Johnson I Trust. Work your magic.
Well shit. Best of luck to Cox. Also for any of you assholes looking to comment on Cox's post, DON'T PRESS SEND!
Come on man this is ridiculous. Why would Emory even commit to OSU in the first place if he didn't want to be here? He may be interested in other places as well, but it's clear the dude wants to play at OSU and he's just making sure it's the right fit for him all around. To act as though he's only interested in OSU because other places don't want him as bad as OSU does is ridiculous. No one forced him to commit so early in the process. He loves Ohio State.
I think our backup plan has been Adrian Martinez for a couple of weeks now. I think he'd already be a Buckeye if not for Emory.
This is the BOOM this team and fan base needed to get us fired up again! Let's Go Bucks!!!
I think most of the criticism of Zeke from those on here has been the other stuff like the partying, pulling a girls top down, and just overall immaturity. But with regards to the domestic violence allegation it appears to me at least as though Zeke was set up and the only thing he is guilty of is bad taste in women. I think you read to much into my word choice. I just don't think we should be quick to judge Anderson and make him guilty in the eyes of public opinion before we see any evidence which is the same thing we wanted for Zeke. Obviously if there is substance to these allegations and they are extremely serious and Anderson needs to be dealt with accordingly.
This is not what I've heard. I'd say well over 50% of the non OSU fans I talk to think Zeke is guilty.
I mean virtually everyone on here including myself, believe Zeke's side of the story while a large percentage of the country does not. To me that's called giving a pass to Zeke because he's our guy and we know he believe he did nothing wrong because nothing we have seen would lead us to believe otherwise. We need to give that same respect and due process to Rodney Anderson in this case. I think it's the fair and correct thing to do.
Let us not throw stones in a glass house. We all gave Zeke a pass because he was our guy, let's not be hypocrites here and not give Anderson a pass as well.
Fuck no. We made the playoffs last year because we had the balls to play Oklahoma in Norman. It's a lot better than loading your schedule with MAC schools.
That's the risk you take. I would rather play OU and lose then play a schedule filled with MAC schools.
Kits? I'm sorry this is America, they are called uniforms. Haha
Yeah Texas doesn't need a QB they are starting a freshmen this year and when he's upright he has played well. Except for that bonehead play against Oklahoma State.