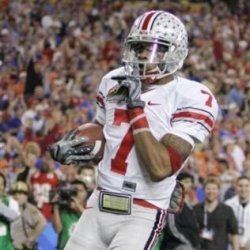 Bucks2TheNatty
---
MEMBER SINCE August 24, 2016
Favorites
SPORTS MOMENT: 2015 National Championship
COLLEGE FOOTBALL PLAYER: Ted Ginn Jr.
NFL TEAM: Cincinnati Bengals
NBA TEAM: Cleveland Cavaliers
MLB TEAM: Cincinnati Reds
SOCCER TEAM: Manchester United
Recent Activity
Ironically enough, Burrow was indeed coached by Tim Beck...
Honestly I feel like we are getting robbed of a much better game. This ones over, but if the refs make the correct calls it wouldn't be 21-0. I hate TTUN as much as the next guy, but this game doesn't feel right.
Because they have a horrifically bad OC and Jake Fromm is mediocre.
After seeing 2014 Florida State and 2015 Ohio State I'm not sure why anyone would prescribe to this philosophy. It's lunacy.
I believe this is going to be the biggest trend with fans on here as the season progresses. These are clearly the top guys on the team. Hartline isn't going to be able to keep them off the field.
More quick passes will open up the run game and the deep pass game. They are giving us everything underneath. Also our best receivers are Olave and Wilson. They are making the plays Mack and Victor aren't.
Can we run some of those crossers we saw all the time with Campbell last year. That'd be great.
His receivers need to show the ability to make those plays on a consistent basis and they aren't right now
NPF getting destroyed so far tonight.
I've been in a week long argument with a guy about how Joel Klatt is the best analyst in college football. He is adamant that Klatt is as biased towards Ohio State and the Big 10 as Finebaum is towards the SEC. Essentially his argument is that he has Ohio State at 1 and hasn't said a bad word about them all year. To which I replied, what could he say negative about OSU this year?
I've been saying it for years that Wisconsin is the most under appreciated team in college football. I believe the National perception is that LSU, Auburn, and even Florida have accomplished more than Wisconsin has in the past 5 years or hell even 10 years and it's simply not true. They always want to argue well if they played LSUs schedule they wouldn't be as good. That's bullshit because we have no idea. We can only judge based on what happened on the field and who they have beaten.
Of course he said that. But I ignore the egregious bullshit and decided to only bring up the regular bullshit.
That was my point. It's completely irrelevant to 2019.
1) Penn State
2) Wisconsin
3) LSU
4) Auburn
The whole debate was about narratives and bias. The guy I was debating kept saying if LSU loses to Bama they should still be ranked high because of who they lost to and they've proven over the years to be a contender. I wasn't even going to try to argue that point because it's ludicrous, I just simply said would you give the same respect to Wisconsin and Penn State if they lose to Ohio State? He said no. My point was why would you not keep those 2 schools highly ranked when they've been as good or better over the past 5 years as LSU. I only included Auburn because he went down the typical SEC rabbit hole of talking about depth of great teams and named Auburn as the 4th best SEC school over the past 5 years.
For those that have 4 ahead of 1, why? Just curious. Part of my argument is 4 doesn't even belong with the other 3.
I agree. I only included it because that was a point that kept coming up as to why 3 should be first.
With all due respect, you're wrong.
If it was just the hair. You may have a point. But there's so much else racist with this letter.
There's a player on Penn State with a mullet. He didn't receive a letter. I wonder why?
The dreadlocks part was maybe only the second most racist thing he said. The part about Miami and Florida State was also extremely racist.
"Of course I understand African American culture, I've been to Africa and met with REAL Africans."
This is what I expect to come out of this guys mouth.
I will never understand why people are so adamant about defending noon games. Just stop trying. It's an undeniable fact that the atmospheres are better under the lights. The fans love it, the players love it, recruits love it. Noon football games are bad for the Ohio State brand. This includes The Game. It's the biggest game in the sport year after year and it's given a small stage to perform on year after year. That game should be played at 7:30 under the lights of the Horseshoe or the Big House every single year. It's absolutely ridiculous that it's not. Hell I want every game to be played under the lights I don't care if it's FAU, Wisconsin, or TTUN. It's just a much better atmosphere and football looks better under the lights.
I hate the idea that fans have to know how certain rules are interpreted. The rules of football aren't complicated. In fact the majority penalties are self explanatory in the name of the penalty itself. It doesn't take a damn rocket scientist to understand how illegal hands to the face is interpreted. Did you put your hands in the lineman's face or not? Simple. It's not a judgment call, it's black and white. Make the correct damn call.