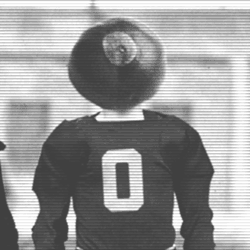 bucks22
OH (via Westerville)
MEMBER SINCE July 02, 2013
Born and raised in Columbus. Went to college about an hour outside of Columbus to play baseball but Ohio State football will always be my favorite thing throughout the year.
Favorites
COLLEGE FOOTBALL PLAYER: Bobby Boucher
COLLEGE BASKETBALL PLAYER: PJ Hill
NFL TEAM: Dallas Cowboys
NHL TEAM: Columbus Blue Jackets
NBA TEAM: Any team LeBron plays for
MLB TEAM: Cleveland Indians
SOCCER TEAM: USA
Recent Activity
Actually this is correct. I was wrong. Good call on this.
I believe they gradually add a couple more 5 stars to each update until the final rankings come out with 32. Dont quote me on that but I am fairly certain thats how it works.
Saw the same exact thing. Im assuming him and Chip Kelly were talking about that one at the next film session
This is my understanding as well. Same thing With Pryor, pretty sure he was a 3rd round pick by Oakland. They didnt have a 3rd round pick the next year because they took him in the supplemental draft
Looks like a mini Aaron Donald
I do agree with this. Once they got across midfield I could see us letting them score. But definitely not at the beginning of the drive.
They were pinned at the 6 yard line. Not a chance in hell we "let" them march down the field and score.
Justin Fields was ranked in the top 250 for baseball so I would say him.
Seeing it for the first couple of times or seeing it as a kid its pretty cool. Now that I have watched it hundreds of time I agree with you.
I am so glad there is somebody else out there that has watched this movie. I think its absolutely hilarious but no person I have talked to has ever watched it.
Do I agree that Paris Johnson is better? Yes.
But to say without a doubt he is much better, in my opinion is wrong. There is a reason Carman was a 5-star and the 17th ranked overall player in the country and he is showing it by starting for Clemson.
I wouldnt say without a doubt. Jackson Carman is starting for Clemson as a true Sophomore and got a decent amount of playing time last year as a Freshman.
Paris Johnson is a high school senior.
Pretty sure that is completely false. She just gives them all a hug and a kiss on the cheek. She is basically the team mom and they treat her like one.
Its hard to say that there arent enough wrestlers in that range because wrestlers know there isnt a weight class so they typically either cut weight or gain weight to better wrestle the heavyweights. Snyder was a freak of nature and could wrestle guys 30-40 pounds heavier than him. Nobody else can really do that so of course there wont be many wrestlers in that range.
I think if you added a 220 weight class you would see more wrestlers at that weight instead of cutting the weight to get to 197 or gaining weight to wrestle heavyweights. If they came out and said for the 2021 wrestling season there would be a 220 weight class I believe you would see a good number of quality wrestlers at that weight.
Paris Johnson will be a true Freshman playing for a program like Ohio State. It will be extremely difficult for him to step on campus and start from day one.
The whole fire Tony Alford thing is one of the dumbest things I have ever heard. There is a whole topic dedicated to 2021 recruits so this isnt the place for that.
I am in agreement that the Bijon and Knighton stuff are old. My first reply was to the poster saying to STFU about RB recruiting. All I said was the RB recruiting is one of the only things to discuss since its literally the one position we still do not have a commit with.
Again, those guys are all committed. Not much else to say about them except so and so had a great game last week. When people are discussing recruiting its usually about players that arent committed that could possibly commit to your school.
Currently, we have 24 commits and no RBs. The board is most likely going to be talking about RB recruiting since that is the one position we dont currently have a commit.
I get what you are saying but what else really is there to talk about? We are pretty much full everywhere else and we dont currently have a RB commit this year.
The only things to really talk about are RB recruiting, CJ Stroud, Tyler Baron, and Elias Ricks. Everything else is pretty much locked up.
If I recall, I believe it was something with pharmaceutical sales.
Last year was actually his last year. This article is from February of this year. He is graduated and done playing.
I was forced to watch that a million times, considering my parents decided to name me after Tom Cruise from that movie.
he also led the team with 14 receptions in 2011
I will never get over how bad the offense was that year.
Correction on the state titles for wrestling. Massillon Perry won the 2014 state title that year. Not sure what happened to St. Eds but they finished 7th.
2014 State Championship game is the best game I have ever watched live. Absolutely incredible.