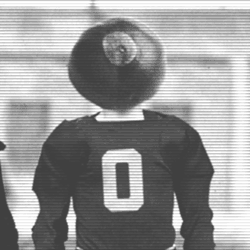 Bucks19
---
MEMBER SINCE March 26, 2016
Recent Activity
He decommitted then we moved on and never pursued him. With Colorado as the choice, schools must have not have had him highly rated.
Its not cute. Could be reality if he doesn't want to grayshirt.
Not better than Spiels and Carter. No way! He didn't even start as a Jr at OSU. He rotated in. I would say Tom Tupa is Earle's third best recruit.
Why is Johnson in the commit column?
Sorry folks. May 23, 2019, this is a GREAT hire! Who else you getting? He has plenty of coaching experience. He will sell recruits on how he knows how to get them to the NBA and knows what is takes. Can't argue that.
UMMM CT, he IS good enough play here. Don't kid yourself. Day just chose our commit over him.
With JTs success I'd say ......wrong
You made and make my head hurt. You lose us at hello.
Brutus - look at the QBs and those with the ability to do it and how successful we've been. Imagine Fields in an empty backfield. He will be unstoppable if his passing game is at a 65% clip.
1964- did you read what he wrote? Said 3rd and 2 and smash mouth football. What's Haskins stats have to do with his spot on comment?
Let the bashing of Tim Beck and JT Barrett begin.
There's a difference in pretty good and very good. I'll give you pretty but he's not very
Having the last OV is waaaaaaay over rated.
Whether it's LSU then OSU or OSU then LSU makes no difference
James and Leroux aren't going anywhere. You don't take Ohio kids at this stage of the process then push em out. AIN'T HAPPENING
NEWS FLASH!!! Kids don't come here or anywhere for that matter if they don't like their position coach.
Come on people. Wake up!
Wesson will never play in the NBA. He's just a good college player. Not even a very good College player
No comparison between the two. Not even close !!
Maybe he didn't go after the kid either in high school or now? He is a non-scholarship to walk on
Jp is spot on. Highlight films can be very deceiving. It shows all good and no bad.
There's a reason he didn't have offers out of HS and walked on at A&m
Unless he lights it up, not happening.
It will certainly help with Fleming committing here but with 3 more visits to go after ours, it's a marathon to the finish line.