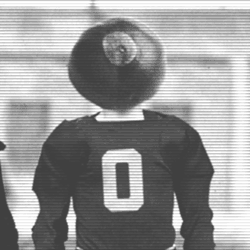 Bucks19
---
MEMBER SINCE March 26, 2016
Recent Activity
Not allowing anyone in over 50??? That means millions in donations and ticket income. That's dumb.
July 2007:
Holbrook told officials at Florida Gulf Coast University in Fort Myers last month that she confronted a "culture of rioting" when she arrived at Ohio State in 2002, and witnessed people doing "disgusting things, unbelievable things" on a videotape she ordered made after the Michigan-Ohio State football game that year.
"They think it's fun to flip cars, to really have absolute drunken orgies. ... I don't want to be at a place that has this kind of culture as a norm," she said in the exchange, first reported in The News-Press of Fort Myers and later in The Columbus Dispatch.
Fans or no fans, we are going to run the table and win a natty. Let's play the season on the moon for all I care.
Soon I hope. He's getting up there with Holbrook.
He, like Herbstreit, should STFU!!
How do you do that is you are already a free subscriber without access to the subscribed info?
Sawyer is an outstanding basketball player but not DI level. At 6-5,6-6 he doesn't have the outside game skills. He's Kyle Young but shorter.
Yes. He was ready to go to ND to play lacrosse.
Come on. You're splitting hairs. He was a top 50 guy!
With the injury, we really don't know. That's why he's on a second tier right now.
He's not really a sleeper. His talent is known. He's a bit raw but injury has knocked him down a bit.
Taco Charleton without the injury anyone? That one hurt!! Loved the guy in HS. We whiffed on him big time.
Good stuff!
With our talent spread out by class, we can run the table the next 4-5 years and win multiple nattys! Let's even trying scheduling teams on the moon :)
With the exception of running indoor track, its more like 95% don't play 2 sports. One sport is too time consuming.
Yeah. Penn St sucks. We have beat them handily the last 5-6 times we played them. Scores weren't indicative of the games. We should've won them all by minimum 3 scores. Let's schedule one on Mars and one on the moon.
I'd play OR on the moon 7 on 11.
We are running the table and winning a natty!! This begins it all!
They go 11-2 Mr TOSU.
You said the same thing about Penn St....and you were WRONG.
Non commitable offers is the stupidest things that has come about in recruiting. We do it. Michigan does it. Alabama does it. USC does it. Whether it's 550 or 100 offers, if they aren't commitable, they aren't offers.
Penn St loses at Va Tech. They don't have a coach and not talented. :)
They have good depth on the running game. QB is new but talented. Defense will be outstanding!
My outlook is they go 11-2.
Adding you to the "some" category.
Lewis hitting that shot sent Conley to the NBA. He went on a tear after that. Lewis misses, Conley probably comes back one more year.
You obviously live in NC by your name. And obviously don't appreciate what Mack is doing. And obviously have a hatred for UNC.
Many, not all, do turn into outstanding college players. Maybe not 1-2 Rd draft picks but outstanding nonetheless
He was a great HS Lacrosse player and initially intended on playing lacrosse in college
We have no idea what a kid and his families want so why we think we know is beyond me. There is nothing wrong with staying close to home and being THE guy.
But according to some on here, Penn State sucks!!! So not a good analogy HA!