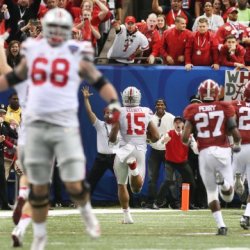 bucks15
---
from Cincinnati
MEMBER SINCE July 02, 2013
Favorites
SPORTS MOMENT: Attending the 2015 Sugar Bowl and watching Zeke run 85 yards through the heart of the south.
COLLEGE FOOTBALL PLAYER: Michael Thomas
NFL TEAM: Detroit Lions
NBA TEAM: Cleveland Cavs
MLB TEAM: Cincinnati Reds
Recent Activity
And for the health of this forum let's hope that doesn't happen.
Dobbins over 4.49 seems like free money. Young, not so sure.
I'd argue there should be a minimum of 3 corners a year given the importance they have in today's game, let alone our defense. Between early entrants, transfers, and underdevelopment the numbers will take care of themselves.
Believe you're correct, but that was more due to playing games than talent if remembering correctly.
Came to post the same thing. Great athletic profile: 6'1 with a 4.49 40.
Don't see a scenario where we take less than three pure CBs this class between this crystal ball and AE's on Smith.
Who he hires as Offensive Coordinator and the flexibility Tucker gives him is all we'll need to know about the impending threat of MSU. An innovative mind is about the only thing that will allow them to keep up with the B1G top-tier.
If he follows the Dantonio model, it will be a lot like the last two years.
"Promote" him to Passing Game Coordinator to justify the pay raise in the meantime. That title isn't being used yet.
Fields was a pretty good baseball prospect. I bet Jameson Williams and Cam Brown could make a splash on the track team as well.
Yes it would, and I think unless another stud (pun intended) OL wants in the staff can use that scholarship somewhere else (CB??). Getting the right 4 is huge, rather than say getting 5 with 2 of them being developmental guys.
We have no offensive identity when Wesson is out of the game. Been the case all season.
We have no offensive identity when Wesson is out of the game. Been the case all season.
BK article on the state of CB recruiting. Biggest takeaway to me was recently offered Kamar Wilcoxson having strong interest despite being a Florida commit.
Basically a lot is up in the air after Johnson and he doesn't even mention Washington or Dickerson.
https://247sports.com/college/ohio-state/LongFormArticle/Tony-Grimes-Jakailin-Johnson-Jordan-Hancock-Andre-Turrentine-Kamar-Wilcoxson-Bill-Kurelic-Ohio-State-Buckeyes-football-2019-143167991/#143167991_1
Depth chart realizations after Spring ball will probably take care of this. Guys are probably waiting to see if they can make a jump before heading out.
Well can put that Kiner theory to bed, appreciate the info. Hope we make him a priority considering.
Still curious how it will impact the other top backs though.
You have to wonder, and in Kiner's case especially, which of these top targets are fine with having another top RB in the class? Most of our targets right now aren't exactly under the radar, making them seemingly more likely to want to be recruited as "the" guy.
I wouldn't be surprised if this is big pull for Kiner to Michigan, being a clear cut #1 there versus 1b here.
With the goal of having two backs in the class we could do a lot worse than new offer Brandon Campbell being one. Looks like to be a great receiver out the backfield and has a impressive athletic profile, especially the agility. Might be worth keeping an eye on.
https://247sports.com/Player/Brandon-Campbell-46058435/
Getting two of Hall, Bradley, Malone, and Tuimoloau seems likely. Three of them might be good enough to have people stop talking about Clemson.
Given his Malone comments I was surprised to see him not included. But man that would be an elite DT haul coupled with how optimistic DEs look right now too.
Awesome article Zack. Interesting to see Davis that high given the lack of need at Safety and no others in consideration. Also, found the omission of Troy Stellato curious.
Zack, is there any insight to how CB recruiting is going to change with Coombs on board, whether it be the types of cornerbacks or priority of them? Granted, it may be to early to tell.
Greg Mattison should be higher- he doesn't get enough credit for the defensive turnaround. Some of the insiders have suggested that the defense last year was more of his product than Hafley's, but 90% of the fanbase assumes the later.
Birm thinks Pryor is definitely a take but wouldn't count on it anytime soon. Pretty optimistic tone in general about the position.
https://lettermenrow.com/ohio-state-football-recruiting/ohio-state-buckeyes-recruiting-2021-running-back-tony-alford-camar-evan-pryor-donovan-edwards/
Donavan Edwards high-school is 30 minutes northwest. Maybe that's just the optimism in me talking though.
- let's pump the brakes, okay?
2010 should be higher- view it from the perspective of getting the SEC monkey off our back and Tressel's last great season. Vacated be damn, they happened to us.
Eflein in that picture is heartbreaking, and speaks volumes.
BK came out with an article where things stand at DE. I know it's BK but still found it relevant. https://247sports.com/college/ohio-state/Board/Ohio-State-Buckeyes-Message-Board-Forum-120/
Summary: Foreman plans to visit unofficially and officially but will be a tough pull. Goodwine is likely ours if we go all in. Adeleye is planning an unofficial and official, us or Bama. Jackson plans to visit but thinks he ends up elsewhere. Similar to Goodwine, likely Buckeye If we go all in. Is buying Denhoff's high interest but Clemson likely leads. Somerville and Donald, don't count on it.