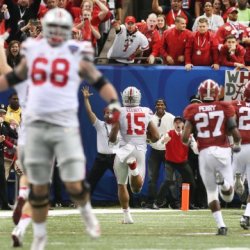 bucks15
---
from Cincinnati
MEMBER SINCE July 02, 2013
Favorites
SPORTS MOMENT: Attending the 2015 Sugar Bowl and watching Zeke run 85 yards through the heart of the south.
COLLEGE FOOTBALL PLAYER: Michael Thomas
NFL TEAM: Detroit Lions
NBA TEAM: Cleveland Cavs
MLB TEAM: Cincinnati Reds
Recent Activity
Lol. Who could have seen that coming?
This is great info, thank you.
It is really hard to be a great football player when a player doesn't have great athleticism. It looks like receiver is the easiest position to overcome that though.
If the staff thinks he can play a tackle spot, which seems to be indicated he can, then I think another tackle is a priority. You can never have to many players that can play tackle effectively.
If he were strictly destined for the inside, I would agree with your point.
Andrew strongly insinuated that there is something specifically deeper going on with Ringo. Given Birm's confidence as well I think there staff took him off the board after an incident occurred behind closed doors.
Hamilton was our second best tackle last year and not nearly enough people recognize it. Think he is even underrated in this article's description.
His per-play production this year is going to be fantastic when last year it was very good.
Could explain all the Rivals crystal balls coming in- hard not to pencil a kid into a class when it can be seen he's recruiting for them.
Think Birm said a couple weeks back Cam is leaning defense right one anyway.
Was surprised to see him considered a "must get guy" as well.
If Robinson is trending away I wouldn't be opposed assuring Trayanum he would be a RB, he is probably in the next tier of options.
You could do worse than a combo of Trayanum and Adams/Berger/Knighton/Corum.
Robinson is going to be a complete stud too. Upset I got my hopes up.
Next in line should be Adams- elite athleticism with plenty of room to add to his frame.
Not sure the criticism to this post- this is a very fair take if you genuinely didn't know he had a lower body injury.
But yes, that is a big reason why. He is a lot like Adolphus Washington and think he'll have a very similar career- 6'4 Cincinnati kid that is prolly putting on enough weight to move to the 3-tech.
Welp, given Taylor's article this can be disregarded.
DE Brandon Taylor might be worth adding as well. My guess is Taylor is the in-state offer Ellis was speculating about.
I know this is going to sound like rationalizing the now likely loss of Milton, but I don't see it seeing a big drop from him to our other options. I think we would be just fine with a combo of Adams/Berger/Knighton. Then get Trayanum on board and move him to linebacker if the RB options prove to be legit.
That said, I think missing out on Robinson would be a bigger blow. But it's hard to get upset about that though because he has seemed a lot less likely recently.
Better question might be is who on that '19 list wouldn't we take a commitment from if they wanted in? Frayer maybe?
Not only is that a long list, it's a quality one.
I completely agree. Based on everything that's come out on Cavazos he is starting his career at corner.
But with two of our top corners likely leaving and not signing anyone last year, I have to imagine we take a third.
Landing Milton, Knighton, and Trayanum would be fantastic.
Really hope that additional OL is someone we swing for the fences with, preferably at OT.
I agree on the foot speed, but I disagree on the staffs intent for him. I don't think they are recruiting him to be a 6'8 guard.
Probably far from it, but he is someone that should be a 100% take despite having three tackles on board.
If Flemming, Scott, and JSN are okay with it I'd have a hard time saying no to that type of talent.
Doubt it comes to that though.
Milton's top end speed is concerning but his agility is not- his shuttle time would have placed him 4th at the NFL combine this year. Great considering he is a 220 pound high schooler.
That said, I'd prefer the athletic playmaker in Robinson. Let Marotti put a solid 15 pounds on him and we have ourselves a Zeke-esq profile.
Impressed you could post this after having ~10 Buffalo Traces.
Good news regardless, probably most important recruit in the class.
MSU in 2015. Horrible weather and it just felt inevitable all game.
Yea, that's not good at all. I'd argue though straight line speed is more important for a DB than RB.
Some reason for optimism: his 20 yard shuttle time would have placed him 4th at this year's NFL combine. Very good for a 220 pound high schooler.