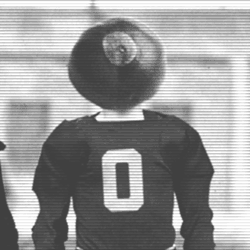 Bucks
---
Member since 02 January 2011 | Blog
Recent Activity
Correction, found a channel (314) but it just lists as 'sign off' so my dvr can't record. What time is the show on?
14 years ago I was getting dressed and ready to take my grandparents to the Quarterback Club Luncheon to hear coach speak and give my grandfather a fun experience. I hadn't had the t.v. on that morning and I remember calling my friend to check what time we were meeting. His response was a long silence and then asked me with incredulity if I had been watching t.v. Turned on the tube and saw the horror.
At the very least we should get a blank skully again (long live the Null Session) so we can make our own.
Duluth Trading Company (recent purchases) & Southwest (upcoming vacation to surf city, nc)
To each their own but for me, I was a bit disappointed in the ending. Yes, they tied up a bunch of ends but felt there could be a more finite ending for Vic Mackey. From a movie standpoint, they could arc a need for Ronnie's help, which would be entertaining for me anyways.
The Shield - Given how things ended, there is plenty they could run with.
Oliver. Oddly, after my mom forced me to watch it over and over again as a kid, surprised I don't despise it.
I'll take 2. In cedar picked out by myself at Keim Lumber (which every person should visit) in good 'ole Amish country. Want it stained, of course.
He went to a dark place & we couldn't follow.
Pretty much inevitable. Over a long span of time the conversations have gone from over the top platitudes and deference to the site he is on, to the past six months or so.
I read mgoblog for funnies and to be banned, yikes.
This is actually aggravating! Sold out within a hour on the first run. Had a late day with work, come back to see I missed the 2nd round as well (within 2 hours it seems).
I'm about to google earth Mr. Priestas and just send a damn check for my potential orders over the next year! Sarcasm for sure but I have to find some other solution. I'm quite sure I'll miss the 3rd go as well.
I'm going to choose to believe you were being sarcastic although I find it doubtful.
As someone who can't even count how many times I was late to the announcement & the item(s) were sold out, I co-sign this completely. Would be a valuable option and confirmed revenue.
Oh goodie, not even 10am and medium/large gone.
Good lord do I hope this isn't sold out by 5pm.
M Man,
In my years of online forum banter, one thing holds true (With rivals). They always have a blowout. May take some time but I'm sure you'll join that list. You already Skirt that line often.
Appreciate all the coverage and work you put in Birm, please commence sleep induced coma for a few days at the conclusion of signing day! ;)
There will be no 11w jail for the premium lounge gathering tonight no matter what transpires. What happens in the premium lounge, stays there.
Yeah, didn't find that out until I was too many drinks in talking football with him. Now that I know him better, it was fun to land and ask him about his teams :)
Yeah, Bru's room seems to be the destination. There is a place around here that is Notre Dame (Wishing Well), so just wanted to avoid that!
Almost feel sorry for some family I have here. A sister who is a gator fan and her bf, a gator & Michigan fan. That's rough right there!