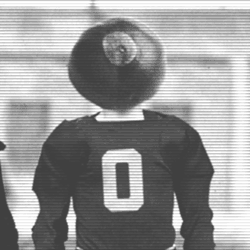 Bucks
---
MEMBER SINCE January 02, 2011
Recent Activity
We'll cover.
I would feel like it was one step closer to them giving up football, something my Grandfather always wanted. "My boy, if Michigan lost every game against us until I am dead ... they would still hold the lead in the series. I hope they lose so badly, they give up football & turn it into a soccer stadium."
You need some woosaa in your life man. Another thread you're telling ppl to kill themselves. Just breathe.
Want to see Saban curl up like Voldemort at the end of Harry Potter. Don't want it due to injury. Sucks. Best wishes to Tua but that is a bad injury. High prop of reoccurrence & this comes on the back of fresh surgery (which isn't done anywhere else for his ankle).
Avoided any major injury over this laugher of a 2 game stretch. It's ridiculous to be aggravated over a spread. Time for the stretch run!
Not sure why ppl are attacking ya & a position that many (MANY) ppl hold. My personal preference is to win it hard & have SOS be a lauded accomplishment. Completely understand your view though.
No! But old friend in town for the weekend (who can still do the pre-gaming like we were in our 20's), is. The struggle is real. I'm too old for this. Ha!
Great slate of football today. Getting the grill ready while the coffee courses through. Stay healthy Buckeyes. No injuries & let's hope we can pull guys quickly.
Either I have a highly improbable issue across multiple devices/networks or they need to address whatever causes the online live stream to cut out, sometimes 4+ times in one listening session. My cell network, 2 different wifi networks & 3 different devices just drops dead randomly. Can't reconnect for 5 min sometimes, others 1-2. Its a daily issue. I listen to the Sunday show weekly, probably call in this Sunday. Went to look up the Wednesday hour yesterday but nothing was listed for download at the time, has it stopped? Edit: Wednesday question was answered above.
Gene's response to that question was no, we were in no danger of any lost wins. He added when additionally asked that had they played him after initial contact, potentially so.
Because one addendum to the rule makes it a violation: Family friend has to be a existing friend PRIOR to any recruitment from OSU. Not when he signed or arrived on campus. Don't have the dates but CY's initial interest by OSU was prior to him meeting the family friend.
Even when I vehemently disagree with someone, and boy have there been some, I try to hold a middle ground & see some of where that differing view comes from. With that being said, I'm going to fail miserably with it right now. To the ppl who continuously blame Gene Smith and/or have this blanket "he sucks," mentality ... sit down and read the actual damn facts. You don't know what you're talking about. Amongst the top 3 AD's in the country, Gene is probably the best. We are damn lucky to have him & in every capacity he has been a great representative of this university. /rant over.
If I ever need a reminder of why I dislike you so thoroughly, I'll think of your idiotic statements like this.
No. Just reading the description indicates the "rumor" he is going with. Yesterday he said he "knew" who it was. Spent plenty of time making it clear it's a rumor & high school coaches told him. And that he's sure Franklin didn't have a direct hand. He "just set things in motion." Put another way: he claimed to know who did it & doesn't. Probably got him a few patreon subs though!
4-5. If it wasn't for the past fun we had with trusting in *precedent* I'd say a 2.
I hear ya. Never know right? Considering thus far this is seemingly a harmless loan that was paid back ... the next likeliest possibility would seem to be another school, right? This is one thing we may never know the answer to. It could very well be that Chase's GF or family discussed this in the presence of someone not understanding it was a potential violation & it went from there. Even ZS has claimed he knows exactly who it is & it's being outed today by him. I'd bet $50 not but never know.
I agree.
I saw this on a twitter discussion over the weekend. Allegation was Dwight Halt(sp?) Marylands S&C Director. That seems like a far reach to me but who the hell knows.
I'm fine with LSU at the top after knocking off bama at their place. With the above said, Bama is not as good as they normally are, especially on defense. They're probably going to be higher than they should be. Minny should crack the top 10. This is going to be interesting to me more so than other rankng weeks have been. Bama is just not their normal selves & while I loved LSU's win, wish they had held to their lead. Minnesota plays absolutely noone. Their best win could end up being a PSU that has the potential to drop their next 2 (likely 1). OSU, no worries ppl. They have the potential to play 3 T10 teams to close the season. Win out & can't see us being below 2.
I think he is probably on his way out. Don't sleep on 'em this weekend ... D'antonio squads notoriously have those crazy out of nowhere games. I've seen some really dislike him over the years. He earned my support in '02. Without him & that defense, there is flatly no Ohio State title.
I agree with you. Coach D is usually good for at least one out of nowhere game a year.
I say top 8 b/c I see the committee rewarding the win right now but I don't see them respecting them enough to go into the top 5.
My early morning coffee rounds included a quick glance at mgo misery. Seeing threads on PJ Fleck or Harbaugh, which coach do you want ... was quite entertaining. I'm sure the same is being lamented on psu boards!
That 115 years since they were 9-0 stat was crazy to hear. I had no idea. Was initially wanting PSU to win this handily for our sos but really 1) We win out and it doesn't matter, we're in. 2) This will setup nicely to play a ranked PSU, Michigan & Top 8 Minnesota? MSU ... D'antonio, think it's time to plan for retirement.
I selfishly wanted PSU undefeated for SOS but realistically, OSU is in regardless as they win. This was a great win for Minny & cfb in general. Fun to watch it. 115 fucking years since they were 9-0? Wowza.