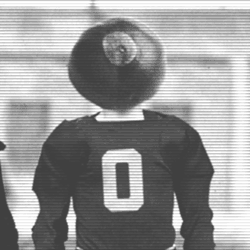 Buckpasser51
---
MEMBER SINCE February 03, 2015
Recent Activity
How many posts does one have to read on here to show them not to post dumb things on these boards?
Never ceases to amaze that some people celebrate another's lack of success when they have no personal accomplishments to celebrate.
While Martel may not have secured a starting spot, he's already accomplished more than the vast majority of posters on here.
I wish him well because he is pursuing his goal.
Thanks for explaining your opinion
Graduated with him. Smart guy. Deserves all the credit for his stellar coaching career.
Clueless
It is better to remain silent and be thought a fool than to speak and remove all doubt.
Thank god!!!!
now we can get back to discussing stems and conspiracy theories.
Robinson lied. He resides in a hanger in Area 51.
And Crowley isn't too hateful either.
Huh? 2016 Weber 1096 yds. 6.0 ypc 2917 Weber 686 yds. 6.2 ypc; Dobbins 1403 yds. 7.2 ypc 2018 Weber 954 yds. 5.5 ypc; Dobbins 1053 yds. 4.6 ypc Your comment seems reasonable? Don't let facts get in the way.
And just what "problem" is that? Kids deciding to stay closer to home? Get real.
So, what's your point? It's hypocritical to change your mind if you learn new facts? Dumb!
WARNING As if on que The next 27 posts consist of debate #360
'Cause we certainly wouldn't anybody to take themselves too seriously on here, now would we.
Don't be so naive' as to think that recruits only look at who is ahead of them.
Separate thread at least avoids all the BS drama that fills the recruiting thread. Just saying...
Good take. Playing defense is something most freshmen have to learn. When Deshaun Thomas arrived Matta literally had a coach on his hip during practices moving him
This brainiac is Maurice Clarett's cousin/friend of the family. He was also one of his inner circle of advisors along with Jim Brown. We all know how that worked out.
Can someone start one for catfights too for those who don't want to suffer through them? Please!
No. The "entitlement culture" of which you speak applies equally to fandom. The kid was recruited, in all likelihood, with a promise of a pathway to being the QB after others before him moved on. He wasn't promised the position but certainly was led to believe he would have a shot. Then Ohio State brings in someone from the outside who clearly has been ID'd as the presumptive starter.
I doubt many, if any, wouldn't start looking for a new job if they were passed over for a promotion at work in favor of an outsider.
The name-calling has no place. It simply reflects the entitlement mentality that is all too often exhibited here.
You really mean that it affords an opportunity for a young man to do something that he really wants to do, right? Like actually play college football and not be a backup his entire period of eligibility, right? At least I hope so. We are NOT entitled to force kids to stay here when circumstances have changed! His life. Not ours.