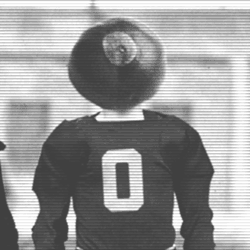 Buckpasser51
---
MEMBER SINCE February 03, 2015
Recent Activity
Perfect! Just perfect!
It is better to remain silent and be thought a fool than to speak and remove all doubt
Too late for that
Well, you're at least consistent in your view of this public health crisis.
That's not what he said. He said, "I'm by no means as plugged in as AE and the like..." Please read.
Solved: "A cut of uncooked red meat, as a T-bone or rib-eye steak, with the light, white marbling of fat. May be used for sexual slang." https://emojipedia.org/cut-of-meat/
Hamilton was a 3 star. .8457 Gallimore a 4 star. .9643 Hamilton was the 6th DT taken #235. Jason Cornell was a high 4 star Undrafted - BB Landers was also a 3 star and had a slightly higher rating than Hamilton. He had a great career at OSU and hope he gets an opportunity that he will make the best of, for sure. No argument that LJ is a great coach but not all players develop in the same way. Point was to dispute that Gallimore lost millions by not choosing OSU and that choosing OU is not necessarily a recipe for losing money.
DeVon Hamilton was drafted at 73. Gallimore at 83. That doesn't translate into " millions". Moreover, they were both in this year's draft. Their "slots" probably were likely pretty close so your opinion is just as likely a pretty significant stretch.
Was aware of that but point well taken. Nonetheless, he was high in the OSU board and chose OK. OK is no step down.
Neville Gallimore wants to answer that
Haven't you read the "commenting policy"? You can't be using that fancy schmantzy language on this board!
Don't worry about being grayed out. My hair has been like that for years. Welcome to the Board. Good to hear from a Bama fan. Two storied programs. Each deserving of each other's respect.
Stick with what you think you know. Been an ardent fan for years and a season ticket holder for decades. Eldon Miller was not "the start of it" whatever "it" is supposed to mean.
Here's to you pretending to know about someone you don't
Here's to you pretending to know about someone you don't
Scoot over Blue Bloods. Bucks shooting for the Skyy. Taking a Chance on a Prince. Hear he can really shoot the Tre. Slow night
If only Stud had been run out of town!
Right! (Just guns!)
Math dude, huh?
That comment had to be the product of much introspection and insight.
OMG! Give it a frggin break! Your moaning is on a loop. Find a therapist!
It is better to remain silent and be thought a fool than to speak and remove all doubt
FWIW, the University of Iowa, at 3% of the student body, is 50% higher than that of the University of Wisconsin
George Lloyd, Ahmaud Arbery, Breonna Taylor, et al would each like a word with you
Glad you referenced this. It is important to understand that he has a congenital defect in his "back" that will need surgical treatment. This is not the same thing as a surgical spinal fusion. Nor has it been disclosed where the fused vertebrae are. The "back" is a lay term and could mean the cervical spine, thoracic spine or lumbar spine. In any event, it is a tough break for him but he may be very fortunate that it was identified before it lead to serious and potentially permanent consequences. Best wishes.