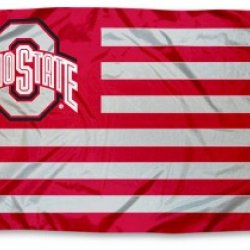 bucknutz18
MEMBER SINCE March 07, 2012
Favorites
SPORTS MOMENT: 2002
COLLEGE FOOTBALL PLAYER: TPeezy
COLLEGE BASKETBALL PLAYER: Sully
NFL TEAM: Clowns
NHL TEAM: Crosby and Geno
NBA TEAM: Cavs
MLB TEAM: Wahoos
SOCCER TEAM: Nah
Recent Activity
Didn't work at all in 25AA, worked fine in the concourse area however.
It's evident the distance to home thing is simply blowing smoke up everyone's ass. He might've honestly told the coaches that was the reason why he was eliminating OSU and that's why all the insiders are on that train, but it is 100% not the true reason why. Tuscon to Austin is a longer drive than Columbus to Jacksonville... Bijan has always liked Texas and he has a longer relationship with them. Texas is desperate, and I mean desperate for an elite RB recruit and my guess is they simply went all hands on deck with the kid. Drayton was fighting for his job in this recruitment as pressure in Austin was mounting on him. Sometimes the cat backed into a corner is the most dangerous, and I think it's simply a case of Texas NEEDING this recruit and prioritizing him over everything.
This is how the NFL works, and it's not something new. Emmitt Smith did the same thing in 1993. Dallas lost their first two games, Jones caved in and Dallas won the Super Bowl. Dallas has a 0% chance of winning the Super Bowl without Zeke and Jones knows that and will eventually cave. Dallas' offense is built for and around Zeke.
With Elliott, the Cowboys are 28-12, have averaged 361.5 yards per game and 4.7 yards per rush, and have outscored opponents by 188 points, according to ESPN Stats & Information. In the eight games they have played without Elliott, the Cowboys are 4-4, have averaged 297.3 yards per game and 3.9 yards per rush, and have been outscored by opponents by 36 points.
Wow the Indians Front Office deserves a drink for this trade. 10/10 Bauer is a borderline MLB ace but comes with his own baggage and CLE never wanted to pay him the near $20MM his arbitration would cost next season. There is also a 0% chance he would've resigned with CLE after next year and 0% he resigns with Cincy as well. Not 100% sure what the Padres are doing here, Trammel is a legit blue chip prospect and they have an influx of young arms and corner outfielders, but they still got fleeced in this deal. Unless they plan on using Trammel to get Syndegaard? Regardless the Tribe got better today and better for the future which is the hallmark of a good trade.
Sewell is a top 5 LB nationally imo. He's a traditional thumper ILB and would pair wonderfully with an exceptional athlete in Simon. I'd put this in the slim to none category, especially without Urban but glad to see we might get two visits. I'm in the minority here but would love to see us take another LB and CB in this class. 2019 and 2020 classes combined having only two sure-fire CBs (Phillips & Lejond) and LBs (Stover & Simon) is a bit of a risk if the tweener kids don't pan out as anticipated.
If Crowley is the real deal, you don't redshirt him. Good RBs are only going to stay in college for 3 years (4 max) so don't waste one of them with him on the bench.
$430 roundtrip for economy for those wondering. Not bad at all considering the size of Lincoln.
This is huge. Even if we are running in 4th place right now, two visits over the next 6 months gives us a chance.
Chile is ranked top 15 in the world, way ahead of us...
It's soo much easier recruiting against USC, UCLA, Wash etc. compared to Bama, UGA, Clemson, LSU, AUB, Florida schools etc.
I'd love to have Schiano back in any capacity. HC experience, ace recruiter, and a good football mind. People forget how good our D was the first two years under Schiano - 6th and 8th - prior to the disaster of last year which I think is silly to put all on Schiano.
lotta white folk
Get this guy outta here mods
Another UM kid who expects things to be handed to them - this is simply butthurtedness as Day hand picked McCord over him.
I think this is almost proven fact at this point. The question is did that really help him or enable him even more knowing Mommy and Daddy can help clean up any shit he steps in.
Let's just say the first couple years of their tenures, that 2013 class (Zeke, Bosa, Jalin Marshall, Darron Lee, Marcus Baugh) were known as much for their antics on High Street as they were on the field - it was always alcohol and often times powder fueled. Some guys grew up like Bosa, others like Zeke and Lee continue to make the same mistakes.
OSU sat on their asses gloating for 2 months thinking the game was already won while Urban Meyer was hanging up fake news headlines about ESPN and other outlets saying Florida didn't stand a chance and didn't even belong in the game. Their defensive line was far better than our road grating OL and we had absolutely no chance to stop the speed rush by their DEs. Offensively we went away from running the ball and Troy couldn't hit the broadside of a barn. Defensively we couldn't handle Urban's formation changes and motions. Throw in the Troy and Gonzo controversy and him gaining 15 lbs over the winter and you can clearly see how one team can be so outmatched, especially if you consider who that coach was on the other sideline.
80% > : Young
50/50: Okudah
< 20%: Arnette, Fuller, Dobbins, Munford, Harrison, Hill, Mack
Value pick - Hideki Matsuyama. Ball striking numbers are top notch (most important trait at Augusta) just needs to get hot with the putter for a few days. Hard to argue against Rory as the heavy favorite tho given current form and course history.
Not blasting steroids into your veins on the regular should help with that
Thanks but no thanks. Giddens is a nice "first off the bus" type of player, but he's not scholarship worthy on a team competing at our level.
Scott been blowing up 7-7. If he puts down a sub 4.6 confirmed 40 at one of the summer camps he's going to get a 5star bump.
Gee Scott Jr quickly becoming my favorite recruit in this class. Also everyone chill out with Paris, kid is going to be in Columbus several times this month - let the kid enjoy the process.
This whole thing is what's wrong with society today. Douchebag trying to extend his 15 minutes of fame before he has to go back to the real world, former journalist making a mockery of alcoholism while he has several demons of his own, other journalists taking shots to provoke and drive clicks, etc. How about for once, everyone just shut the fuck up?
Awful take. Next year Haskins would have to compete with Tua, Herbert, Fromm etc. in the QB draft class. This year he has Murray (who some teams won't even consider drafting) and a bunch of bodies. He's a lock top 15 pick, that means you always leave early.
He said his goal was to get to 285 to play - video with Birm.