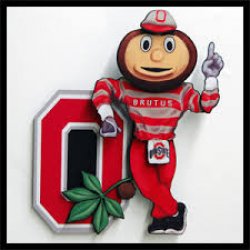 BuckNutChicago
from Toledo lives in Chicago
MEMBER SINCE October 03, 2014
Recent Activity
Do they play BC? The Flying Hafley's might have something to say about that!
Who will be Georgia's QB?
In 1987/1988 Morrill was 16 per suite. Sometimes it got a little interesting in the morning with only 2 showers and 3 toilets for 16 people.
I don't think he'll get the # of targets as the other guys, but I am expecting some late season heroics out of Cooper, kind of like what we saw from Parris Campbell.
Let's hope the 2021 Offensive Line recruiting follows the same path.
The way the B1G is going this year, the Bucks will win at home and lose on the road. The goal has to be get everyone healthy in March, especially Kyle Young. He's the glue.
Crystal Ball predictions starting to flow in for the good guys.
A long time ago I was in Morrill tower for one year and Baker Hall for 2, certainly didn't look like that. Plenty of athletes lived in Baker and I can promise you their room did not look like this. Upgraded facilities!!!
I love Jonathan Cooper, but his playing against TTUN took reps away from Harrison and Smith. I think both Harrison and Smith (because of health) are better than Cooper and will demonstrate that during the game. Lot's of pressure coming Trevor's way.
How about our new player Kuh-LEEB Wesson?
"Raft" was killing me with his pronunciation.
What is the grading scale? I bet if we ranked each position group individually versus every D1 program's position group, the B's would be A's. I'm sure every B1G program would gladly swap recruiting classes with us.
I bet he heads North to South Bend. Just a hunch.
Transfer the torch, Hill to Gill. Gill should have changed his name to Hill this year, and maybe sneak in the games for a few more plays.
Go back and watch his speech. I love that man - hopefully he has both feet firmly planted in Columbus!
Both defenses... this could be a 56-52 game.
I think OU wins. Joe Burrow will have 3 weeks of non-stop back slaps. OU will have 3 weeks of everyone telling them they can't win. LSU will have 3 weeks of everyone telling them they can't lose. OU will enter on a mission. LSU will enter overconfident.
Kind of reminds me of us in 2014.
With how well these guys are playing, when does Ryan Day return the favor and put on a hoops jersey for a press conference?
That'll likely prove too much for the Golden Flashes to overcome, so we're picking a double-digit-point win for the Buckeyes.

Prediction: Ohio State 72, Kent State 59
The only way this game is as within 13 is if we're sloppy with the ball, miss free throws, and they're on fire from long range. It will likely happen at some point this season, but not likely tonight at St. John.
Good guys by 20+.
I have supreme confidence in Franklin to screw things up in a close game. I hope we don't give him that opportunity.
I am amazed at how many current NFL players are on our roster for the first game. That team was loaded, as was the team after that, and the team after that...
The receiving stats are cool and Olave's catch was awesome but not sure any other stats matter from Rutgers. We obviously were flat and disinterested.
Let's hope there is no hangover from this game.
@Ramzy - to get to your score prediction, the Buckeyes need to score 3+ TD's per quarter. I don't see them throwing the ball enough in quarters 2-4 for that to happen. I think they're going run the ball and the clock the entire 2nd half, which means Chrisman will likely get a chance to punt a couple of times.
The 1st quarter against Maryland featured a heavy dose of Fields. I wonder if the 1st quarter against Rutgers will feature a heavy dose of JK...
It is pretty said if the biggest question is can the third string defense keep Rutgers out of the end zone. I crave a shut out... so does the committee.
I want to see Baylor pummel Oklahoma. I have no affinity for Baylor, I just love it when Oklahoma loses.