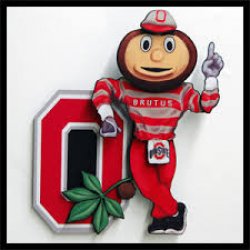 BuckNutChicago
from Toledo lives in Chicago
MEMBER SINCE October 03, 2014
Recent Activity
I don't think you're giving the 'Fighting Ashes' enough credit as they head into Ann Arbor. It is a dumpster fire up north and our old friend Chris Ash might have something fun dialed up. Rutgers covers and Ann Arbor implodes. Picking ND to cover is a big ask after the banging heads with the Bulldogs last weekend. This weekend could be a bit of a hangover for the Irish.
It would be cool if the 11W Brutus would find himself on a t-shirt.
Pitching a shut out will depend on 2 things:
How quickly Miami starts (considering they will have a lot of emotion entering the game)
How strong our 2nd and 3rd units can perform late in the game.
As someone said above, unfortunately the score and margin of victory matters.
That would be great for the Buckeyes, because that would mean that ZH is an absolute beast. Coop has 4 more years in the weight room and film room than ZH . I'd be surprised if Coop doesn't regain the #1 spot when he's healthy.
That first game on Saturday is going to be fun. A few years ago it would have been difficult to side with either team, but Paul Chryst has softened my opinion of Wiscy.
We all know the story, but I was still glued to the screen sitting at the edge of my seat. Some strange moisture appeared in my eyes over the last 5 seconds of the video. What is that about???
Agreed, I wonder what a Lane Kiffin offense will do to our defense? Our defensive stats are not much better than FAUs.
We should enter the game ready to destroy them. We'll have a better idea what kind of team we have by halftime.
Does his shoulder still prevent him from throwing?
Hopefully our depth on the D-Line can keep Chase fresh in the 4th quarters of the games that matter. Then the Predator will be truly unleashed!
were Cox and Fields in the same recruiting class? If so, that class has taken some major hits.
I too think the flip is a real possibility, especially if Dobbins has a great start. However, the more realistic opportunity could be with the 2021 class.
I wonder how long we can hold on to Hafley and Hartline?
I think the scheme change will do wonders for his numbers. And barring any unforeseen setbacks, he'll be a multi-millionaire in less than a year. Go get 'em Jeffrey!
One of the best things in life is the clean feeling after bathing. (One of the best, not the best... ;-) ) One of the worst is being near someone who hasn't.
Pre-season for everyone... I enjoyed listening to Day's comments.
Congrats young Buck! She definitely has the handles!!! We're set up for a fun run.
Kamren Kinchens is probably an elite athlete but at 5'10" he doesn't fit the recent DB prototype.
with his ball skills, he is one of the most dangerous ball hawks in the 2021 class
If that is the case, why is he not rated higher?
About to write the same thing. This would be an epic battle.
In fact, let's add in an all-time Saban and all-time Dabo into the mix and see who wins the title.
Looking at the throw to Garrett Wilson makes me wish we still had Baldwin on the roster...
That's part of IMG's selling point. "Come here, leave early for a D1 program."
hopefully said flip is the right person in the right direction...
If you're a HS senior QB and your name isn't Jack Miller, you have to be so jealous. I wonder if any of them are trying to contact Ryan Day?
I think this is quite appropriate for this group...
#HowSheGoneEat ?
I too wish him all the best in his athletic and academic paths. ASU is a GREAT place. However, something makes me think there is a transfer in his future. In addition to the distance, the climate could be a really tough adjustment. The average high temperature in Tempe for the next 10 days is 107 degrees... but it is a dry heat.
At first glance he has two children wearing Ohio State clothing. And if not branded THE OSU, they are at least wearing scarlet and gray. I don't think Urban Meyer would allow his children to wear maize and blue... ever!