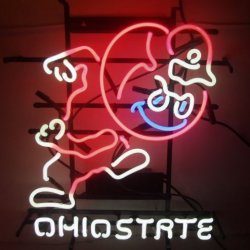 bucknut94
---
from Findlay, OH
MEMBER SINCE January 04, 2014
1994 Graduate of OSU, Master of Social Work. Buckeye fan forever.
Favorites
SPORTS MOMENT: 2002 Ohio State Buckeyes National Championship
COLLEGE FOOTBALL PLAYER: Ohio State Buckeyes
Recent Activity
The offense can use some WD40 to take out the squeaks. :-) Urban has a week to work on the problems. Only having two days of practice without any rest doesn't help. The defense was awesome.
According to Myer's call-in show Cardale is doing fine and will back on the practice field.
I hope he is aging out of his problems.
Bad publicity is great advertisement. :-)
Ah, March Madness, your excitement has so many levels.
VCU hit a layup at the end of its game against Ohio State, which VCU lost 75-72. It was a meaningless bucket with time expiring, and few people in the arena thought anything of it.
For the people in SuperBook whoever, it was a massive moment, as Ohio State was favored by 3.5 in the game and a lot of people bet on VCU.
There are no meaningless layups at the end of games in March. None.
(Thanks to CBS Sports for sharing.)
Ohio State basketball is too painful for me to watch. I look at the results after the game. Watching a Buckeye basketball game gets too frustrating for me.
http://collegefootballtalk.nbcsports.com/2015/02/06/report-ohio-state-aims-to-poach-notre-dame-rbs-coach-tony-alford/
It would be a great get!!!
On the other hand, some recruits come to Ohio State because of the close relationships they have with certain coaches. For example, Hill signed with the Buckeyes because of his relationship with Ash and Withers.
Myself, if Weber wants released from his LOI I would have not blame him. Weber signed assuming Drayton was going to be his running backs coach. Weber might feel like he got conned by a bait and switch.
Where others like Rivals and Scout see a three star football player, Myer sees a 5 star.
Following recruiting is a spiritual malady :-)
Oh, well. We want players who want to be Buckeyes 100%.
It looks like tOSU has a chance to flip him. He is an offensive lineman. From Rocky Top Insider: Boulware released a top-2 in early August of Ohio State and will announce his decision on Saturday, Aug. 23 between those two schools. Being from Fairburn and playing at Creekside, you can bet that Boulware's former teammates Elliott and Evan Berry will be in his ear throughout the recruiting process.
It will be hard for Oregon to go up tempo on offense when it takes the Oregon players 5 minutes to get up off their butts after they get pancaked :-)
Anyone know the Tennessee commit who is visiting tOSU?
I see where tOSU gives back about 3 million more to the university than Alabama gives back to their university. I wonder where their spending the money?
The Bucks win by 5!!!! Go Bucks!!!!
Have save and happy holidays. Watch out for the other guys on the road. New Years Eve is amateur night for the drinkers. Go Buckeyes!!!