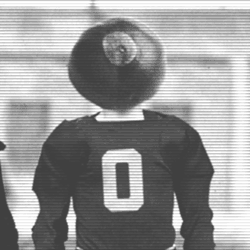 bucknut8
Dover, OH (via Dover, OH)
MEMBER SINCE July 07, 2012
Born a Buckeye, Raised a Buckeye, Always a Buckeye, Die a Buckeye
Favorites
SPORTS MOMENT: 2012 Devin Smith one handed grab from Braxton Miller vs. Miami Oh.
2006 #1OSU vs. #2 scUM
2002 OSU National Title Game
COLLEGE FOOTBALL PLAYER: James Laurinaitis
COLLEGE BASKETBALL PLAYER: Evan Turner
NFL TEAM: Cleveland Browns
NHL TEAM: Columbus Blue Jackets
NBA TEAM: Cleveland Cavaliers
MLB TEAM: Cleveland Indians
SOCCER TEAM: soccer??
Recent Activity
Thanks but there's no senior highlights on his page that I can see
I can't find it, but does anyone have a link for Cameron Martinez's senior highlights??? Thanks in advance
That would be fricking HUGGGGGGE!
This is a guy I would love to have in the class. Looks like he could very well be a LB or Safety.
Jackson, Christman, Spindler and Latham as our OL haul, yes please!!!!
As far as the offensive line recruiting goes in this class, I could see us taking 4. Already have Christman committed. Possibly lead for Latham and/or Jackson. Top 2-3 for Spindler.
Or Rocco Spindler. Top 50 player at offensive tackle. Would be snagging him from Michigan, ND and he's from Michigan. Was also at the game Saturday.
could be a huge add
I bet it's JC Latham, a top 75 overall ranking, position of need at offensive tackle over LSU. A bunch of crystal balls coming in and Bill Greene put a CB in for OSU. Dosnt he normally only put in crystal balls after the player has given the OSU staff a commitment or something or if one is coming?
not sure 100% on the Bill Greene thing, but my guess is Latham.
id welcome Latham or Jackson to the class or both :)
I started this because ive noticed a couple comments about when will a 2022 class thread start up, the 2020 class is about wrapped up and 2022 recruits are starting to visit and in-state offers are starting to come out.
This is one reason I wish the PSU game was a night game. Big for recruiting!
Tommy Kraemer
Liam Eichenberg
Jackson Carmen
Jaylon Smith
Micah Parsons
Marvin Wilson
Jason Haselwood
Jordan Battle
Palaie Gaoteote
I always wondered what happened as to why he was pushed out other than the thought of adding "bigger fish" as well
Yeah I was thinking the same thing. But I know he was a big favorite for a lot of people wanting him to be in that 2018 recruiting class, so figured I'd post in here that he has entered the transfer portal.
Yes. I looked on 247 today under RBs and he was. Also he announced via twitter last night he was transferring out of Cincy.
i think it would be interesting and a good idea for OSU to look into.
rushing for 500 yards as a freshman while they have Michael Warren is pretty good I think.
Idk if anyone has seen or remembers but Tavion Thomas from Dayton Dunbar, signed with Cincinnati in 2018. Had a Buckeye offer but had grade issues or something. people classified him as a thumper type back.
In 2019 he has 190 yards on 40 carries. 4.8 yards a carry with 1 TD. In 2018, he had 499 yards on 89 carries with 6 TDs at 5.6 yards a carry.

i wonder if the staff looks at him in the transfer portal as a running back to take if they don't land Gibbs to help with RB depth for next year (assuming Dobbins leaves).
No info on this, but I wouldn't be surprised for commitment watch with him on this visit.
I was only asking because I seen a 6-6 300 lb instate tackle was offered. Which I believe is the first in state guy for that class and wasn't going to start a new thread to ask a question like that.

I don't see why the downvotes for asking a question and wanting to share the info I mentioned above.
Is their a 2022 class thread started?

Hey Spooner got a couple questions for you!
What's up with no mention of JT Tuimoloau or Bryce Steele?
ive noticed on almost every single one of your class predictions Trey Zuhn & Kingsley Suamataia are listed. I haven't heard or read anything on them, so why are you do you list them in each class prediction?
thanks for all the info you provide
I like "BOOOOOOM" watch......
Bill Greene with a crystal ball for Troy Stellato to Ohio State
Bill Greene also just put in a crystal ball for Mike Hall to OSU
Bad sign? Or a legit reason why he didn't make it? Anybody know ?