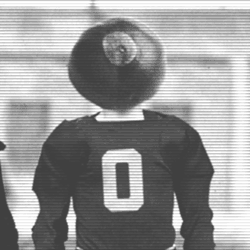 bucknut8
Dover, OH (via Dover, OH)
MEMBER SINCE July 07, 2012
Born a Buckeye, Raised a Buckeye, Always a Buckeye, Die a Buckeye
Favorites
SPORTS MOMENT: 2012 Devin Smith one handed grab from Braxton Miller vs. Miami Oh.
2006 #1OSU vs. #2 scUM
2002 OSU National Title Game
COLLEGE FOOTBALL PLAYER: James Laurinaitis
COLLEGE BASKETBALL PLAYER: Evan Turner
NFL TEAM: Cleveland Browns
NHL TEAM: Columbus Blue Jackets
NBA TEAM: Cleveland Cavaliers
MLB TEAM: Cleveland Indians
SOCCER TEAM: soccer??
Recent Activity
I say Gibbs or save the spot for 2021 and take another DB this year!
Crazy early class prediction:
QB- Kyle McCord
RB- Donovan Edwards & Corey Kiner
WR- Jayden Ballard, Marvin Harrison Jr, Emeka Egbuka, Troy Stellato
TE- Jordan Dingle
OL- Ben Christman, JC Latham, Rocco Spindler, Donovan Jackson or Kingsley Suamataia
DL- Jack Sawyer, Najee Story, JT Tuimoloau, Damon Payne, Jahzion Harris
LB- Reid Carrico, Jaylen Johnson Yanni Karlaftis or Chief Borders
DB- Tony Grimes, AJ Kirk, Jakailin Johnson
ATH- Lorenzo Styles Jr, Bryce Steele
I think a lot of people are sleeping on his interest in Ohio's state........
So I put my current class prediction into the class calculator and got 306.57
my current class prediction is the current 22 man class minus Trey Leroux with all the stuff that has been rumored about him not living up to his end of the deal but adding QB Stroud (+9.2), CB Elias Ricks (+28.67), CB Ryan Watts (+5.26), Kevontre Bradford (+6.50), Tyler Baron (+15.14)
Went and looked, im not seeing that post unless it's been deleted.
So Jaxon is following some Texas staff huh?
Wild Guess
QB- McCord & an Ohio QB
HB- Edwards or Kiner
WR- Ballard, Egbuka, Harrison Jr, Styles Jr
TE- Dingle
OL- Christman, Donovan jackson, Landon Tingwell or Wyatt Milum, Ryan linthicum
DL- Sawyer, JT Tulmoloau, Damon Payne, Jahzion Harris, Najee Story
LB- Reid Carrico, Jaylen Johnson
DB- Tony Grimes, Bryce Steele, AJ Kirk, Derrick davis Jr
Let's get some mock classes for the 2021 class while the 2020 class is a slowing down a little bit.
If the whole Trey Leroux stuff is true (don't wish anything negative upon the kid), but I wouldn't be surprised if they look instate to Branson Taylor. He's climbing up the recruiting rankings and I've been saying since the beginning of the recruiting Year for 2020, I wouldn't be surprised if the staff gave him a solid look.
BK listed his thoughts on OSU top targets for this class.
https://247sports.com/college/ohio-state/LongFormArticle/Countdown-of-the-Ohio-State-Buckeyes-Top-2021-Targets-where-OSU-stands-133773517/
Gotta think our Defensive Line class is going to be crazy good
I thought he was already committed to Texas when OSU offered and they didn't really try to recruit him from what I read. But I think that was a big miss by OSU. But you can't get them all
To maybe help with some of the Ricks loving speculation......
With in the last 24 hours he was at his high school in CA. Mater Dei. And was in Santa Ana, CA the day before according to his Instagram. Also he's posted multiple things on social media accounts being in California for the past month.
No I believe Birm said he would eat a pound of his Huskies dog hair if Ringo was a Buckeye or something along those lines
This class is damn near exactly what I would have except maybe Sam Adams. I feel like the second RB option is a toss up. And I would add maybe a surprise recruit into the class that's currently not on the radar right now.
I didn't say "because he put the emojis on their, he has to be coming here!"
Im basing my prediction off of Ricks coming to Ohio state based off some info that was floating around here for awhile. Like Bill Kurelic still having his crystal ball on Ohio State because of things he was hearing, the fact that he's supposed to be taking an official visit to Ohio State, he's super close with Lejond and I seen somewhere that him and Julian Fleming would love to go up against eachother in practice everyday along with the other OSU receivers they are bringing in.
So could I see Ohio state knocking his visit out of the park and Lejond and the rest of the recruits recruiting him here and possibly him signing with Ohio state??? Yes I sure could. Ricks has had legit interest in Ohio State for a very long time now. Only time will tell. But I never once said I saw him coming here because of some emojis.....
So I follow Lejond (our CB commit) on Instagram and he had live video of him, Julian Fleming, Paris Johnson & Darrion Henry doing a photo shoot in the stadium and they were giving some interesting tidbits I caught onto.
People were asking if Darrion was coming to Ohio, Lejond played it off saying "idk, he won't even tell me, I'm trying to get the inside scoop" and Lejonds little sister said "He's lying". So I took that as a Darrion is in the class/committed.
Then Lejond was asked who's committing next and he said " I can't give out too much intel but I got a couple!" So I take a couple more commits will be falling soon. After seeing AE crystal for Ransom to OSU, I'm thinking Ransom is one of them. And Bijan Robinson and Cody Simon.
Also him and Julian was talking about how they're getting Bijan Robinson to OSU no matter what.
Paris seemed solid with what he was saying to Darrion, Lejond & julian as well.
Interesting note: Elias Ricks was commenting on the video (verified account, so it was actually him). He was commenting with star eye emojis and talking about how he loves what he sees. Lejond kept repeating he will get Elias Ricks to OSU no matter what.
I wouldn't be surprised to see Elias Ricks in this class. And Lejond said OSU will have the number 1 class when all said and done (will be tough with clemson, georgia & Bama killing it as usual, but I'd be very happy with a top 5 class)
Well I think their was some buzz around Colorado before he committed to Florida or something like that. It was Atleast brought up. And he can't switch his crystal ball to Florida since he's already committed. So prolly switched his crystal ball from PSU to Colorado in hopes he canntry and get it right with that guess since he can't with PSU either.
Not Ohio State recruiting news, but I would imagine this ends the chances of Darrion Henry going to LSU at all.
LSU got 2 commitments from 2 defensive tackles in the last couple days. They now have 3 DEs in the class and 5 DTs and also lead for 2 highly ranked DTs within the state and in top group for McKinley Jackson
According to their top 100, I see anywhere from 6-10 buckeyes on this list. Possibly more...... big possibility but still
I think that's the #9 in state offer for the 2021 class
Bob the Defensive Builder
AE - Is Ohio State not interested in that's Jordan stoles kid from MD??? Went to check out his profile and LSU along with OSU are the only schools "warm" on his profile with no OSU offer.
https://247sports.com/Player/Jordan-Toles-46050292/
Sorry but I could see us taking 5 WRs. Harrison Jr, Egbuka, Styles (ATH), Ballard and possibly 1 of Neville, Collins or Malcolm Johnson Jr. I wouldn't roll out Marquette Parks for slot type guy.
Keep an eye on Agiye Hall Fromm florida.