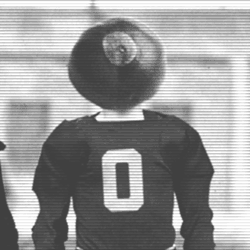 bucknut8
Dover, OH (via Dover, OH)
Member since 07 July 2012 | Blog
Born a Buckeye, Raised a Buckeye, Always a Buckeye, Die a Buckeye
Favorites
SPORTS MOMENT: 2012 Devin Smith one handed grab from Braxton Miller vs. Miami Oh.
2006 #1OSU vs. #2 scUM
2002 OSU National Title Game
COLLEGE FOOTBALL PLAYER: James Laurinaitis
COLLEGE BASKETBALL PLAYER: Evan Turner
NFL TEAM: Cleveland Browns
NHL TEAM: Columbus Blue Jackets
NBA TEAM: Cleveland Cavaliers
MLB TEAM: Cleveland Indians
SOCCER TEAM: soccer??
Recent Activity
Until Ohio State comes calling. IF they do
Sounds like it's from Black Panther
Any word on how Jonathan Allen looked?
Believe he was a solid 4 Star between 200-250 range. But everything he did, I think he should of been in the list
Deontay Hunter Jr, Isaiah Gibson, Dezman Cooper, Luke Fulton, and Marshawn Rice
I believe the staff rolled out the red carpet for him on his visit. But no commitment.
So i don't think it was the staff, I believe it was Gunnell just possibly wanting to explore his option or not be in Columbus.
If we can land both, I think we take them both.
My take on this class:
- Starting to think QB will be Connor Bazelak and not Gunnell
- RB is set and TE might be a no go with this class
- Bell, Washington, Williams, Wilson & Robinson might be one of the best WR classes ever
- OLine class of Miller, Keegan, Wright, Allen, Jacoby, Nester. Allen ends up being a solid 4 Star when it's done
- Harrison & Potter, one of the best DE duos in the country
- Davis or Ohio guy at DT
- All Ohio LB class w/ Stover and then Fulton or Cooper. Surprised Fulton isn't getting more of a look
- DB is a mystery w/ Battle, Puckett, Hickman & shaw as my final guess
- possible Late Ohio offers who could sneak in the class, Deontae Hunter, Isaiah Gibson, Fulton, Cooper and Marshawn Rice
Seen on Bucknuts that 2020 in-state Offensive Tackle Jakob James out of Cincy Elder night be in line for an offer
Gotta get 200 comments and the we can go to the next part. So let's get these 200 comments
Who's the guy on being reported on bucknuts for commitment watch? I tried to figure it out and I can't.
Talking 2020 Offensive Lineman, any chance with Marcus Dumervil from Florida STA?
I read on here somewhere from one of the Andrews that Darrion Henry could very well end up on the OL as well.
This isn't surprising.
I don't want to be that guy, and I may take some heat for this, but honestly I was surprised he was a take. I never really saw him seeing the field and he really didn't. In Urban I trust and their will always be guys like this who just don't cut at Ohio State, but everything happens for a reason.
Think we land Washington, Jameson Williams, Wilson & Bell.
Commitment watch.
Mad I have been calling it all year, Jonathan Allen ends up in this class. I wouldn't be surprised he is a solid 4 Star prospect by the final rankings for the 2019 class come out
Any chance we can go up and watch?
Keegan and Miller will be Buckeyes and in-state guy Jonathan Allen.
Just my guess
Not sure why this got downvotes. But this is just a fact with evidence that more Offensive Lineman from Ohio than other states have a better a pro career who play at Ohio state
Didn't the Browns just draft J.T. last night?
I know it's early but a 2020 class with:
Jack Miller (QB), Demarkcus Bowman (RB), Rashawn Williams (WR), Darvon Hubbard (RB), Michael Drennen (ATH), Paris Johnson (T), Jake Wray (T), Marcus Dumervil (T), Bryan Breese (DL), Darrion Henry (DE), Justin Rogers (G/DT), Tre Williams (DT), Cole Brevard (DT), Deamonte Trayanum (OLB/RB), Lejond Cavazos (S), Derek Wingo (OLB), Jaheim Thomas (OLB), and Nathaniel James (DT)
is a great class already. We either currently lead for all these guys or in their top 2-3 easily.
Would be nice to land Keegan and Wright and/or Dobbs/Miller. But I get a feeling we will land Keegan and Miller. This Wright thing has a wrong feeling to it anymore
Since my comment got deleted,
can someone inform me on these top Tackle targets sleep are in on?
Like who?
Seems we're losing ground on Wright, Dobbs is more than likely an interior as is Correll. Just saw Tarquin and Olmstead just commit elsewhere. Nester is projected to move inside. Jacoby can play anywhere along the OL they say. Carroll will be ND bound. Harry Miller is a Center. Truss will be PSU bound until he possibly visits.
Keegan and Krisrofic could be OSU bound. Im starting to think we will see in-state tackle Jonathan Allen possibly get an offer.