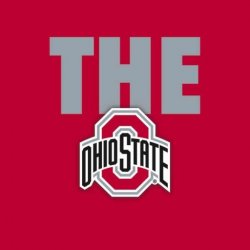 Bucknut1977
---
MEMBER SINCE April 01, 2019
Recent Activity
Nice Stuart Scott shoutout, Independence Village 22.
Florida State or Florida lean.
Top 5 lock. Buckeye Nation will miss him greatly, but next man up. Here's hoping Wade stays (but I'm not holding my breath).
Who would downvote this post??
Prayers to BG and his family on the passing of his mom.
With Hafley reportedly leaving to become head coach at BC, are we looking at any players de-committing? Hope not because Hafley was a dynamite recruiter. Any thoughts how this will effect Stroud's recruitment?
Also some predictions from the staff....
https://ohiostate.rivals.com/news/staff-predictions-wisconsin-b1g-champ-game-?yptr=yahoo
Doesn't matter. Buckeyes will light up both D's.
Is this a pic of Harbaugh without his cap on?!
59-0?? That score sounds familiar....
No ranked wins for Clemson? That can't be possible, can it? ACC seems to be getting worse overall every single year.
Folks, Bijan is not coming here. Move on. This Bijan-to-OSU talk is getting old.
Can we please focus on this weekend's game vs. TTUN first before we start threads like these?
This is the epitome of looking ahead when you shouldn't be....smh
Shipley = C. McCaffery.
He'd look good in S & G.
Accident could have happened playing DE while diving for a QB. Unfortunate, but Jack won't change his style of play. Hats off to him for that.
As a Head Coach, you utilize your best player(s) anywhere (defense, offense, special teams). Enough of the people saying he shouldn't be playing quarterback... you'd put him there too if you're on the goal line and have a 6'5" stud who could pound it in.
Prayers for a speedy recovery Jack.
Even though we bleed Scarlet and Gray, you've got to give Harbaugh props for keeping that qb's scholly and offering him a spot on the staff. Classy move.
Best. Comment. Ever. Thank you, Spartan13.
2 points here..... 1) Gee Scott is not the 36th best player in the country. Should be top 15 after balling out at numerous camps. Richard Sherman even said as much and
2) Paris is minimum a top 3 talent. If the people doing these rankings have ever seen this kid play live, they'd know he's one of the best OT prospects ever. This is no exaggeration (combo of size and speed).
I'm sure if they were both committed to SEC schools, they'd be ranked higher........
Sawyer is deserving of that #1 slot. He's a beast.
I think we have to come to the realization Bijan may not be coming here. Let's move onto EJ and try to secure our running back spot. Smith is a good rb, not to mention his Hall of Fame father could be an impactful recruiter for us in the future (ala Stacy Elliott).
Rumor is Bijan absolutely loves L.A., and USC makes more sense if it's a "closer to home" decision. If it's not Ohio State, don't be surprised if Robinson becomes a Trojan.
Still hoping Bijan delays his August decision. Would be the best news for OSU if he does.
Prepare for a Texas Tommy meltdown on August 2nd.... get your best memes and GIFS ready Buckeye Nation.
Gee's 5-star status is LOOOOOOONG overdue. I don't know what else a player has to do to earn it. He's the second best receiver in this class behind only Fleming and deserves that bump.
Hartline's title as the top recruiter in the country will come in due time......but I sure wouldn't trade him or Larry Johnson for anyone else.