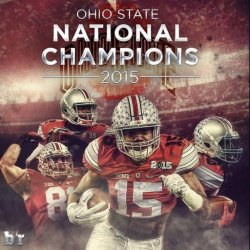 BuckNut_1974
---
MEMBER SINCE July 12, 2016
Recent Activity
UV for the Spaceballs reference. One of the funniest movies ever IMO!
I think you would be right IF he didn't have the health concerns. But if that was the case, he would more than likely still be coaching @ tOSU.
Thats fine and all, but what happens when we play a up tempo team that doesn't let us substitute players? I want fast LB on the field in our base defense. Not sure I would consider Tuf a fast LB.
Not sure why, but nobody hypes up McCall more than this board does.
"We" chant O-H-I-O in their stadium. And I like it. So what goes around comes around. I can deal with it.
HUGE difference between fans doing that and a player doing what he did.
I absolutely despise the PC attitude whereby people have to "apologize" for winning, or celebrating, or doing whatever else because it "offended" somebody. Grow up, people!
I also despise the PC culture, but there is a difference between winning and celebrating with your teammates and doing what he did. He is a good and competitive QB, but he is also a immature punk that has no idea what it means to have or show respect to his opponent. He has a long history of taunting. He's the one that needs to grow up and just let your actions on the field do the talking. There are sore winners also.
The whole Justin Fields can't read defenses narrative is comical & racially rooted.
Damnit Kevin, look what you started with your whole "white guy" comment.
Was thinking the same thing. A little odd to me.
On another note, would have liked to see 67 get the Captains nod.
Second that!!
Captain doesn't always mean best player or starter. I do think that Borland will be named A starter at MLB but not THE starter. Just like in the past few years, I think we will see a lot of "co-starters", which I personally hated.
People are way to sensitive sometimes and always assume the worst. Just because something isn't "PC" enough for you doesn't mean its bad. Geesh.
This, right here, is why our fanbase has a bad rep. Be better than this.
Why do you, or anyone for that matter, care about what others think of you or us as a fan base? Its not something that you or anyone can control. Regardless of anything we do as fans, there will always be haters in this world. Best just to ignore them and move on. Will live a much happier life. Don't get why people stress over things completely out of their control. Just let it go.
In the end it won't matter they'll both get huge 2nd contracts because their potential and what if's.
I'm not so sure about that. If they both keep getting injured and are basically only playing 50% of the time, teams aren't going to pay them as much as someone with less talent that plays all the time. At least I wouldn't. Doesn't help the team when your on the bench. But maybe I'm wrong and teams see the up side as just too good.
Eh, as much as it pains me to say this, Harbaugh is correct that some players will just use the claim to get their eligibility/transfer.

My real concern about it, though, is that it could make a bunch of noise to drown out the people actually suffering and in need of help.
Agree. My issue is why does Hairball care if the kid is lying about his mental health? If he is lying then the player is the one that has to live with it. And if the player is willing to lie about it to leave then why would you want them on your team? And also you should ask yourself what made them want to leave so bad that they are willing to lie.
SUMMARY: An LSU booster pleaded guilty to taking about $800,000 from a charity for sick children and funneling that stolen money to LSU football players. He also intercepted gift cards intended for pediatric cancer patients while funding LSU and New Orleans Saints football game day festivities with stolen money from the foundation.
That's a whole new level of low. What kind of sick F*CK do you have to be. After his time in jail, they need to tattoo on his forehead "I stole from sick kids". Only people that are worse, murderers, rapists and pedophiles.
Am I the only one that would LOVE to see Les Miles at TTUN? That would be endless entertainment. He is a "Michigan man".
Well, knowing what we know now, I'm not sure CS would have let him see his kids at all. She was already trying to do that. If he would have taken that job, it would have been even harder for him to see them.
I get that. But I think they should be allowed to transfer 1 time without penalty. People are free to leave their jobs at any time in the real world if they aren't happy. Students are allowed to leave and go to another university if they aren't happy. Why cant a student athlete be able to do the same? I know that student athletes are on scholarships, that's why is should only be allowed once without penalty.
Maybe the NCAA will stay consistent for a couple years this time and judge things the same for everyone over the next couple of offseasons.
And what in the history of the NCAA makes you think that is a possibility? They just make up the rules as they go.
Love the Animaniacs "wheel of morality" reference.
Yup.
"She went around pointing out all the blue she could find in the building," Toutant said. "She asked Coach Day why they had yellow on the charts in the weight room if they don't like blue and yellow. He told her because it's gold, like a gold medal. Then she told him it should be gray, like platinum and their colors, and platinum is better than gold. He legit didn't know what to say, so he called (Director of Player Development Ryan) Stamper and said that had to be discussed."
Sounds pretty smart to me.
Guess you don't get sarcasm.
Am I the only one wondering how a college student can afford a flight to Africa?
This young kid hasn't been home in 3 years and finally gets to and this is what you think?? Really? Don't know about anyone else but if I hadn't been home for 3 year, I would be doing everything I could to save the money to be able to see my family.
Would love to see that. Especially if it just so happened to snow a few inches. But we all know that is chicken shit Saturday so that ain't gonna happen.
Based on his comment, that's asking way too much from CherryWine.
Not sure I would go that far. It is a rivalry game and you only need to look to the Cooper years to know that the more talented team doesn't always win in a rivalry.