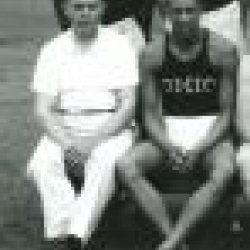 Bucknut-in-the-South
---
Winston-Salem, NC (via Richwood, OH)
Member since 30 August 2010 | Blog
Favorites
SPORTS MOMENT: Pitching a one-hit game, still losing 4-2.
COLLEGE FOOTBALL PLAYER: Jack Tatum
COLLEGE BASKETBALL PLAYER: Jim Cleamons
NFL TEAM: Browns
NHL TEAM: national hormone league?
NBA TEAM: Cavs, of course
MLB TEAM: Yankees
SOCCER TEAM: Nope
Recent Activity
So sorry, Brutus. My mother, aged 86, passed away this summer, so this will be the first year of my long life which does not include her singing the Buckeye Battle Cry over the phone right before the Xichigan game. Cheers to the wise parents who chose to live in the greatest state in the union and cheer for the greatest university in the land. Go Bucks!!!!!
Ditto this, North Berg. I can still see Big Luke's smooth hook after a nifty Nowell pass, and Hondo hounding his man into mistake after mistake, while Siegfried filled it up from deep when defenses collapsed in the lane. Smart, unselfish, fundamental basketball always produces results. Combine that with some good recruiting and who knows what is possible!
Ramzy, I happened to know both men, neither one well. I worked sort of indirectly for Woody as a student trainer in 1971 & 1972, and in my last three (or four, my memories of the early 70's are somewhat hazy) years, I was a supervisor in the intramural sports program, where the AD parked Fred Taylor to work out his contract after he was relieved as basketball coach. Woody was certainly cranky and demanding in practices and on game day, but he commanded respect and gave it in equal measure. He never said a harsh word to me, though he often told his players to get the hell away from that god damn water carrier and get their asses back to work. Knight I met twice, both times when he was visiting his old coach, and, on both occasions he was cordial and profanely funny. As time has gone on, my respect for Hayes has never wavered, but,like you, I think Knight is becoming a caricature of himself. Sad, for such a smart accomplished guy. As a side note, Coach Taylor was one of the all time great guys I ever knew. Funny, self-deprecating, and very fond of scratching his balls.
Children, please! Hands down the best dorm of all time was the Stadium Dorm. Two years of basketball under the stadium with townies from Columbus Central smoking cigarettes while waiting for next, hauling out the pitching machine in January to throw snowballs out of the (then) open end of the stadium, and late night drunk (high [tripping]) walking the ledge of c-deck. Nothing else compares. High Street died when they closed the Agora.
West-By-God
Nova
(Not So)Mildcats
FSU (women silent, please!)
MTSU MTSU!
Zona
Hoos (not Hoosiers! See Ya Tom!)
Cyclones
Upvote for the BGE! Best smoker/grill in the galaxy!
Generally, I putter around the house - yard mowing, flower bed weeding, garage cleaning - sort of building up points with the wife to redeem when the game comes on. Though, I have to say, she is a sport, and often watches with me, though she is a Dukie, only falling asleep when the game is out of hand.
Thanks, Knarcisi. If you are there, I owe you a beer.

Thanks for the help. I'll be at BW3's for the game.
Facemeat - last I checked, Google was not a member of the 11W community, and would not let me buy it a beer for a good recommendation. If these questions drive you nuts, ignore them.
Birm - I am a longtime member of 11W, but I rarely comment on a specific article. This is no exception, as I am commenting not just on this piece, but on your body of work as a whole. What I want to do is thank you for your reasoned, intelligent, and empathetic coverage of a volatile and often misunderstood subject. As is evident on message boards and twitter surrounding college football, recruiting brings out the worst in many fans, fans who have little understanding and no respect for a process which is fraught with pitfalls for teenagers and their families who are making what will be the most important decision in a young man's life to this point. You get that, and rightly remind the more rabid among us of that every time you hit your keyboard. You are, simply the best there is currently writing on the subject, and this comes from a guy who used to tape Archie Griffin's ankles, so I have followed Buckeye recruiting for a long time. Keep up the good work, sir!
Just wow. This is why I am proud to be a Buckeye.
Great piece, Alum. As a Buckeye oldster, I vividly recall similar feelings and stages of grief at the end of the 1970 season, when the steamroller which was the super sophs turned jammin' juniors (anachronism, I know!) ran into the future in the person of Jim Plunkett and the Stanford Indians (O! the political incorrectness!). All of the same ingredients were present: An anointed team under the direction of a legendary coach; a fairly easy schedule (only Northwestern and Michigan were ranked); a seeming ability to rise to any challenge; and a self-satisfied fan base who were sure that the Bucks would win National Championships until Jesus returned. As a 17-year-old, I was blissfully unaware of the stages of grief 9 (EK-R not having identified them yet), but I certainly went through every stage of them in my adolescent mind. There is, however, another parallel which has not yet come to fruition. That is the 20-9 victory the #2 Buckeyes secured against 9th-ranked _ichigan. It is a parallel I fervently hope manifests this Saturday! Go Bucks! Beat the Khaki & Blue!!!!!
Thanks to all for the cogent comments. This forum is filled with smart people!
Thanks for the point-by-point analysis, JKH. All of those things make abundant sense. I am a huge Darron Lee fan, both as a player and as an outstanding young man. Hopefully he can shake off the injury bug. Also, him playing the nickel back makes a lot of sense and explains why he is not at the line of scrimmage more. Again, thanks!
Being a transplant to Carolina (North, of course), I am drinking some Mother Earth Bohemian Style Pilsner today. At the risk of starting a fight I cannot win, I think beer should taste like beer, not fruit, and certainly not a vegetable whose two designated uses are in pie and as a synonym for Jim Harbaugh's head.
I was born in the year that Joseph Stalin died. Dwight Eisenhower was President. Growing up, I was very aware of the WWII generation - all of my uncles fought in the war (my father, being a bit younger, fought in Korea). Those men possessed a calm assurance that they were on the right side of history and a quiet integrity which was displayed in all that they did and said. They were not perfect, but their legacy suggests that there are things which are more important than life - freedom, human dignity, courage, and willing sacrifice. It would be naive to idolize these men, but it would also be criminal to ignore their contributions to our continued enjoyment of peace and plenty. Defining what a hero is can be a tricky business, but the heroism and tenacity of their fight will live forever in our collective memory; with honor, gratitude, and hearfelt thanks.
Jumar, I know you expressed a preference for gas, but after years of frustration with hot spots, disintegrating burners and grates, and expensive gas refills, I bit the bullet and bought a Big Green Egg. Yes, it uses charcoal, but unlike most charcoal grills, lighting it is a breeze and once it is lit, temperature control is precise and simple. I have done steaks at 700 degrees, perfectly seared and juicy, as well as slow-cooking whole prime rib, turkey, and pork loin. The Egg can hold a temp of 250 degrees for hours. It is pricey, but comes with a lifetime guarantee, lots of accessories, and an awesome reputation for service and durability. I am set for life!
Mr Byrne,
With all the respect due to one of Marion's elite from a former denizen of one of its cowtown satellites (Richwood), I must take exception to your seniors comment. I am one of the silver-haired legions of tOSU faithful, and though the old gray stallion ain't quite what he used to be, the strain of dialing 10 numbers has not yet exceeded my abilities. After all, Warren G. "Winnie" Harding was equally silver-haired when he laid waste to the question, "Who is the greatest president of all time?" Though I would never put myself on the same plane with such an esteemed politico, raconteur, and dandler of young lovelies, I do believe my powers are not waning to the degree that area codes have become a mystery. Keep up the good work, my young friend, from an admirer and fan in his golden years.
Regards,
BITS
Saw Robin Trower live in 1974 - he was the middle act in a triple bill headlined by Mott the Hoople (their song All the Way from Memphis is badass) and opened by an unknown band from Boston called Aerosmith. Great concert. What I remember of it, that is. My contribution to the discussion would have to include a very obscure track by a 70's band called Captain Beyond, three members of which were Iron Butterfly alumni.The song is Sufficiently Breathless. https://www.youtube.com/watch?v=kHk-cyhdD80 Another would be a classic by one of the great bands of all time, Buffalo Springfield, whose members were a who's who of folk rock: Neil Young, Stephen Stills, Richie Furay, Jim Messina. The title is Bluebird https://www.youtube.com/watch?v=55q2rRh5UUU
Any fruit pie is great, as long as it is not overpoweringly sweet - that perfect combination of tart and sweet makes pie the clear winner over cake. If I had to choose one, it would be Grandma Zuspan's gooseberry pie, made with the small, sour, green gooseberries and the flakiest crust ever seen in Union County.
I live in the epicenter of tobacco road, where basketball is king and football is simply a diversion and an excuse to do keg stands in the fall. Most of the folks at work gave us no chance against either Alabama or Oregon, but all were gracious and congratulatory after the Buckeye Domination. Flying my Buckeye flag proudly and wearing my gear every chance I get.