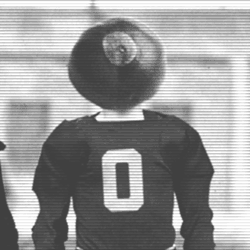 BuckNKY
---
Florence, KY (via Cincinnati, OH)
Member since 15 December 2011 | Blog
Born and raised in Cincinnati. OSU Class of '98 Electrical and Computing Engineering. After graduation moved back to Cincinnati and have been an IT professional and consultant since. Married, three kids all learning the importance of the Buckeyes in this world.
Favorites
SPORTS MOMENT: Ohio State - Michigan 2002. Seats in the open end of the bleachers. Won the (right to purchase the) tickets in the Alumni Association lottery that year.
COLLEGE FOOTBALL PLAYER: Orlando Pace
COLLEGE BASKETBALL PLAYER: Michael Redd
NFL TEAM: Cincinnati Bengals
NHL TEAM: What's an NHL?
NBA TEAM: Meh
MLB TEAM: Cincinnati Reds
Recent Activity
Dammit - beat me to it. Grilled PBJ FTW!
But did any of his teammates go to his 21st birthday party?
So one question for the better football minds of this site. During the fake field goal it appears to me that the holders knee is down when he throws the ball to the kicker for the run-in. Why isn't the holder down then?
Aww damn. <rips up Dominos application>
Working at Fifth Third Bank corporate headquarters in downtown Cincy. Co worker actually had a small television in his office, turned it on after the first plane hit. Pretty much thought it was a really bad accident until we saw the second plane hit live. Needless to say, didn't get a whole lot of work done that day. Remember coming home from work with the wife and never really leaving the TV for the rest of the night. Sobering, solemn, depressing, and just damn sad to this day.
Obligatory repost from 11w's own Ramzy
http://www.elevenwarriors.com/2011/08/one-day-in-september
From the Grandland piece:
Jones — roughly built like a fire hydrant composed of other, smaller fire hydrants
Ha ha ha ha ha!!!!!
And why haven't I seen this before:
big fan of the cardale jones "haunted downhill shopping cart" school of running

— pete beatty (@petebeatty) January 2, 2015
Love it...
Spencer Hall nailed this one. http://www.everydayshouldbesaturday.com/2015/8/21/9188971/a-few-maybes-about-the-baylor-case
Brilliant. Upvote for you good sir.
Holy Shit - it's a Ramzy greatest hits article. Seriously - budgeted 6 mins tops to read this, went WAY over budget when I followed ALL of the links to the previous articles and read them beginning to end.
Now off to my all time fav - the 9/11 article. Gonna need some tissues...
Bump.
Two favorite plays from the season both involve Evan Spencer. The TD pass in the Bama game and the attempted onside kick by Bama. Both were awesome plays, and both times Spencer had GREAT reactions after the fact - you could see the emotions, joy, happiness, etc.
Great summary of this season.
My favorite part - as President Obama was leaving he says "Oh wait, hold on. Archie Griffin is here!" and the President of the United States went back on stage to get a photo op with Archie!
Stay positive, Action. Human spirit can be amazing at times.
And, yes, when the diagnosis comes, it comes REAL HARD. Have been there. One day at a time.
My mother passed in Jan '14 after 18 year battle with a brain tumor - one that she wasn't supposed to survive 2 years. She saw all four of her boy's weddings, and 11 grandchildren!
There is not a day that goes by where something - some very little thing, mostly - reminds me of mom. Cherish these memories, and the tears. And cherish the memories of the fight your mother put up. Human spirit and the drive to fight through the challenges are what makes the person - and what will ultimately remind you that you will never be alone.
Many condolences to you and your family.
I wanna see an odd couple gif by LSUFreek with Tressel and Pellini heads.
About 20 minutes before the big reveal, athletic director Gene Smith bounded into the living room beaming and said, "We're in!" The entire room responded in unison:"Really?" He smiled and replied, "I have no idea."
Gene Smith trollin'.
At the beginning of the late block of games I sent a text to my brothers that I won't watch the Fla St game because they always piss me off. Tuned in to get a score to see this "drive". Pissed off again. Dammit Florida. Never rooting for you again.
49-10 Ohio. In honor of Hokes last game.
Dammit Gray - that was my takeaway as well. Turns out you were posting while I destroyed three walls in my hotel room!!!
OMFG Coach Coombs!!!
Both Joes have or are adroitly tolerating a quarterback crisis. Both have been resilient in losses and remained stoic behind struggling offensive lines. Both are just mobile enough to not have it become a liability, but overwhelmingly both manage the fog of football acrimony with abiding grace. That leadership trait cannot be overvalued. It makes every single player on the field better.
Ramzy - wordsmith...
Eighteen seasons ago [Ed: Ugh, really?]
+1000
Did you watch Cincinnati vs Toledo? Their defense was horrible. It is their offense that worries me.
Thank you D11 for posting.
One of Ramzy's finest, and one that I make a point of reading every 9/11. Special thanks to all the first responders across this country of ours.
Your sig. Is there a pop culture reference there that I am missing, or just something that you came up with?
Don't get me wrong, it is awesome either way. Just curious...
Thinking Natural Born Killers or Fear and Loathing in Las Vegas