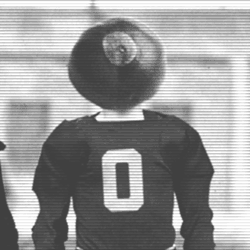 bucknasty13
---
MEMBER SINCE April 02, 2012
Recent Activity
Ramzy. I love your work. You are an extraordinary wordsmith.
It's not right that we are trying to justify bouncing an undefeated Notre Dame when we got beat by 30 against Purdue. We are the ones with the black eye. Our wins are more impressive, but ND is deserving. I also fall into the crowd that is disappointed (spoiled) about going to the Rose bowl but ND is more deserving.
I agree 100%. I'm predicting he will be back by October.
I'm originally from Ashland. Don't go to school there! Not to mention that may cover roughly 10% of your tuition. There is nothing to do in Ashland.
This.
He's"assistant to the" offensive coordinator.
I think kickoffs needed to be graded harsher. They were awful the majority of the season. It got better, but there was a lot of kickoffs that went out of bounds and I remember at least one returned for a touchdown, but I feel like there were multiple.
I was really surprised to see Dobbins only averaged 10 yds/game. It seemed like he did a lot more through the air to me, maybe my memory is slipping in my old age.
At this point I hope he plays, then when the it comes time for a playoff push/in the playoffs, he is finally suspended. I don't think the Cowboys are looking at how this could really hurt them later in the season. It's fine with me. I'm not a Cowboys fan.
I would drop a couple hundred for a pair of gold pants! Unfortunately I live in Florida.
I'm really excited about a player who is one of my neighbors and has been offered, was wearing what I believe is an OSU hat today. I won't say his name but it is a 19 prospect from Florida.
Any idea what the maximum number of tickets you can buy is? I'll be all over it once they go on sale. I tried to get them a few years ago without any luck.
Haha! I was going to make the same comment. 5th time...
Weak joke...Lucky for you, I'm a sucker for weak jokes. Upvote for you!
I tip my cap to you Eric. This was a very well thought out and written article. Nice analysis.
Interesting analysis. Why is he at the top or near the top for so many Ohio State passing records?
I'm going to offer my thoughts on the subject of whether we get in. Alabama is in, right? Even if Alabama loses the auburn game, they are in. Let's say they do lose to auburn and we win out. We then move to #1. Now, could it remotely be possible to leave a #1 out, without them losing a game during championship week. I don't think so. Alabama is still in, so does it really matter if we are #1 or #2? I don't think it does.
Woohoo! Awesome news!
Might want to fix the spelling of his name at the title on this page.
That Rice ring looks pretty sick too.
He will be a red-shirt junior next season. Maybe he is going to grad-transfer. I don't know.
Agreed. Also, why is nobody mentioning Stephen Collier in the quarterback competition after JT leaves? He was battling in the spring for the backup roll, gets hurt, and it's like he's dead now that Martell committed. Really though, am I missing something?
Ohio State doesn't give out free tickets... Not even spring game tickets.