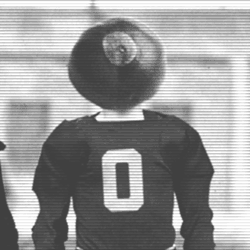 bucknasty
---
Member since 04 January 2012 | Blog
Favorites
SPORTS MOMENT: '11 OSU win vs. Wisconsin, '14 B1G & National Titles
COLLEGE FOOTBALL PLAYER: Mike Doss
COLLEGE BASKETBALL PLAYER: Jon Diebler
NFL TEAM: Cleveland Browns
NBA TEAM: Cleveland Cavs
MLB TEAM: Cincinnati Reds
Recent Activity
Anyone have any idea if Bazley might be a possibility again or has that ship sailed?
I know money shouldn't be an issue, but from what I saw he's making $5 mil/year. How much more would OSU have to shell out to get him to leave? For comparison, Cal makes 7.5, Self makes 5, Coach K at 5.5 ( per http://sports.usatoday.com/ncaa/salaries/mens-basketball/coach/)
Bielema walked around that stadium for years, so it should be fine.
I was a freshman in 2010.. looking back now, I probably would have cherished that game a lot more knowing it was the Vest's last. I remember how devastating it was when he stepped down. How on earth would we replace arguably the best Coach we'd ever had?.. little did I know I'd be sitting in Arlington, TX 4 years later watching my Buckeyes win the national title with Urban Meyer at the helm. We are pretty lucky. Long live the vest and Go Bucks!
I'll never forget that Tyvis became a Buckeye at our darkest time. His response about the state of the program and why he wanted to be a buckeye in the midst of Tatgate was something like, "the business school didn't burn down, did it?" Kid is a true Buckeye and I'm sad to see him go. The interception to seal the Michgan win in 2013 and the Hail Mary INT against Bama were just two of my favorite highlights from a solid career. Best of luck, Tyvis!
Wait, defense is a thing in the NBA?
Chills. Thanks, Ramzy. Is it Labor Day yet????
Ideal scenario: we're an 8, play Kentucky round 2 and ruin their undefeated season. Realistically we probably wouldn't win, but I hate UK and would love every second of that
I agree 100% that a HEALTHY Braxton would win the job. I'm not sure we will have that luxury, however. It's a shame, too, because had Miller had WRs playing at as high a level as Barrett or Jones he wouldve set the world on fire.
All I rememeber is the Wiscy fans I talked to in Indy talking about how ugly the game was going to get with our 3rd string QB.. They were right, it did get ugly, just not in favor of their team..haha.
I LOL'd
Recruiting is so fluid. What if your son always wanted to be a Buckeye, but was not offered initially and committed elsewhere. Then OSU came calling before signing day. Would you make him sick to his initial commitment? I see your frustration, but it's a big decision in their lives. Kids commit so early these days that you're kind of forced to make an early decision to make sure you have a spot somewhere
Can you imagine how easy its going to be for the master motivator Urban Meyer to get the team foaming at the mouth for this game next year? If they aren't already, that is. If this game is within 4 TDs I will be shocked.
I have a friend close to the program.. He is pretty adament Braxton will be moving to H-Back. I think the shoulder injury is a bigger concern than ppl have let on. Take it for what it's worth. Either way, we cant go wrong with any of these guys. Go Bucks!
What a guy!
Kid is an animal. It was good to see him celebrating at Toos last night..haha
We should lend whoever doesn't win the starting QB job to a couple teams in order to make at least two games competitive..
SO excited for this game against Bama. No one outside of Ohio is giving us a chance, and that's exactly the way this team likes it..
You just get the feeling that this team is so tight-knit and gritty that there aren't going to allow each other to lose.. In spite of the circumstance, I'm strangely confident that we're going to win this ball game.
Burrow, yes. But I wouldn't be so sure that we don't see Gibson playing some wide out.. I know we've promised him a shot at QB, but how can you keep his athleticism off the field?? A nice dilemma to have, for sure.
Great stories Alta and Bucknut. Makes me excited to share The Game with my son like I have with my father. One thing I am thankful for today is the bond Buckeye football has helped build with my father, as I'm sure is the case with a lot of us here. While football may be just a game, the relationships that have formed from my love of Buckeye football are immeasurable. Go Bucks, and enjoy your time with family today, my friends!
120 a year!? To show what, other than 2 games a year? There's hardly even enough to fill 24 hours on the cable channel without showing BTN Live 12 times..
I see your point, but Ole Miss and FSU just agreed to kick off the '16 season with a game.. If we really wanted to add a quality opponent, even if that means going to their place, i think we could.
I see what you're saying, but if we want the committee to put less weight on the VT game, couldn't TCU make the same argument that they too have improved since they played in week 2? Regardless, style points matter and a drubbing of Minny would be ideal!
I feel ya. However, I'm just going to enjoy every minute of this season and JT's performance, then worry about next year after the seasons over. Here's to beating the Gophers!
And thats the conservative estimate of his career trajectory..