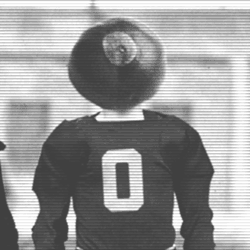 Buckloving
---
from lima
MEMBER SINCE July 13, 2014
Win or lose. I love my bucks
Favorites
SPORTS MOMENT: 2002 Nat'l Champ Game
COLLEGE FOOTBALL PLAYER: Chris Spillman
COLLEGE BASKETBALL PLAYER: Lew Alcinder
NFL TEAM: Bengals
NBA TEAM: Cav's
MLB TEAM: Red's
Recent Activity
Don't let the facts get in the way?. Did we cover?
I'm always optimistic even though I don't sound like it. Anything can happen. I've seen us lose over a hundred games. I don't count wins before they happen. You guys can call me pessimistic if you want. I call it experience
Makes an old man want to be young again. But I can just see the whole country making fun of the old man making a ass of himself on national TV. Not a good look I'd want the grandkids to see
And then the poor SOB was drafted by the Redskins. Sometimes life isn't fair
That I can believe
That's not the only chance at all. Turnovers. Injuries. Stupid penalties or a combination....lots of things can happen
Finally something on here I can agree with Buck 64
We sure as hell didn't cover against Rutgers. Not even close
These guys can make fun of Ole Dabo all they want. He's outcoached Urban twice
How many times did Fields underthrow the reciever?
They would all look better if Fields stopped under throwing the ball
Not hard to see there's an issue there
I love him too but how good would he be on a Bengals team?
Clemson didn't play anyone last year either and looked so so doing it. They got in the playoffs and slapped the shit out of Bama and ND.
Right.....I'm not one of the guy's on here who claims wins before games are played
What's it mean if we don't win it all?
The best part all of our backups got a lot of playing time and I look for them to do the same against Rutgers. That's important. Looks to me like our 2nd string would give Michigan a good game
Maybe we should be grateful it happened now instead of before the PS and Michigan games
We do know "something"....if he borrowed money from a family friend and repaid it how does the NCAA know about it?
And so it begins
I think so too Philly. I really like this team's chances but I don't want to risk it. Let's save that for another year lol
Can't say enough good things about him. I think we found a gem
Anytime you can get in a nooner and a nap before supper is a good day
Hell yeah
Thank God. Get us out of that damn spot