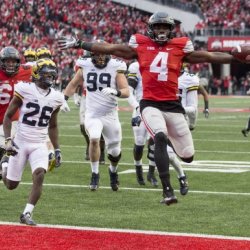 BuckIPA
---
Murfreesboro, TN (via Springfield, Oh)
MEMBER SINCE July 14, 2017
Favorites
SPORTS MOMENT: OSU 2002 National Championship
COLLEGE FOOTBALL PLAYER: Eddie George
COLLEGE BASKETBALL PLAYER: Michael Redd
NFL TEAM: Cincinnati Bengals
NHL TEAM: Nashville Predators
NBA TEAM: Cleveland Cavs
MLB TEAM: Cincinnati Reds
Recent Activity
The Harbaugh Milk Stout. Aged for four years but still not that good.
Goddamn that's beautiful. + 62
Couldn't have said it better myself. I relate to tying everything in with being proud of where you're from. I was born and bred a Buckeye, but live in Tennessee now. Not many close to me down here understand my passion for it, and that's why I love 11W and reading posts like these.
Ride on, Coach.
Not the best way to start the day, but man...Thanks Urban! You're going down as a legend!
Just found out I'll be attending as well. Leaving early Saturday morning from Nashville area. Hope I can get there in time to find a seat and have a couple before going to the Stadium. Thanks everyone for the info. This will be my first time so my buddies and I will be looking forward to it!!
Those who stay will be quitters...eventually.
I wonder if any TTUN students have some for sale?
Oh my god. Fuck that team. I wish I could say something more intelligent, but I've been drinking since this morning. #nomorerevengetour.
J.T. Barrett. Picks the good guys then goes and fires the team up before kickoff.
This game will fall somewhere between Oregon St. & Rutgers. Hoping to see the D allow no big plays on the heels of the trip to West Lafayette. 63-14 Buckeyes.
Screw Michigan.
Had to vote for Master. Helped him get the helmet he used during signing day down here in Murfreesboro, TN. Met him and his family. Awesome folks!
I just can not see a scenario in which the investigators clear Urban of any wrong-doing(if everything that's out there is what we know currently), recommend full reinstatement w/ no suspension, and the BoT and Drake do the polar opposite effectively wasting time AND 500,000 dollars. Why even have the investigation if the want to fire him. Maybe I'm wrong, but it makes sense to me.
Oh...and Fuck Michigan.
BREAKING:
Zach Smith was arrested upon opening package. Officer McTurdnugget claims citizens arrest.
More at 11.
I'm about to start ripping cabinets off my walls. Let's get this done!!!!
I think if a one loss Notre Dame is sitting there at the end of the season and if we win out, the committee may put them in over us. No one seems to be mentioning them but they have a decent SOS. The powers that be would love to have the Irish "back". I could also see a scenario where if the expected Georgia-Bama SEC Championship is close, they put both in. Gotta love that SEC bias. Either way though-" Just win baby!" and we'll be fine.
I was at that N.C.State 3 OT game in '03. Best game I've ever been to, hands down. I think that was the time I drunkenly started walking in behind the band trying to find my seat and got chased down by a security officer. To be 22 again. Anyway, I still wonder why it hasn't gotten the attention as one of the top games of the past 15 years. We were defending a Natty and a top 25 matchup to boot. Oh well. Beat OU! 38-17 good guys.