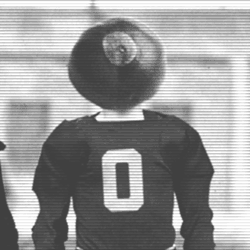 Buckiowa
---
MEMBER SINCE January 15, 2016
Recent Activity
So there's obviously JT and Tywone Malone. Who's the third guy....Damon Payne?
USC has a game of musical chairs with their quarterbacks and lots of injuries to their offensive line. The blowout loss to Iowa was a tight game till their QB Slovis got knocked out of the game.

That 55th ranked recruiting class won't be seeing the field this season, but their really talented team will be. The team is really good if you look closer.
At the end of the day, both Clemson and Ohio State can make Egbuka's dreams come true. He knows this. What does his recruitment come down to then? Comfort and relationships. His best relationship is with Hartline and he'll have the comfort of having one (and hopefully two) Washington native on campus with him.

If Hartline wasn't recruiting him, then I would be genuinely concerned, but as of now, only slightly concerned with Clemson. Hartline just gets it when it comes to building relationships with recruits, which is really while we're still doing well with Stellato even as he had an amazing visit to Clemson and hasn't been to Columbus in a while.

There are also definitely opportunities for student athletes to be involved with their faith at Ohio State. Those programs are a big reason why Master Teague signed here as well. The issue is that a recruit has to make it known that that's what he wants emphasized, and then the recruiting staff will deliver. Clemson incorporates faith into their pitch already, and sometimes it really resonates with a recruit.
As far as the depth chart goes, we should have Garrett Wilson host him when he gets to campus. Wilson is proof that no matter how stacked the rotation, the best players play and can break through right after they get to campus. He just might need a reminder of that.
Appreciate it! I definitely had your breakdowns in mind when I wrote this. As for those games, I'd say that Washington and Utah should be easier wins for USC:
Utah lost doesn't really have the speed and skill to match up with them when they go four wide and lost half their team from last year to my knowledge. USC also beat them last year without even having Slovis at QB, though Fink played the game of his life.
Washington will be somewhat interesting, but I don't like the matchup with them because I know that USC will put points up on the board and I don't think a new HC and QB will be able to keep up with them.
I like them against Notre Dame, but just barely. This game was tight in the fourth quarter last year until ND's power run game took over for a last drive. I think improvements in SC's offense and Todd Orlando having a better system to stop the run, plus the game being at the Coliseum should push SC over the edge.
I can't see USC winning at Oregon. It's a bad matchup for them because I think their defense is going to be elite and they have four great cover guys in the secondary and the game is in a hostile environment. We don't know what kind of Oregon team this will be though, as they could even have two losses coming into this game. Either way, I'd say this is a likely loss for USC.
The bama game really intrigues me for a couple reasons. Firstly, beating Bama is difficult, but not impossible and requires teams to have excellent QB play and to be fearless. Slovis is a fearless quarterback for sure, and he will continue to take downfield shots all game. To me, Bama's secondary is suspect after losing Trevon Diggs and I don't think they'll be able to cover all of USC's receivers at the same time even while having Patrick Surtain on the field. I like that matchup between USC's offense and Bama's defense for this reason. I'm also not sold on Mac Jones at QB, though those Bama receivers are scary to deal with. USC has some talent in the secondary, but I don't think they can take on Bama's tandem. It should be a high scoring matchup, and I'll lean bama, but I think USC has a shot here.
There are two Imatorbhebhe brothers, one that used to play for USC but now plays for Illinois (Josh), and one that played for USC, then didn't, and now does again (Daniel).
This is definitely true, but the offensive coordinator that USC added before last season, Graham Harrell, was a fantastic success. The offense put up outstanding numbers despite a rash of injuries to key players and should do even better this coming year.
Click on comments and you'll be able to read the stories in the box that pops up on the side
Some highlights:
- Losing Jackson Carman was obviously a huge shock. But what's more surprising is that no one expected Clemson to be the pick if it wasn't Ohio State. Everyone, including Coaches and Clemson insiders, expected USC if it wasn't Ohio State, and Clemson came out of nowhere.
- Jaiden Woodbey had a bizarre recruitment and there's really nothing Ohio State could have done here, which is actually the case for a lot of the ones that got away. He actually had a conversation with the staff and made it seem like he was going to stick with Ohio State about a week to signing day, and most thought that if he was going to flip, it would be to USC or Oklahoma. But instead, he just fell in love with Florida State after that conversation and never looked back.
-Anthony Cook was looking likely to end up in the class for a while, but he was very close to his mother which caused him to look to stay close to home, either at Texas or LSU. Nothing we could have done there.
-Tyreke Smith was a done deal and silently committed to Penn State for some time before he visited Ohio State for his official visit, but Larry Johnson worked some magic and something really resonated with him. He came back for an unofficial two weeks later and that really started to turn the tide, though there was still the Penn State official visit remaining. The visit went generally well, but something felt "off" and after that, Penn State knew that they had lost him. Eventually, Tyreke felt deep down that he wanted to play for Larry Johnson and cancelled his Penn State in home visit and it was over.
I have to be honest, I actually really appreciate EJ Holland as a recruiting insider. Primarily because he's not a "michigan man" in any way, shape, or form and used to cover Texas recruiting for a while and even had a brief stint covering Notre Dame. He's a good reporter and doesn't really try to stretch the truth to appeal to his readers the way others might. If he says something, it's usually without much spin.
This is an excellent in-depth preview. I'm especially curious as to how Georgia's offense will look next year. Making a transition from one coordinator and system to another is never easy, but there's no spring practice for them to work on implementing their new system and plays. Obviously they're extremely talented on offense still, but having a new starting quarterback, a new offensive system, and the loss of their elite OL coach Sam Pittman has to hurt.
I'm wondering how their offensive line retooling will influence the production of their rushing attack. Obviously Nick Chubb, DeAndre Swift and Sony Michel were very talented backs, but they were boosted by monstrous offensive lines that were important to the team's success. Will we see a drop-off in their rushing production as they replace three starters? Also, I've read that Jamie Newman is regarded as a dual threat QB. Utilizing the QB run hasn't been Georgia's style recently, so I'll be curious to see if they embrace it now that they have a QB that can make defenses pay on the ground as well.
I'm also a little skeptical of their WR talent behind George Pickens, who is obviously a stud receiver and Blaylock, who flashed a lot last year. Demetris Robertson has all of the tools and looks great on paper, but I'm really wondering why he hasn't put it all together and produced yet; he only had 30 catches for 333 yards and 3 touchdowns last year. They also brought in a few talented freshmen in the latest recruiting cycle, so it will be interesting to see if they become solid contributors.
Overall, Georgia's offense going into this year is representative of Kirby Smart's UGA program in general to me: everything seems to work on paper and everything seems to be in the right places, but something just feels off and it doesn't end up working out in the end.
He's very serious about also playing Baseball in college, and Ole Miss and Texas A&M have elite baseball teams, in addition to serviceable football programs. Rutgers has a large movement to keep in-state kids home led by Schiano, so they will definitely be a factor.
Was just reading that set of Rivals articles, and they have one for every position group. For DTs, Farrell has us leading for both Damon Payne and Tywone Malone, as well as Emeka Egbuka.
Not sure about Payne, but the news about Malone and Egbuka is very promising to hear, even though it came from a Rivals national guy.
Guys on 247 now saying that Henderson's announcement will come later this week. But, they're acting like it's a sure thing, which obviously it is, but it feels good to see them treat it that way as well.
Basically, Tuimoloau's composite ranking wasn't updated after ESPN moved him up from 40th to 4th in their rankings. The composite has since updated his ranking as he's ranked 1st, 4th, and 4th by the various sites, which is why him being 2nd in the composite makes sense.
BK CB Treveyon Henderson to the good guys!
Top QB target for us will undoubtedly be TX 5* Quinn Ewers, who has just been rated as the number 2 overall prospect in the class of 2022. Wiltfong dropped a CB for him to Oklahoma recently, but mentioned today, "I think Ohio State has done a tremendous job here too. The family also has a farm nearby Columbus they visit a couple times a year." Also working in our favor is that Oklahoma is likely to land 5* Caleb Williams out of DC, who appears to be a ridiculous talent. Remember, Ohio State was his second offer and Day offered him on the spot after seeing him at a camp.....before he entered his freshman year of high school.
I guess, my question is whether we really need Ewers. I know that sounds silly to say, but I'm not sure that the timing would be right with regards to our QB room, given that we have stud 5* Kyle McCord coming in this year. I think Clemson does it best, where they recruit a stud every two years to space them out, as they did with Watson, then Lawrence, and then DJ Uigalelei this past cycle. It could lead to a mass exodus of QBs from our room like last year. But then again, you can never have too much talent, and the best players always play at Ohio State,
That thread is just hilarious. AE is the first guy to CB Donovan Edwards to Georgia, yet the guy claims he has not credibility because he's just a "CB chaser." Pick one dude.
Yeah, I mean all this is nice, but imagine what would happen if we had a Junior Day! We'd be getting twice the commitments I'm sure.
/s
Turrentine just released a top 4 of Ohio State, Bama, LSU, and Tennessee. Seems obvious that he'll be in tomorrow.
Wonder if he's been told that the staff will take Pryor.
Continue the legacy. pic.twitter.com/eC2MMAthzj

— (@TunmiseAdeleye) March 7, 2020
Anyone know if Tunmise Adeleye was on campus today? Either way, he just tweeted this out. Also, on a related note, we had Lonnie White Jr. on campus today, a 2021 athlete from Pennsylvania, that plays QB/WR for his high school and is committed to Clemson......for baseball. No idea what to make of that, but he was here:
Had an awesome time today at Ohio State, Thank you so much @ryandaytime @CoachMattBarnes !! pic.twitter.com/bsn0zpOhmT

— Lonnie White Jr (@lonwhite10) March 6, 2020