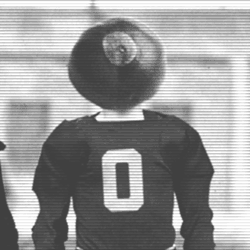 BuckiNYC
---
Member since 27 August 2012 | Blog
Recent Activity
Because they were playing Stanford football....
but in all seriousness, this is a scary point.
And the politics of breaking tradition for a big ten team (OSU especially) would have the hounds a howling... but a 3 loss SEC team (LSU anyone?) would be fine....
PSU was Missing 4 starters on defense. 3 linebackers...
Could have sworn that was the doosh bag fan that shows at all our games and pushes grannies out of TV camera shots...
Was really curious about this myself. Made an apparently legal right turn. Turned around (prob in a parking lot). Then made a left. What is probable cause?
More cops without enough robbers. And too high profile a case (and expensive) for JT, or any other ordinary person, to challenge. Cops/city get their uncontested fine money...
Buck Devil - This is what I choose to believe as well. That it was at least a part of his decision making process....
We won dude. Or, is it Debbie?
Shelly pregames like a true Buckeye
like a Boss
Very interesting point GV on the zone/man route running. I loved Ross's breakdowns. Guess i missed that somewhere. Can you point to an article somewhere that discusses this philosophy?
This comment keeps bouncing around my brain, made by i think a VT coach preparing for this year, speaking about JT and how scary fast his reads are on film. Said you "can just see him go click, click, click through the progressions" and theres nothing that can stop that....
Bingo! We have a winner!
much was made about how they limited him ( much like every coaching staff does with any backup) into only reading half the field. I think this was mentioned in every pregame from B1G champ thru Natl champ....
Dolodale may be struggling on short to intermediate pases, but at least the long ball is only a miss on the underthrown side that can be picked...
Whats to stop them from getting headsets for the whole Oline while they are on the bench?
Pls pls pls someone start this thread. I forgot my login name for a few years and have been "lurking" here so dont have enough stickers to do so. Would love hearing the butt hurt from them and eSECpin. Cant believe Mark May now has an AB C slot to spew his bullshit
Oh please do come back with a Monday recap! I want a blow by blow ! Details pls. Prob deserves its own forum.
Those SEC ass clowns can shut it once and for all. I have never been so nervous for a non buckeye game as i was for JvilleSt. Sadly the game will be forgotten as someone earlier so hilariously pointed out the narrative that will be spewed: "Did they win? Did they win?!"
I wish i could upcote this SO bad.... One of best gifs ever.
I don't have enough street cred for a Forum post, but saw this article this morning and thought others would be interested. Figured i'd drop it in here. Timing seems interesting: looks like dolodale got some news from Meyer just pryor to his migrane. Either scenario could be migrane inducing:
a) 12 Guage, you have the inside track to the starting role against Bud Foster's newest Frankenstein he has had all off season to develop just for us
Or
b) 12 guage, despite all your late season heroics and hard off season work, you still have some wood to chop to catch JT.
Splitting headach either way.....
"Meyer also said he met with the two quarterbacks on Wednesday and told them who's ahead in the competition, per The Columbus Dispatch's Bill Rabinowitz. The coach said he won't tell the rest of the team about his decision before Monday's game, adding that he's unsure about whether both QBs will play on Monday but expects both to play over the course of the season."

http://www.nfl.com/news/story/0ap3000000520682/article/urban-meyer-ill-tell-qbs-my-decision-about-starter-on-saturday

Getting an error "page not found" with the link.
Must be Reverse psychologizing them - "i double dog dare you to blitz him!"