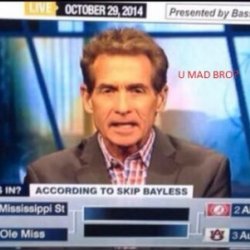 BuckinVA
---
MEMBER SINCE September 13, 2014
Recent Activity
Army pays its players! No wonder they land the best recruits lol
Remember the first year of the playoffs, and this narrative was already in place? My avatar remembers...
"the final strokes on a masterpiece title Death of a Football Program."
Something to that effect, was pretty clever as well.
....like Romance of the Kingdoms Cao Cao?
Kept wondering when my hometown would make the list. 30 is higher than I thought it would be honestly.
*laughs in committee got it wrong*
Hurricanes, Ibis
Hilltoppers, whatever the hell that thing is
Fighting Irish, though I guess that name could be like calling the big guy on the cell block tiny.....
Until Notre Dame joins a conference they should be considered in the same category as the group of 5 teams. EVERYONE knew ND would not compete, but they got in because they were undefeated and not treated the same as group of 5 teams.
The ratings will be high. The only salvation is actually for Oklahoma and Notre Dame to win, and win bigly
The " we would have put Georgia 4th if Oklahoma had lost" makes me not like college football as a whole less. Think about the season after the B1G lost only 1 of its bowl games, they would have said no to its 1 loss champ in favor of a 2 loss non conference champ. There isn't any coming back from that. It's over.
Transitive property doesn't work in football. If it did, then Eastern Michigan > Purdue > OSU, so Eastern Michigan is the B1G east champs now? Do I think we're better than OU, yes. But that's just like, my opinion man.
Again, Transitive property doesn't work in football. That isn't an opinion though, it's fact.
Bucks put together their first truly clean game of the season and beat TTUN 45-27.
There will even be a defensive score for the good guys

I remember Oregon teams that basically bushwacked everyone in their way.....
Yea, UCF is a no-win scenario. You beat them and it'll be a "you're supposed to" and if you lose, well that isn't a win lol
C'mon now, we also know nobody would stop it because it is damned entertaining. And nothing is more boring than being on watch to basically watch nothing change. A wild animal pulling antics makes a watch go by much faster.
The real question is, when did Meyer know about this incident that didn't happen? WHY DIDN'T HE REPORT THE INCIDENT THAT DIDN'T HAPPEN!!!!!! HE SHOULD BE FIRED
I couldn't find the sarcasm font
Still Active since August 17th, 2000. 18 Years and counting. Eyeballing retirement hard lol
A truer statement could not be made.
Shugarts. Can't have only one guy getting all those pre-snap penalties
There are actually 10 kinds of people in this world. Those who understand binary, and those who don't.
Ok, I've nerded enough for the day.
Big Ten should issue an apology on that targeting and not have him sit the first half IMO. That was a terrible targeting call / confirmation
UV to counter DV on an obviously sarcastic response.
We live in an age where something you did 36 years ago can come back to get you. You think this will every go away? It will always be an addition to anything that is brought up about the university. Getting the full truth out is more important than wishing it all away.
emotional lolercoaster tongiht