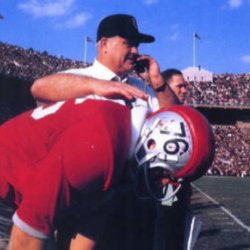 Buckinut34
---
Member since 15 April 2014 | Blog
Favorites
NFL TEAM: Browns
NHL TEAM: Blue Jackets
NBA TEAM: Cavaliers
MLB TEAM: Reds
Recent Activity
Im surprised Diebler can't find a niche as a 3 point shooter with some NBA team.
Here's the part that amazes me about people. Lebron is the best player on the planet BY far. Not close. But just because he's the best, why does everyone give him a pass for being the most arrogant person on earth? I don't hate Lebron because he left Cleveland. His decision and he's allowed to do what he wants. However, the way he did it was despicable. Just another "look at me" moment. Does anyone besides me think its ridiculous that he has THE CHOSEN ONE tattooed on his back. Who does this? Can you be any more arrogant than that? Maybe time has passed me by, but today's atheletes sicken me in general. I guess I'll just wait till Cam Newton does the Superman again after a 30 yard run when his team is down 30 points. geeeeez
Matta is an amazing recruiter. That's 26 Top 100 recruits under his watch. Anyone miss the O'Brien days? Me either. Seven years of recruiting and just 7 Top 100 recruits total. For those keeping track at home (Brian Brown, Brent Darby, Brandon Fuss-Cheatam, Matt Sylvester, Ricardo Billings, Ivan Harris and Jamar Butler). I honestly wouldn't trade Matta for any coach in the country. Highly underrated!!
Whatever happened to Trey Johnson. I don't hear him even mentioned anymore. Thought he played decent minutes last year and was expecting something from him. Is he hurt or did he just get beat out by Lee and Worley.