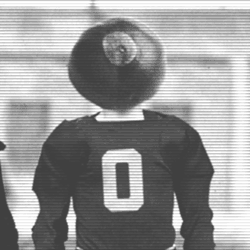 buckinraleigh
---
MEMBER SINCE June 13, 2015
Fan since birth. Alumnus since 1985.
Recent Activity
Yeah maybe funny, but not very respectful to Hoak.
I missed the game, but watched a summary video on Youtube of the game, which included an outrageous hustle steal by Aaron.
In 2017 we were 17th in the country in rushing. We've had ONE "bad" season of rushing (and in that season we were 2nd in the country in passing). One season is not enough to establish a "rep" as you put it.
"Ohio State is expected to be one of the top national championship contenders once again, but the Tigers, Crimson Tide, Bulldogs and Sooners are the teams considered most likely to stand in the way."
None of these teams stand in our way. We win all our games, we're in the playoff.
He must be lightning fast because it doesn't *look* all that strong. (and yes, looks can be deceiving)
Numbers 2 and 14 are the key to this season IMO.
I'm in favor of any package that gives us more Brendon White. He could be a real difference maker this year.
I've never been a gamer, so I have to ask: is this really how EA Sports looks? I watched about 30 seconds and had to turn it off because the animation was so horrible. How can anyone play this?
The kid has done his homework. I'm impressed he even knows who the Nuge is - wasn't Jake about 1 year old when Nuge was here?
IMO no need to change anything. Tough schedules are a good thing. I don't want to play Western Carolina (Alabama's monster opponent on Nov. 23). It's embarrassing.
The reason the conference got shut out of the CFP the last two years was because the conference champ (and standard bearer since the CFP started and actually well before that) crapped the bed against Iowa and Purdue. Just stop doing that, and everything will be fine.
So yeah, it was coaching. But I'd love to know exactly what they did to screw up the defense.
I trust that the staff seems willing to wait till next year for DL. Wodtly and Alabi would provide depth but would they be contributors?
I'm going with the chickenshit option.
But they didn't invite me. Hurt my feelings.
Obviously Ohio BBQ tastes better than *ichigan BBQ.
Even if we land everyone we want, we won't be first by the end of the cycle. The other schools are not done.
Actually I don't think it's complicated. We will sign exactly 26 players this year. Jake Seibert is a grayshirt and doesn't count against the 25 limit.
You are taking a look at one position in isolation, instead of looking at needs across the board. I can guarantee that the staff takes needs into account. DL was not a priority for us this year; DT in particular is one of the deepest on the team. You can't recruit deep into every position every year; there just isn't room. OL and WR were higher on the wish list for 2020.
Don't get me wrong - I looked JT for his leadership and his commitment to the team, but just two plays after that gutsy run you see why he drove a lot of us crazy. He couldn't complete a simple pass in the flat to Dobbins.
The 2020 class is going great but... it's almost full and there are a number of very highly ranked guys that seem to be leaning toward the good guys or at least a solid possibility. Are we going to run out of room? I wonder if it's going so well that Day is regretting some of the earlier offers/commits. To be clear, I'm not pointing at anyone in particular, just lamenting that we might have to turn down some great players.
Jack is #2, and Kyle is #5 for 2021. What exactly are you hoping for?
I noticed that too, however OL is historically the hardest position to project. If they are coached well, 3-stars can go just fine.
Let's just get all nine of them this weekend, then Ryan and his staff can take Monday off.