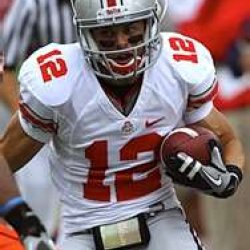 BuckInNashville
---
from Canton (now Nashville)
MEMBER SINCE March 15, 2014
Born and raised in the Hall of Fame City, and now living in Nashville where it's all Alabama all the time. Played WR at D3 Ohio Wesleyan where we used to practice in the shoe to prepare for artificial surface games back in the 80's. My QB was Jeff Long, former AD at Arkansas, who was head of the NCAA playoff selection committee for 2014 and 2015 seasons. So I've got that going for me, which is nice.
Favorites
SPORTS MOMENT: Midnight on Jan.1,2015 celebrating at the SuperDome after we beat Bama in the first semifinal round playoff ever
COLLEGE FOOTBALL PLAYER: Dane Sanzenbacher
NFL TEAM: Cleveland Browns & Whoever I draft in fantasy
Recent Activity
I get it but Warner and Harrison have been lights out on the outside
Sooo, no mention of DeMario McCall. I've said it before, he reminds me a ton of Dontre Wilson. Speedster in waiting, but so often one shoestring tackle away from an 80yd TD. Both were surrounded by pros in the backfield and out wide.
I was talking about Florida and Georgia losing two.
the best bet for other conferences is that LSU wins the SEC with the best resume in America, including a win over Bama - that would outshine 1 loss Bama who would have only one quality win over Auburn. If you had an undefeated OSU with top ten wins over PSU and Wiscy twice, Oklahoma with the win over Texas, and then Clemson by default.

gets dicey between us and Bama if we should lose one of those three (two are at home and one on a neutral site)
The bad for us ... the MSU victory lost a lot of luster as they were shut out with an even larger differential vs Wisconsin, casting a bit of a shadow over our "biggest challenge" of the year last weekend.
the good for us ... Georgia abysmal play calling and loss - more conservative than Tressel ball - even in OT and double OT.
good also that Florida lost because it looks likely that they also will beat Georgia, and then would lose in the SEC championship. Two 2 loss SEC teams will be out .
Based on 27 helmet stickers, I'd say it wasn't a bad take. Rewind to when he had to stare down Hugh Jackson after throwing a long pass against the Bengals last year. The guy thought he had the position down at the NFL level and underestimated the work he needed to do going into the season. I think his head coach thought the same and they both look completely unprepared on a regular basis.
I would go so far as to say that, although not a major factor, knowing that Davis and Schiano had to go, may have been ansillary factors in the decision to hang up the whistle. That is, given the fact that he hated to fire anyone.
hearing Urban recommend Mattison indicates that he knew they had to go.
Urban had a problem modulating speed in coaching though.
he was too fast to hire friends and family, and too slow to fire them.
I'm a Browns fan, but you are absolutely correct. He is more concerned with TV commercials and shooting beers at Indians games than preparing for football games.
Doesn't look ANY different than Johnny Manzel did at this point of his career. Maybe worse actually since Manzel didn't have Nick Chubb, OBJ, and Jarvis Landry around him.
Wait , seriously ? You wouldn't want to see Ryan Day slice and dice a defense that he just saw six weeks prior ?
I will never forget week 2 in 2014 when we played Va Tech and could not muster much offense against the vaunted "bear" defense they ran. After that game everyone tried it against us, but Tom Herman figured it out.
well, Dantonio trotted out a stack on the right side coupled with stunts to the outside that Wilson/Yurcich figured out after one quarter... then the second quarter happened.
this could be a huge year , now let's see what the defensive coaches can create to shut down TEs over the middle that had some success against us Saturday night.
Yup UC beat #18 so that thrashing in week two might end up having much more relevance then we expected. They should be ranked this week after UCF drops out, and MSU faces the thriller Buckeyes in black
I never though that the problem in last years run game had anything to do with Dobbins. Both he and Webber were victims of a stand still start of every shotgun play, followed by an offensive line full of tackles designed for pass blocking. It's mind boggling to me that after watching a guy get hit 3-4 yards in the backfield over and over again, people would complain about him and Webber trying to do too much. Hell, they were trying to get to the line of scrimmage half the time.
now you see the impact of a true center and two guards on a run game.
I know this is a super homer comment, but I just don't think refs call targeting FOR us with the same speed at which they call it AGAINST us. Rewind to the play against ttun when Haskins was targeted but there was no call, and then the flag actually went against Meyer for going ape shit on the sideline as a result.
Well for one Urban Meyer when he shared his thoughts a a commentator for a national championship game in 2012 or 2013. He said "we are not there yet." So there's that.

who do you think we are chasing in terms of excellence ?
I was doing the same thing and my wife, in the other room, came in a few minutes later and asked "well, did he call timeout "?

I said "yup and we got a pick on the next play." She said "they just seem organized this year." An objective comment from a casual observer - couldn't be more accurate
I was yelling at the TV "call timeout coach - stop the momentum like in a basketball game" - two seconds later it's timeout and then the pick.

im not a football coach by trade but Day doesn't miss a beat.
Did Demario McCall play ? I just wonder if there is too much talent to wait for him to break that first tackle and make a big play as we all have anticipated. Reminds me a lot of Dontre Wilson.
No your right, none of them would do this because their brand speaks for itself and it adds no value.

oregon/Maryland/Louisville - these teams do this crap
It's not done in Bama. It's bush.
Those uniforms suck. Does Bama need that crap ?
Urban hired Day and handed the keys over. I think Day is the shiniest star in his coaching tree thus far. You could say Tom Herman was, and you could say Kerry Combs was, but Urban looks like a genius with that hire
I had tears too (just flew overnight to Argentina - so no sleep will be my excuse).

it made me think about my place in Nashville and a little superstition there. My wife checked out about 70 properties, and we finally settled on seven acres north of town where Johnny cash and Taylor Swift lived. It's seven acres, and the view is beautiful. On game days I am by myself, and I blast the buckeye battle cry. But there's one thing that makes me feel not alone - there is actually a buckeye tree on this property. We bought it in the spring of 2014, the same year we won the natty. Coincidence ? I think not
Honestly, remembering last year, I expected Martinez to at the very least, have them within a score either way at half time. He IS a good QB and will put up pin ball game numbers against the Big West.

my point is, they are better than we think after last night, as is Cincinnati, whose only loss is to us. In a word, we are formidable this year.
This was a good measuring stick of the LBs. they were bad ass last night compared to last year (as was the entire D). But it shows the dramatic difference with the same guys - it was hard to know by the first four games.
Don't forget how this game was our Big ten West away trap game. Northwestern isn't that - that will be worse than Indiana.
I don't think Braylon was talking about the 2018 game. I think he was going through through the chronology of the 2016 4th down call, and then the 2017 game which was more back and forth.
I hear you - I didn't mean to sound contentious to your comment.
I guess in a back handed way I wanted to air the fact that, yes, 5* players have the "it" factor early on, but there are many cases where others are noticed as diamonds in the rough, or simply develop later.
It just burns me when our excellent coaching staff offers a 3* , and some fans express their disappointment.