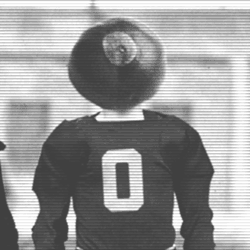 BuckinArk
---
SW Arkansas (via Hoquiam Washington)
MEMBER SINCE December 13, 2015
Favorites
COLLEGE FOOTBALL PLAYER: Ezekiel Elliott
COLLEGE BASKETBALL PLAYER: Jim O'Brien
NFL TEAM: Redskins
NHL TEAM: Capitals
NBA TEAM: Bullets
MLB TEAM: Senators
SOCCER TEAM: DC United
Recent Activity
Can't root for the squirmin' Hermans.
I could see Arkansas drooling to have Ash back as DC.
Beat Penn State, er, Penn Guins
Just this week I was mentioning the old bumper sticker at work:
Women at VMI? What Next? Men at UVA?
Ditto, except its been over 40 years.
Nice cliip of highlights
https://www.youtube.com/watch?v=KMCv0Lh9iW0
we will see whether or not an SEC team has a legit shot at having 2 teams in the playoff,
What if LSU ends the regular season undefeated, meets a one loss Georgia at the SEC championship and loses to them? They certainly would be the highest ranked one loss team.
Their best win might be a 3 loss Auburn.
Auburn still plays Georgia. Their best win may be a 4 loss Auburn.
Yeah, the Demon Deacons don't have much of a case.
The pundits are all talking about how a one loss LSU team (if they lose to Alabama) is in the playoffs. What if the winner of Ohio State/Penn State goes undefeated, and the loser has one loss? Two B1G teams in the playoffs if Clemson loses?
Jim Harbaugh sums up Michigan football's loss to Wisconsin: (BLEEP) ME! https://www.freep.com/story/sports/university-michigan/wolverines/2019/09/21/michigan-football-jim-harbaugh-reaction/2403127001/
No gripes over Jari Kurri beating John Havlicek? What school is this?
And where he had spent how many days in the hospital that week?
Would you donate to the [L]OLOL Foundation?
It's for the children. Oh, [L]OLOL
You would think he could dramatically improve his draft position with another year in school.
Wouldn't it be neat if this was something to build on.