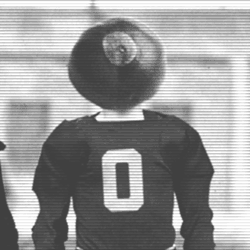 BuckinArk
---
SW Arkansas (via Hoquiam Washington)
MEMBER SINCE December 13, 2015
Favorites
COLLEGE FOOTBALL PLAYER: Ezekiel Elliott
COLLEGE BASKETBALL PLAYER: Jim O'Brien
NFL TEAM: Redskins
NHL TEAM: Capitals
NBA TEAM: Bullets
MLB TEAM: Senators
SOCCER TEAM: DC United
Recent Activity
There's a difference between overtime victories away and winning 5-1 in their house. Go BlueJackets. Hope the Caps meet you again!
Meanwhile, the baseball team (now 7-5) split a 4 game series with Bethune Cookman.
Excellent coverage. Thanks!
Rose Bowl against Stanford. Parents were divorced. Father bet me a dollar on every New Years Day bowl game. I got to pick who I wanted in each game. I picked Stanford. He tried to talk me out of it. I won all of them. I had just turned 11.
Buckeyes sweep series, 5-3. Score 5 runs in first two innings. https://ohiostatebuckeyes.com/wp-content/uploads/2019/02/SHU-3-OSU-5-021719.pdf
I call him the squid (Calimari). Seems to fit.

Good to see the Big Ten Network coverage:
Jordan v. Oster https://www.youtube.com/watch?v=gt0K4v86YW0
Martin v. Devine https://www.youtube.com/watch?v=o8Sh_1ZAq-Y
Moore v. Chakonis https://www.youtube.com/watch?v=GDIzMDKehoo
That's because you live in the north. I turn to sweet potatoes as my dessert down here.
Lou Holtz stated that he later had Frank Broyles tell him why he was fired. Some close associates of Broyles told him some stories about Holtz that Broyles believed without investigating. Later Broyles investigated (after Holtz was fired) and discovered the stories were false. Broyles was very apologetic.
Speaking words of wisdom, let it be.
Had a Texan tell me that Buckeyes are nothing but a lousy bush found in fence lines in Texas. I told him that Texas Bushes make it to the White House.
That's where I was thinking the over under should be, when the question was asked. I'll select under.
Urban complemented the fans' contribution.
It's a wonderful service, but if we watch in on 11W, he doesn't get the hits (and revenue) from YouTube.
Sister golden hair surprise?
42-31 Michigan. But if we win, does Harbaugh go to the NFL?
I read the Baltimore Sun, the Terp media was bitching about the refs as well.
Can you imagine Mgo blog if we win?
Cincinnati bleacher report talking about Fickell to Louisville.
Tried, but I couldn't get it to open