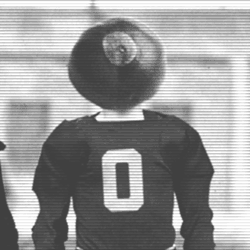 BuckiGirl
---
MEMBER SINCE September 13, 2010
Recent Activity
Or maybe you are a woman and can purchase these for yourself. SMH.
My husband and I used to watch GameDay and the post-game shows (the one that airs late Saturday and then repeats Sunday morning) but we don't much anymore. We will watch ESPN for live college football and that's about it. I don't enjoy their content as much anymore and consume more specific-to-Ohio-State media like Eleven Warriors.

Additionally, neither of us (my husband nor I) really follows the NFL or NBA and it seems like ESPN is saturated with those. I mean we'll watch a game if it's on but I don't need or seek any further info. I do follow MLB but ESPN doesn't cover baseball much (unless you mean the Dodgers or Yankees and I'm a Tribe fan) so Fox Sports Ohio it is for that.
I was there! I was a freshman at Ohio State and entered the lottery to get tickets. We flew into Las Vegas on NYE (which wasn't that much fun as I wasn't 21) then drove to Tempe the next day. They set off the fireworks before that pass interference call. We all thought it was over. What an amazing game...I'll never forget it!
I agree - I like the black ones better. And $75 is about the going rate for quality leggings.
I started at Ohio State in 2002 (and my now-husband and I went to the Fiesta Bowl that year). What a time to be alive!
My family were all Michigan fans but they all became Buckeyes when I chose to go to OSU. It's really the nicest thing I've ever done for them.
Dear Bret,
Highlights from the above linked SB Nation article:

"No, Meyer isn't embarrassing the rest of the Big Ten's coaches just for the benefit of students. But blaming him and him alone for a decommit is like blaming the other guy for an unfaithful spouse or a poached employee. It takes two responsible adults, and pinning it all on Meyer is meant to make us forget Dodson and Pittman, grown-ass men with minds of their own, would rather play for Meyer than for Bielema or Dantonio. That kind of thing hurts sometimes."



This is my favorite article on the situation. I was basically nodding my head and "uh huh"-ing while reading the entire thing.
I'm really enjoying this graphic of a Big Ten Gentleman's Agreement. Ha.
I know someone who knows Buck I Guy and says he's pretty lame. Very full of himself.

I honestly didn't know he called himself that.

<---off to change user name. Hanges head in shame.
As long as he doesn't say, "We're undefeated in regulation," I'll be in support.
I really enjoy Sarah's writing.
Is there any news on if Sully is playing on Saturday? I care more about that than the Gator Bowl, honestly.
Teams are also putting more focus on him. He's getting triple teamed quite often. And yet, still manages to get 2 a lot of the time. I wish he'd kick it back out sometimes when that happens, but I'm not sure he has the room to even do that.
His stats don't say struggling, but he is having to work harder for them.
Jared Sullinger is a kid who asked an opposing fan if he could have the sign that was making fun of him, and then had a good-hearted Twitter exchange over the whole thing. I don't see him lying about being spat on.
Um...I'm pretty sure "short-legged, heavy-set omnivores in the weasel family" was meant to describe a badger. Like an actual badger, not your basketball team.
Feel free to call Buckeyes poisonous nuts. That's what they are. In fact, you have to eat like a million of them to even be poisonous.
I don't think anyone is looking for an excuse for a loss. I just think with the pressure of being undefeated, we all realize that a loss can happen at anytime. At Wisconsin will certainly be one of the biggest challenges we'll face all season, if not the biggest.
And don't worry, we respect our team plenty. Stick around grasshopper, and you will see.
I grew up in Ohio, but in the Northern parts. And, I have to admit that my family rooted for that team up north throughout my entire childhood. I showed them the right path, sometime in high school deciding that I wanted to attend Ohio State. I can't really pinpoint one exact reasoning for it, but I'm glad I did. I never even applied or visited anywhere else. My whole family has now seen the light and roots for the Buckeyes.
I met my husband at Ohio State and he proposed to me on campus. I couldn't imagine it any other way. Thanks for such a great post. I love talking about Ohio State football and basketball, but it's important to also remember that it's all part of a greater university where lots of amazing things happen - not just TD passes.
The other thing that really bugs me about Craft not playing much was losing our streak of hearing "valedictorian" and "high school quarterback" every game. We'll have to compensate with Deshaun Thomas being Mr. Basketball - Indiana. That one's becoming the new cool thing to talk about.
Your analysis makes sense. And I agree, Lauderdale had a great night and I was really happy for him. Despite always hearing how we lack depth, this team has a great way of finding someone to step up and have a good night. That's definitely one of its strengths.
I also agreed with Dan Dakich that the team's unselfishness is a huge strength. It's nice to see a team that plays so cohesively in so many different situations.
Craft seems to be increasingly having foul trouble. He's a great defender, just maybe slipping on the discipline or something? I don't get it, but it's really affecting his minutes and I don't like it. I like this team better when Craft is in and he's on.
Thank you Dan Dakich for saying what I've been yelling at the ESPN talking heads for weeks now - we do have a great team in college basketball! If Duke was undefeated, even with some of those wins coming with small margins of victory, I can't imagine them getting the ssame ESPN treatment. I suppose though, I'd rather be treated as underdogs for the duration of the season.
I've politely commented on Herbie's Facebook page, twice, asking to explain his Ohio State vote in the final AP ballot. No response.
I don't expect him to be a homer, in fact I'm glad that he's not, but I think he should act like the grown man in the Terrelle Pryor/Kirk Herbstreit equation.
I'm disapointed in Herbie. Ohio State gave him his start and he has given very little back to the university (monetarily or in any kind of service really). He's certainly no Archie and no Spiels in my book.
Awww...thanks for the "sisters" shout out!