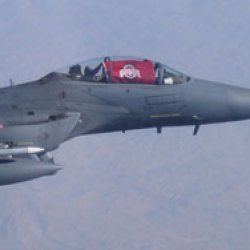 Buckifan4Life
---
MEMBER SINCE April 13, 2012
Favorites
NFL TEAM: Cleveland Browns (I know, it's frustrating)
MLB TEAM: Cleveland Indians
Recent Activity
LOL!
Good for him! Carr should be able to get him the ball in such a way that Jalen can show off his receiving skills.
"That one situation" exposed him in ways that academics and fundraising work doesn't. Yep, we are all entitled to our opinions...
Not a fan of Michael Drake. Unimpressed with how he handled the Zach Smith situation. I think most of us can agree on that. Just sayin'...
Geeze... Just make 'em all free agents and pay them already. They didn't come to OSU "to play school" anyway...
Scared of competition??? I thought he was doing well...
When student athletes are paying for their education, I see no problem with them leaving. It's called a commitment because it is a contract. The LOI is a contract. Make sense?
First, don't kill the messenger....I think the reason college athletes aren't treated the same way coaches are is obviously because coaches are paid. Players are "student-athletes" who are supposed to value an education first and foremost. We know that's all B.S., but the NCAA is never going to publicly call them "athlete-students" who bring in all kinds of hard cash in exchange for a degree they really don't carre about. Gotta keep the Matrix alive!
That "one time comment" is a pretty serious hot button issue and that baseball player was disciplined heavily from what I remember.
What's the point of H.S. players signing a letter of intent anymore? The free agency portal is here now.
Yep! Welcome to college football free agency...
Really? Let's put that to the test shall we? If Bresee would commit to OSU as long as his 3 star best friend on the team with only MAC offers would get an offer as well, you're telling me it wouldn't be worth it? Being the Mother Mary of recruiting isn't going to cut it in college football.
Exactly! If Johnson says that the skinny kid on the end of the bench needs an offer too, he's getting one. Don't screw this up...
Offer Thomas already!!! Geeze...
Unwatchable basketball. Out of control shots, ridiculous turnovers, fast break blown baskets and typical falling apart at the end of the game. I'll wait for the cavalry coming in next year to designate any more time to Buckeye basketball. Good luck to them the rest of the way though.
It's becoming unwatchable basketball at this point.
My only concern with Mattison is that he coached for xichigan for so long that they know his defensive tendencies. He'll have to consciously break those tendencies against them for sure.
Hang in there coach. The cavalry is coming!
Did you have to bring up Amir Williams!? I'm over here twitching and feeling nauseated all over again...
I believe Thad Matta's single most difficult challenge of his coaching career was to try and motivate that 5* man-child. Must've been frustrating beyond words.
Can't make open shots. Pretty simple. Maryland turned the ball over like 20 times. They desperately need an outside shooter so the defense doesn't just collapse on Wesson every time the ball is dropped into him on the post.
I was paying attention and what I saw was a defense that was falling apart and I'm sure that caused anxiety and may have led to headache symptoms. Again, I'm not a physician, but this will be the second time that "health issues" caused him to leave a program and I'm pretty sure he will coach again. Hunting dogs, hunt! I'm not saying that I dislike the man for how he changes course at times, I just don't want to be fed puppies, rainbows and sunshine when at least part of the reason why he left is because of how poorly Micheal Drake handled the ZS scandal. Again, we can agree to disagree.
Of course she did! They're both liars, but it can't be proven. Look, I would probably think less of UM if he wasn't lying. There is only so much a person can justify being responsible for due to someone else's actions. I blame the police department for not taking action long ago.
Well, we can agree to disagree. UM seems to conveniently have a health concern when he wants to exit a coaching position. I'm not a physician and am not qualified to ascribe the level of discomfort he faces daily or if at all, but I believe if the Zach Smith scandal had been managed more properly he would likely still be coaching. It's naive to believe everything people, even football coaches, say to the media.
It looked to me like he was bent over because he couldn't believe how putrid the defense was playing.