BUCKI06
Cincinnati, OH (via Cincinnati, OH)
Member since 14 August 2011 | Blog
Favorites
SPORTS MOMENT: Being in the stadium for Holy Buckeye...and the whole 2002 season in general.
COLLEGE FOOTBALL PLAYER: Troy Smith
COLLEGE BASKETBALL PLAYER: Cashmere Wright
NFL TEAM: Cincinnati Bengals
NHL TEAM: don't care
NBA TEAM: dont' care
MLB TEAM: Cincinnati Reds
SOCCER TEAM: The Crew
Recent Activity
If the 2019 Buckeye recruits are on top of it, they'll start calling themselves the goblins....
This one had me laughing out loud at my desk this morning...+1 to you sir
Sorry for you loss Ramzy - sounds like the world lost a great one.
Great article, and a good reminder that life is too short - live and be happy while you can. Thanks for sharing and prayers to you and Dennis' family.
A week without Skyline, is not a week worth living.
I understand the hate it gets, but I'd seriously go into withdrawal if it ever went away.
Most of our fanbase this morning towards Gene Smith...
If we got Wooden, I bet he could persuade Oscar Robertson to come too.
Only time will tell.
Pretty happy with this. He's done some good things in the Big East.
With the way the week has gone, I really think Thad being gone was much more of a mutual thing than we originally thought.
I think we all, myself very much included, had some really high (perhaps unrealistic) hopes.
If he comes aboard, I'll be excited to see what he can do. Thad will be missed, and he gave us some really fun years of Buckeye basketball. Here's to seeing that come back again.
Tim, do you have any idea if Huggins really expressed interest to the Buckeyes?
Maybe we could upgrade him to a Scarlet suit.
My dad had season tickets to UC basketball when I was growing up - all during the Huggins years.
The though of Huggins coming to Columbus has me feeling all giddy inside. The guy can recruit, and he gets the absolute most out of his players.
Yea, obviously not the ideal situation. 2018 class isn't looking good as is - not sure a permanent hire of Jent will fix that.
Obviously at least the players would know who the coach is, but he's on staff currently and there haven't been any big splashes in recruiting.
Not disagreeing with you, just thinking out loud really.
If all of the other options fall through, then name Jent interim coach for the year. Then they can get back out there when timing is better after next season.
I've got to believe there's someone in the works, unless the decision was really Thad's to leave (which it really doesn't seem like it).
Couldn't agree more - I love Cronin and what he's done with UC. He was dealt a real shitty hand when he took over. That being said, he's definitely peaked at UC - hiring him would be a mistake for OSU.
Kizer's got to be the last one in the green room.
Gotta love the addition by Braxton for the 2013 game at michigan...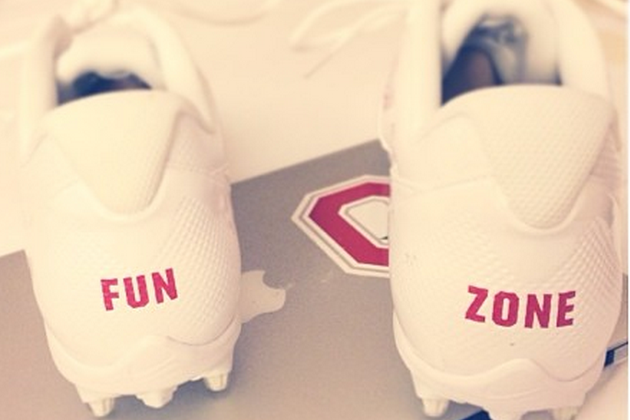 I agree - I think he fits Urban's offense, but I think Haskins is going to fit really well into the offense that Wilson is going to put on the field. I also think JT will do really well with Wilson's offense.
It's going to be another fun year to watch.
Torrance is going to do very will in Cincy - best of luck to him. It's a shame we're not going to get to see him in Scarlet and Gray. He's definitely one I'll be rooting for.
Good luck Marshon - will be rooting for you at the next level!
But if the Steelers try to draft you, just say no.
Damn, was holding out hope we'd see him again next year.
Good luck Curtis - you're a hell of a Buckeye.
Zeke plays on Thanksgiving - I think he could find his way to Columbus by Saturday.
I mean, there aren't many 20 year olds that are physically and financially ready for the NBA no matter where they attend school. Going from being a college student to a pro athlete making millions is quite the jump to make.
I feel sorry for Northwestern this week....it's not going to be pretty.