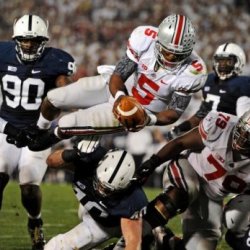 buckguy10
---
Member since 31 May 2013 | Blog
Favorites
SPORTS MOMENT: 2002 National Championship
COLLEGE FOOTBALL PLAYER: Ted Ginn Jr.
COLLEGE BASKETBALL PLAYER: Jared Sullinger
NFL TEAM: Minnesota Vikings
NHL TEAM: Columbus Blue Jackets
MLB TEAM: Seattle Mariners
Recent Activity
Did they forget about Michigan State? Pretty sure they have had back to back 10 win seasons and haven't won under 20 games in basketball in a few decades.
I found the culprit. There is an ad on the top right corner of my webpage that if the mouse hovers over it for even a second, it initiates the pop up. Man is that annoying
I just got one too... Covered the entire screen and started playing loud noise in my quiet office. I can deal with banner ads as my eyes have learned to tune them out, but these pop ups that cover the entire page and play videos? I hate websites that do that.
Kemba was about 4 years ago. I think Napier was the guy last year
No you didn't lol. Maybe you should re-read your post?
Unfortunately this year's participants only get a trip to Phoenix... :(
http://www.nfl.com/news/story/0ap2000000340261/article/pro-bowl-to-arizona-in-2015-slated-to-make-hawaii-return-in-16
Thank you! Only had to search through 200+ comments to find this haha
They also don't allow games or matches to be scheduled on Sundays. Not an issue for football but for other sports, it would definitely create scheduling challenges.
How would this work between sports? If the football team is bad, the rest of the teams also get relegated?
How about Northwestern, who has won multiple national titles in women's lacrosse in the last decade? If they have a bad football year, their membership in the B1G is revoked and they no longer receive any of the revenue associated with it?
I'm not sure what you do but I'm pretty sure you weren't dealing with a Collective Bargaining Agreement which spelled out restrictions on salary and for which company you could work during the first beginning of your career. Also, those higher paying years are for when the player "peaks" as most people agree athletes tend to peak in their mid to late 20s.
The players were:
Rob Reynolds, Donte Whitner, Darrion Scott, Will Smith, and Brandon Underwood
The article doesn't say anything about Final Cut being the only 4 star restaurant, just that they were awarded it. I'm pretty positive M at Miranova has already been awarded the 4 star restaurant and I would be surprised if The Refectory wasn't as well.
According to the police report, the punch happened as he was trying to break free from someone holding him back.
"Things got out of control and I started to go after the victim," police quoted Oden in the report. He said the relative and witness tried to hold him back, but he swung his arms trying to break free and punched the victim.
http://deadspin.com/greg-oden-charged-with-battery-after-allegedly-punching-1617491675
1. I think Lamarcus Aldridge and Blake Griffin might have a question about Love being the best PF in the game
2. Wiggins will be a restricted free agent after his 4th season. At which point, the Cavs could match any offer he gets. As long as the Cavs want him, he isn't going anywhere
Cavs cannot sign Love next year. They are currently at the cap and that is before Kyrie's extension kicks in next year. The only way they could acquire Love would be thru a trade.
That being said, I don't understand why the Cavs can't wait until December/January to see what they have in Wiggins. Maybe he turns out to be the superstar everyone expects and the Cavs don't feel like they need "another piece" in order to contend for a title. Maybe Anthony Bennett turns a corner and begins to play like he was worthy of the #1 pick, and the Wolves change their mind about not accepting a trade without Wiggins. There is no hurry here no need to make a trade right now. That's the point of the trade deadline!
EDIT: Sorry for stating almost exactly what Unky Buck said below.
Also, I remember us scoring 4 goals... Did we lose a goal along the way in exchange for an additional loss?
I upvoted you just for your name. Thats great