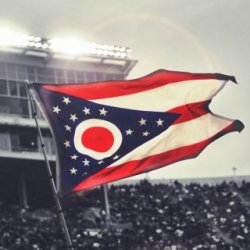 Buckforlife
---
Member since 30 August 2011 | Blog
Recent Activity
Jackie O's Mystic Mama is excellent. They're from Athens, Ohio.
Yeah, it's me. They're bringing me in to call plays this week. It's all good man, I got this.
Land Grant Stiff-Arm IPA is top notch! I would love to visit the brewery someday.
I ride the Great Miami river trail and the Little Miami river trail. I also commute to work by bike most days.
I've always wanted to bring my bike to a game, park outside of Columbus, and ride the trails to the stadium. But I don't know enough about the Columbus trails to know the best place to start.
That game against Wisconsin when Braxton was a freshman is my personal greatest memory in the shoe. I'll never forget the way the stadium erupted on that play.
He zigged when he should have zagged
I saw his highlight video and was really hoping this would happen! Great things in store for this young man!
I know Urban has said he was never much for the weight room and the past year he has worked harder than he ever has. Urban also said he's in the best shape of his life.
All my thoughts on the game keep coming back to that I am just so happy for Braxton. After his spin move I jumped up yelling "that's what I've missed for the past year!".
Is this it?
Edit: was beaten to the punch
Happy Birthday 11W!!
I'm still glad that I was able to get one of these from a certain website a few years ago.
And I swear if you turn this thread into a gif party, I will find you........ each and every one of you.
I'm so excited! The season needs to start this weekend.
Pryor is the NFL story I'm most excited about this season. I really hope he blows up and is an amazing receiver. I never get tired of seeing him looking like he's jogging while he's out running everyone.