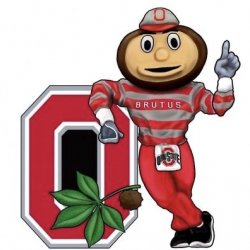 BuckFaninSECLAnd
---
Columbia SC (via Gahanna Ohio)
MEMBER SINCE September 23, 2017
Favorites
NFL TEAM: Browns
NHL TEAM: Bluejackets
NBA TEAM: Cavaliers
MLB TEAM: Indians
Recent Activity
Pacs tavern on the square in downtown Asheville...I highly recommend an orange crush!
The post by GWP Tiger, after having time to reflect is just unbelievable. I live in South Carolina and it amazes me that these people actually believe this but yet there were no bad calls in the game against Ohio State. All I can do is shake my head and walk away.
Were they suspended for the season but able to come back for the playoffs/championship game?
Blindside block should be a disqualification more than targeting...not to mention Higgins hit him in the helmet.
I saw that too...cannot believe that was a legal move
Can't believe someone downvoted this but thanks!
So watching and deeply disappointed that the teams are not on the field for the national Anthem!!!!!
Not a good start!!!!!!!
I am sure he is hoping that they are on the same team and not Chase lining up against him! Lol
The only team that could possibly screw this up is the Redskins, they have their franchise quarterback and a great receiver. Time to get some defense.
The bengals need a replacement for Andy Dalton.
Don't forget the "roughing the kicker" call that extended the drive and ended up another touchdown for Clemson. Bad call by Ohio State for going for the block but that was not roughing!
Defense is for the most part doing their job, the offense needs to step it up right now.
And Fields had a comparable year and we get him back next year so in hindsight the decision was correct
Great responses! Like I said I am rooting for the giant meteor to hit the stadium...sorry fans but you chose to go. That said I hate Alabama even more than TTUN. Hoping for a 6-3 win by SCUM that sets both teams back 100 years!
I'm not mistaken and stop calling me Shirley
I would not be surprised if there aren't coaches reaching out to Day and inquiring about the position. Not at all worried about Day finding a as good or maybe even better replacement. My concern is, and had been mentioned here, is Hafley poaching a couple of our current coaches.
I think we did pretty good with this Hartline guy, a former Buckeye who did pretty good in the league. Maybe there is another one of those guys sitting around that would love to come back and coach at their Alma Mater. I read somewhere else Doss? According to Wikipedia he is working as a medical sales rep in Columbus.
In games like this, similar to Notre Dame vs. TTUN, I always root for the giant meteor!
As I said in another thread that there will not be an easy opponent in the playoffs. LSU is going to have to play a team that is going to be disrespected for the next three weeks. A team led by a very good coach, a quarterback that has been in the playoffs like 4 years in a row and maybe one of the best receivers in the game. This game will not be a pushover and if Oklahoma can play some defense they could win this game. They will definitely get their yards. As do is against Clemson, this is not the same team that lost 31-0. Can they beat us, of course but I do expect the team to be ready and the coaches to come in and try to punch Clemson in the mouth...it will be the first time that it has happened this year let's see how they react.
True but that win against the FCS opponent is part of the resume and should count against them.
Bottom line is that there will be no easy opponent in the playoffs and we will have to win two games against a quality opponent. If we get the 1 seed we will be up against an opponent in Oklahoma that will be disrespected for the next three weeks. If we get Clemson we will be up against a team that, while not playing anyone good, is one of the most talented teams in the country. The good thing about this committee is that they seem to actually watch the games and recognize things that others have not. I hope that after yesterday they realize that Georgia isn't as good as their ranking and Ohio State had the tougher competition. The good news is we were 1 going into yesterday and all we did was add yet another top ten win to our already number 1 resume. Cincinnati staying in the top 25 is imperative though!
Yep sorry was not disagreeing with you but 3 out of 3 would be better!
What are the chances that graphic gets shown on ESPN?
Isn't that the team from Fansville?