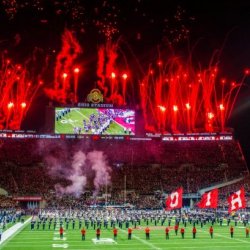 Buckeytrips
---
Perrysburg (via Perrysburg)
MEMBER SINCE February 13, 2013
Favorites
SPORTS MOMENT: 2002 Season
COLLEGE FOOTBALL PLAYER: Zeke
COLLEGE BASKETBALL PLAYER: Craft
NFL TEAM: Browns
NHL TEAM: Blue Jackets
NBA TEAM: Cavs
MLB TEAM: Indians
SOCCER TEAM: Crew
Recent Activity
yes, he was on stage during the trophy presentation.
I like the part when he was talking about the class and said one of the things he like most about this class was their "Loyalty" , looking at you Battle and Mathis.
I think these two individuals would have a different take on this.
Last Man Standing... They talk about Nancy Travis (Vanessa Baxter) attending The Ohio State University.
I feel the same way about the media as I do with Irban Meyer The RILL DILL.....out with the old...... Time for change.
FIFY
you have nothing to base this off of other than what YOU would do. if you can not see the positive in this then there is something wrong on your end.
Has nothing to do with BM. It is all health related. The cyst on his brain is worse than what people know.
He has the right guys on the field, the problem is, it's on special teams.
I don't believe that statement was ever made. Some for...Some against... from everything I have read.
Durkins words about Strength Coach Rick Court:
It's so important, I believe, that the strength coach and the head coach are directly in line with one another in terms of what's important, what's the message we're delivering, and Rick and I are. We're totally synchronized in that and so he's huge. He's critical to all we do.
Go be "THAT GUY" somewhere else.
Looks like the B1G is turning their backs on Teddy.
He hands that off to Dobbins and he cuts outside he scores.
Head on over to the Woody, there will be a guy waiting for you holding a helmet and shoulder pads.
For the same reason Urban shouldn't have said anything regarding the Smith's. No matter what he said, you still have the idiots with their so called opinions that don't mean squat. Nick is learning from Urban, don't say a thing and go about your business. Only you, take care of you.
when you get a "CLUE" on what you are talking about, you can come back. until then, go see what mama is fixing for dinner.
The sooner we (the fans) realize that college football is now the minor leagues for the NFL, the better off they will be. People are just fooling themselves if they think different. The money that is being made by these schools has changed everything. This is not your fathers college football, for that matter it is not my college football that I grew up with. College football used to be a game, it has now become a Business.
It is laughable to read these comments. How in any way is his decision making your everyday life different? it's not, but guess what, it is making a difference in his life and that is what matters. We have great players leaving year in and year out, this is no different. Get over it or find a different team to follow. Try Rutgers, I am sure all their players will stay the full 4 years for you.