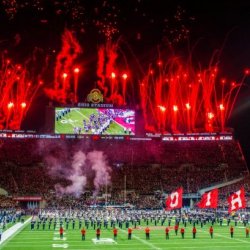 Buckeytrips
---
Perrysburg (via Perrysburg)
Member since 13 February 2013 | Blog
Favorites
SPORTS MOMENT: 2002 Season
COLLEGE FOOTBALL PLAYER: Zeke
COLLEGE BASKETBALL PLAYER: Craft
NFL TEAM: Browns
NHL TEAM: Blue Jackets
NBA TEAM: Cavs
MLB TEAM: Indians
SOCCER TEAM: Crew
Recent Activity
Are you judge by one bad day at work. Get real.
If guilty??? This is not a criminal trial, I pick the NFL!!!
It's Urban, haven't you heard it is his dream job!!!
It was a lot better than what I was going to say.
That was Steve H from TOS, not Tim May just for clarification.
Anyone notice that the picture is from last year.
Or can Josh Myers be a factor when he arrives? He arrived 1/10/17
Or do you mean Wyatt Davis????
Welcome, looking forward to your articles.
Soooo, you're saying you lost because of bad calls by the refs?
With a score of 80 to zip, what could possibly be construed as a controversy???
UFM going for 2 on the last TD.
Should have called a time out.......
Should have called a penalty on the block.....
I always ask them "When did Maumee change their colors?"
Or I say "Did you hear that, we just scored again"
Sounds like we can expect No. 8 to suit up at Ohio Stadium in three months, as expected.
Did he change his number?
RING, RING
Hello?
Kyle, this is coach Holtmann.
Hi coach, I just heard the news.
That is why I am calling, how would you like to be a Buckeye?
Sign me up coach!!!

Holtmann has been recruiting the top Ohio kids, so they should have built good relationships with them.
So what was Thad when he took over the program. I believe he was just a guy. Obviously the 4* kid from Ohio thinks more of him than you do whick by reading your crap is a good thing. Go tell your friends how right you are because we don't want to hear it.
bring the 4* kid from Ohio with you. he has not signed yet.
I understand the the whole Jent thing but what has he done in he coaching profession that makes you think we would not be average with him as our head coach.
It's my fault. I posted this yesterday. Gene must have seen it.

COMMENT 19 HOURS AGO
1 reply
Greg McDermott, Bobby Hurley, Jamie Dixon
Commented on It Sure Doesn't Sound Like Chris Mack Will Be Ohio State's Next Coach
Greg McDermott, Bobby Hurley, Jamie Dixon
If that happened, I would never watch another OSU basketball game.