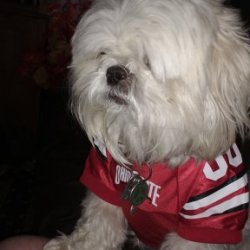 BUCKEYEYANKEE
---
from Newark
MEMBER SINCE December 06, 2016
Favorites
COLLEGE BASKETBALL PLAYER: Matt Sylvester
Recent Activity
Narduzzi or Fickell will take over for Dantonio in the near future.
Big Ten refs are the worst refs in college football. I have never seen so many botched calls every single game from them over the last several years.
Great performance by him in Cobra Kai Season 2. Love the bar brawl scene with the Cobra Kai scene. It was great. Great win by OSU
Not cool dude that guy just passed away from cancer this week! PS I didn't downvote you.
All he will do is buy the players just like him and his Fab 5 buddies. There will be another Ed Martin buying these SCUM kids.
Holtmann is going to have to go old to be successful. It will boil down to player development and player scouting. NCAA does nothing for Kentucky, Kansas, Arizona, University of No Class (UNC), Puke. They have substantial evidence in the world against them and nothing gets done. New pay to play bill over the next year is going to make these programs even more corrupt.
What's wrong with Brandon Bowen? I hope he is not seriously hurt.
EJ Liddell is going to be a beast down low. He can take the hits when it comes to Big Ten basketball and he has a nice game around the basket.
DJ Carton will be a good player this year and next season.
You want some really good restaurants in Lincoln go to the Green Gateau, Venue Restaurant and Fireworks Restaurant. Piedmont Bistro and Valentino's are good.
Yes, the guy had his birthday when they played Overseas Elite
Yes, the guy had his birthday when they played Overseas Elite
Diebler with the steal and the layup after suffering a dislocated right finger in the Elam ending was huge. Jeff Gibbs might be 39 but that guy is in great shape with the post moves to the rim and made the huge free throws to tie the game. Buford making the shots was big. Great wins for this Carmen's Crew team.
4 minutes left in the 4th quarter.
Love that name Steele Chambers! Master Teague is a cool name. You might as well use the youngsters if they backups are not performing up to standards.
You could tell from the inflection in their voices when they talked about one team versus another team after OSU won their voices changed. It is an observation. It is noticeable in alot of broadcasts especially ESPN.
You could tell from the inflection in their voices when they talked about one team versus another team after OSU won their voices changed. It's pretty obvious.
They also use immune therapy to beat different types of carcinomas as well. Main difference between Day and Harbaugh is class. I feel empathy and sympathy for the Michigan player Hudson suffering through mental illness. Harbaugh said Hudson was faking it to get a transfer. What a piece of trash Harbaugh is towards the young man.
See what the young man can do on August 31st. Need to establish a run game with Dobbins and Teague. Hope the defense is better than last season.
Overseas had twice as many free throw opportunities as Carmen's Crew. They shot slightly over 59 percent. Refs were giving Overseas the game and they came up short. Once in a while can we have an announcer who like Ohio State athletics. You could tell from the announcers voices they wanted Overseas to win the game.
Steele Chambers and Master Teague are great running back names! Steele Chambers sounds like the title of a 90s Clint Eastwood movie.
Looking forward to seeing what the new coach brings on the running back front.
Good win! Happy Birthday Jeff Gibbs.
It ain't sunny in Ohio in October and November especially in a Big Ten night game where there is horrible midwestern weather. He can kick in the wind, rain and snow he is good to me. Needs to prove he can kick in really bad incelement weather. Nugent could kick in all the elements. We shall see what this young man does in a Buckeye uniform.
Kaleb's too fat (calorically challenged) and he needs to start losing weight ASAP. Needs to lose 25 to 30 pounds of adipose tissue and convert to muscle. Sorry Spaceman calorically challenged individual not FAT! He was the best player on the team considering you have no guards who can make mid range and three point shots consistently. BTW Bingo still sucks!
He scored nine points against Wisconsin. After Kaleb got suspended, every opposing coach was not going to let Ahrens beat them with the three point shot. So they defended him better by allowing him to get open threes. Ahrens will be a good player in the future but he needs to develop an inside game as well as defend better.
Yes, go to the rim or draw the foul. I just want to know the play called by Holtmann at the end of the game.