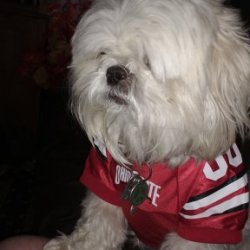 BUCKEYEYANKEE
---
from Newark
MEMBER SINCE December 06, 2016
Favorites
COLLEGE BASKETBALL PLAYER: Matt Sylvester
Recent Activity
Who is the lady reporter interviewing Wilson? Oh la la!
Reminds me of the good days back when I was a teenager! Stick Around! Knock Knock! None of the SJW garbage now!
This is the Buckeye version of The Citadel and Charleston Southern. Need to have this game before Pedophile State. Why does the Big Ten conference always have OSU play their toughest games in November. Ped State, MSU and Michigan in three back to back weeks.
Tonight is going to a very slim margin or error to beat Xichigan up at Chrisler Arena. No ET, Lighty or Diebler are on this team now! God, I wish they were on this current team. Ohio State has a chance to beat Xichigan but I wouldn't be surprised OSU losing the game. Ohio State team is what is this year.
Rather gave Young on the low block than Kaleb. Plus Young is the toughest guy on the team
His calorically challenged (fat) body was more effective in the post. This year he has more lateral quickness, but playing not to get hurt. Needs to be a basketball version of Mariotti for Ohio State.
It's a game they should win but I would not be surprised seeing the Buckeyes lose the game. Over the years, Northwestern has given OSU problems.
Every time I wore my 2015 National Championship shirt in Columbia and Lexington area. I would always get their nonsense about it. People down there say they were lucky. South Carolina could have beat them. They complained when their precious Confederate flag was no longer hanging at the Capitol building. Best thing happened down there was Sherman scorching that place in 1865. I do wear that Sherman Undefeated Out if Conference Shirt and it pisses them off more than my national Championship shirt.
The coach picked Diallo so it's on him. Helps to have your best player in Kaleb not shoot 1 out of 10 in the game versus Minny.
Doesn't help having your leading scorer make only two points in the entire game.
Attack off the dribble, mid range jump shot, perimeter game, lateral quickness and ability to rebound. Hate dunk videos. No indication of players talent and ability
Hafley>>>>>>>>>>>>>>>>>>Coombs>>>>>>Schiano Pass interference calls versus great teams bother me. Coombs corners never looked back on the ball. Hafley was better than Coombs. Hope he learned in NFL how to adjust cornerback play. Not fond of him in booth with Mattison I see Warriner 2.0 with the defense. Great recruiter
I'd rather have Craft as an assistant coach over Dakich. Good luck to Aaron in med school.
I'd rather have Craft as an assistant coach over Dakich. Good luck to Aaron in med school.
Deal with it game. Isn't in the Top 10. Your writer doesn't know anything about Buckeye hoops. Classic game having those guys go nuclear on Bo's Badgers.
Bingo!
Karate Kid fan would love a fight between Johnny Lawrence and Mike "Bad Boy" Barnes. Love to see a fight between Daniel and Terry Silver. Where Daniel literally will do some cool Sweep the Leg old hidden Miyagi move on him.
Love the Cobra Kai series. I cannot wait to see what happens to Miguel, Johnny, Daniel and Robbie. Speculation Season 3 will head to Okinawa with Sam and Daniel.
Son, Your ego is writing checks your body cannot cash! Top Gun!
Battle for the bottom OSU versus Nebraska. Third slowest team in the conference in Ohio State versus the fastest team in the conference which translates into Carton turning over the ball at an exponential clip. Muhammad putting up garbage shots and Washington getting lost on defense. Buckeyes cannot win this game call it the season.
Washington is a streak shooter who is a defensive liability on the court. People act like he is Seth Curry or something. Washington and Muhammad are both crappy guards. Cannot beat Nebraska this game might as well play for next season with the freshmen. Great leadership by the Wessons.
Buckeyes get screwed over versus Clemson now I have to watch the Bad News Basketball Buckeyes come in last place.
Hey Bingo Boy, new Squares should be Carton with five or more turnovers in a game, 3 or more stupid shots by Muhammad, 5 times Kaleb goes to the rim without shooting a three ball.
You know the basketball team is bad when your toughest player had to come back after 10 days post appendectomy.
Holtmann is not an offensive coach! Potter fits Wisconsin better than OSU. We got the former calorically challenged kid who wants to shoot threes instead of posting up, taking contact and getting to the line. To his defense he is a better three point shooter than Muhammad. 6 % from the 3 point line the last three games a real big offensive weapon. Only thing offensive is this predictable OSU offense