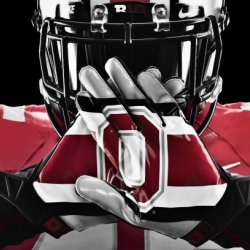 BuckeyeWarrior27
---
Charleston, SC (via NE Ohio)
MEMBER SINCE August 30, 2014
Favorites
SPORTS MOMENT: Rushing the field after #1 OSU's 42-39 victory over #2 TTUN in 2006.
COLLEGE FOOTBALL PLAYER: The Bosa Brothers
COLLEGE BASKETBALL PLAYER: Jae'sean Tate
NFL TEAM: Cowboys, Chargers, and Browns
NHL TEAM: Ducks and Blue Jackets
NBA TEAM: Lakers and Cavs
MLB TEAM: Angels and Indians
SOCCER TEAM: Columbus Crew, Akron, and OSU
Recent Activity
Typical talented WR diva.
It was a brilliant call, just not executed by the player.
I haven't seen any home cooking at all. Very good officiating in my opinion. Letting them play physically, calling the game pretty even.
Only way to stop Dobbins today is to untie his shoes. That didn't even work.
Got lucky there with the playclock. Great play by Fields and Wilson!
Love the way Olave just attacks the ball like Michael Thomas.
No need to overthink it. Run it with Dobbins. Run it with Teague. Run it with Fields. They can't stop it yet.
Dobbins and the SLOBs are going to feast. Might be a ground attack day if this keeps up.
Not as nervous as I usually am knowing that we're going to Indy next week, but still want to see our Bucks destroy M*ch*g*n. Go Bucks!
Regardless of the outcome next week, at least TTUN will be watching the B1G Championship from their couches...again!
It's only a matter of time before Chase gets a strip sack. Hope it's sooner rather than later.
Hamler taking it out of the endzone, lol! Not today, young man!
91-yd drive with relative ease. Great start!
I've broken my left collarbone 3 times in the same place playing hockey in high school. It didn't heal properly the first time, so it kept breaking at the same spot. Very painful.
As an avid racing fan, I loved it. My wife (not much of a racing fan) also enjoyed it. The story is great, Christian Bale and Matt Damon really disappear into their characters, and the audio/visuals are stunning. As far as recent racing movies go, Rush was more thrilling, but Ford v Ferrari has the better story/more historically accurate.
As much as I disagree with the NCAA, rules are rules. There should be punishment for breaking it, no matter how dumb it is. That being said, I believe it should only be a one-game suspension and nothing more.
Kyle Young showed up to play. Everyone else still sleeping.
Gonna break a record for turnovers if this keeps up.
Even though we're turning it over like crazy, Cincy is fouling like crazy. Tides will start to turn soon.
Doesn't mean it won't/can't happen.
The voters give them more preseason respect than they deserve because of their name. You'd think the voters would learn by now that they're annual paper tigers.
The mics sound like they're getting pelted by rain. Almost sounds like static.
They look good, not great. I honestly don't think they'd be able to beat a top 10 team, though.