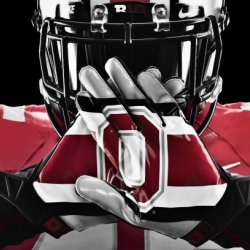 BuckeyeWarrior27
---
Charleston, SC (via NE Ohio)
MEMBER SINCE August 30, 2014
Favorites
SPORTS MOMENT: Rushing the field after #1 OSU's 42-39 victory over #2 TTUN in 2006.
COLLEGE FOOTBALL PLAYER: The Bosa Brothers
COLLEGE BASKETBALL PLAYER: Jae'sean Tate
NFL TEAM: Cowboys, Chargers, and Browns
NHL TEAM: Ducks and Blue Jackets
NBA TEAM: Lakers and Cavs
MLB TEAM: Angels and Indians
SOCCER TEAM: Columbus Crew, Akron, and OSU
Recent Activity
Good chance he goes to Dallas 12 picks from now.
McLaurin will be catching TDs from Haskins!!!
Love all the Buckeyes announcing these picks!
Typical M*ch*gan fake swag.
Typical M*ch*gan fake swag.
Silver lining is that Haskins will likely go to a team that's not a complete dumpster fire.
According to ESPN, you should be able to bend the ball like Beckham if you play with Mahomes.
My first thought was, why not 100 families for this upcoming year?
Dude is relentless and gritty on Defense. Just needs to apply that offensively as well.
Why is Kaleb in?? He's gonna pick up another. He can't help himself.
We couldn't buy a 3 last game. They're falling tonight, thank God!
Houston's recruiting rankings the past 3 years: 114, 67, 134. Impressive these guys play so well.
Dang, Houston is high energy. Every single player looks like they've been given an I.V. of espresso.
What's the point in dribbling at all if you're not going to call that? Might as well just let them run with it like a football now.
I've seen 5 steps taken in the NBA with no call. I'm convinced it's for the TV ratings/highlight reels.
Jallow playing hungry on offense! Love it!
A few of my favorite restaurants: Fleet Landing (downtown, great water views), Slightly North of Broad and Magnolias for southern cuisine, Circa 1886 (upscale restaurant that's great for a romantic date), Lewis Barbecue (Texas-style BBQ that rivals anything I've had in Texas - brisket is a must there if that's your thing,).
If the weather is good, there are several rooftop bars with good views of downtown/the water (I've personally been to The Rooftop at Vendue and Pavilion Bar, but there are a handful that I've yet to try). Most of the bars downtown have great cocktails and the local craft beer scene is great, so you're bound to find something to like.
If you're a history buff, there's tons to see: Forts Sumter and Moultrie, USS Yorktown, tours of plantations and historic homes, etc.
If you're looking for a little more adventure, renting a kayak at Shem Creek, renting a boat or taking a boat tour and seeing downtown from the water, or going to the beach is a great way to spend an afternoon.
I recently lived in S.A. for 5 years. The city has been begging for a pro franchise for years (primarily an MLS team, but also pro football). It does feel weird to live in a city of that size and only have the Spurs.
It's hard to take a professional league seriously with team names that sound like they belong in intramural flag football. All kidding aside, best of luck to our former Buckeyes!
Same here. Similar to fantasy football, sometimes it's nice to watch a game and be able to cheer for players on both sides.
Don't care, but would rather have Bama win since 80% of my co-workers are Clemson fans and I'll have to hear about it all year.
He's been fantastic this season. One bad game doesn't mean you give up on his career.
Ehlinger is bulldozing guys like Cardale in the 2015 Sugar Bowl.