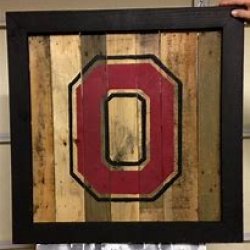 buckeyewalt
---
MEMBER SINCE February 06, 2014
Recent Activity
A payment to an SEC player, surely not!
Living just outside of Nashville, Vandy teams are always good in baseball. Flag will be flying proud!!
GO BUCKS
Another bullseye is not what we need especially recovering from last year and some of these sleezeball reporters.I understand that kids will be kids and this is a nothing burger, it just doesn't look good. With all the talk about "pay-for-play" , I would think that the NCAA would have some interest in this picture. I think Micky knows how to handle this and I'm sure that he will.
Starting to crumble a little.
He has a nice quick release but I'm no QB guru so what do I know....!
You can always tell by the amount of jobs that a person has had how valuable he is. Not to say that Billy D. isn't good but:
As coach:
Michigan State (1991)
Graduate assistant
Pittsburgh Steelers (1992–1994)
Defensive assistant
Carolina Panthers (1995–1998)
Outside linebackers coach
Cleveland Browns (1999)
Assistant linebackers coach
Green Bay Packers (2000)
Assistant defensive line coach
Atlanta Falcons (2001–2003)
Linebackers coach
New York Giants (2004)
Linebackers coach
San Francisco 49ers (2005–2006)
Defensive coordinator
Arizona Cardinals (2007–2008)
Linebackers coach
Arizona Cardinals (2009–2010)
Defensive coordinator
Cleveland Browns (2011–2012)
Linebackers coach
Philadelphia Eagles (2013–2015)
Defensive coordinator
Ohio State (2017–2018)
Linebackers coach
Arizona Cardinals (2019–present)
Linebackers coach
Unless Hurts goes down there.
Hurts and Locksley have a very good relationship I wouldn't be surprised.
Maryland is also an inside to get Hurts from Bama. He and Locksley had a good relationship there before he went to Maryland. If Stud does go to Maryland, Nester will probably go to GA. even if Stud decides to stay, Nester and GA. are getting close to each other. Don't know how much pull Stud has over Nester anymore however I'm sure that Day knows a lot more and he's not saying or hinting at anything.
I can see him going to Maryland following Locksley who was on the Bama staff with Hurts.

NO thank-you! After I scrolled through some of those pics
In the first quarter, Bama was running at will, then they decided to start passing instead of ramming it down their throat. Played right in Clemson's hand and their DB's. When they couldn't get it in from the one that was a sign, they missed on a fake FG, and Clemson knew that they had them. Bama panicked!!
We need to lighten up a little, just don't want it to end that all. I think he's doing a great job, keep him there!!
To go along with what JCam said, Grinch is a 3-4 guy and wanted to implement that defense this year. Day didn't think/like that defense here so it was a no-go. They wanted to keep Grinch but Grinch didn't think that he would have the control that he wanted.
Hartline also deserves some credit in having those receivers get open and route running.
I was always under impression that he wanted assurances that Stud was going to be the line coach. With that said, Day is sticking with Stud so there should be no "reason" to look around like it was mentioned. Day know what he need to do go get him in or get a good replacement.
I say welcome Matt House, Al Washington, Corey Raymond/Billy Busch (either or)!
Matt House is a solid choice even though he's from Xichigan. The same with Busch and Washington although I don't know if Washington will move just for the same responsibilities.
I think that this would be great for Doss, but he would have to work his way up like everyone else.
That said, Mike Tressel would be a good DC.
I also like very much Marcus Freeman and especially Matt House
Raymond would be a home run hire. LSU defensive backs play with an attitude.
Grinch or Schiano will be gone but there is somethings to look at;
Schiano is actively looking at getting back into the NFL/Temple job. He is also a very good recruiter which helps a lot especially in the eastern part of the US. Either way he won't be much longer for tOSU take or give a year or so. Plus his schemes were horrible at times and I don't think he likes being second fiddle to Day.
Grinch has had only 1 year here so it's kind of hard to tell his coaching style but we do know that the safeties have been burned a lot. He is not the greatest recruiter when he was at Washington St. and he is carrying that over to tOSU. His defensive schemes for the defensive backfield at times are questionable. He's an Ohio guy but wants total control of a defense and does not want any "CO" titles. In other words all or nothing.
Tough choice for Day, retain Schiano knowing that he won't be here but a year or at the most two, or go with an unknown who does not recruit well but is young and a Ohio guy.
I think that Grinch will leave, but I also think that Day might look at getting a new DC all together because of Schiano's performance and potential short time at tOSU.