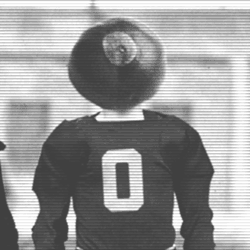 BuckeyeWags
---
MEMBER SINCE April 03, 2012
Recent Activity
Chugs, we are grateful you came. Thank you and God bless!
Yes. Lifetime ban. Prosecuted for assault with a deadly weapon.
Thank you Coach Meyer for the wonderful things you have done for The Ohio State University, our football program, our young athletes, and the state of Ohio. You raised the play of the whole Big Ten conference. The excellence you have brought and enhanced to the program have given me great pleasure and great pride. I wish you a long, healthy, happy, prosperous life. Our thanks and prayers go with you.
on the flip side. I hope Brett McMurphy, Paul Finebaum,and the Espn joke troll chorus, are justly recognized for the lies and poisonous vitriol that they spread and they are despised for what they have unjustly done to this good man. President Drake should also bow in utter shame for not having the courage and decency to stand up for Urban when it was completely proven that he was under false and slanderous attack. Drake is a simpering, coward who has hurt Urban, hurt Ohio State, and hurtBuckeye Nation. It is a crime that Drake will still be here when Urban, who did his job with honor, is gone. Hopefully, Drake will be terminated, and don't let the door hit you on the way out.
Maryland's 2 min offense is QB sneaks!
Thank God Pope has the benefit of our coaching staff...
This team is a collection of brainless, heartless, gutless, pussies. They are utterly uncoached by a staff of millionaire, coaches, that are mailing it in.....
Our uniforms are still nicer..
Thank God our athletes are so much better...
Gawd! This team may or may not be lacking heart. They absolutely Are the stupidest! Fuck it. They lack heart too...
Our team appears uncoached. Arnette may be uncoachable.
McMurphy is a complete joke as a "journalist. McMurphy is to journalism what Miss America is to world peace.
I will bet you that Feinbaum runs with this tripe as well.
Our pass rush is anemic..
Our offense with all that talent, all those stars...hapless.
Why does Haskins throw to recievers short of markers. Why do wr routes not expand to poles. I have seldom had less confidence in a Buckeye team or staff.
Did someone revive Jonathon Cooper!
Brendan White playing well.
My prayers to Urban and his family. My dad had this condition, a large one, which required surgery. He was in his 60s. The first operation was the shunt. That failed. A second operation was the compete removal. He had all the symptoms mentioned by the Cleveland Clinic, which performed one of the surgeries. OSU Medical did the second , complete removal. Both of the surgeries took their toll and diminished him. He was a OSU graduate and loved Buckeye football. Hopefully, medical technology has advanced since the 90s for this condition. It is serious stuff.
No. As long as his staff is a landing place for the coaching detritus buddy system that he has saddled Buckeye Nation with. We pay for, and deserve a coach and staff made up of the best talent available. Then, that staff should be managed and motivated and held to account. No more of Zach Smith, and who knows who else, noshowing at practice or not going on assigned recruiting trips. Are you fricking kidding me!
Urban has not won one game at Ohio State through out coaching a superior opponent. He can only out talent. Recruiting has been his saving grace. Recruiting IS Urban's coaching. Even that is starting to slip as prospects look at his lack of management and the now annual catastrophic collapses that keep his Uber talented teams from the playoffs. Do you really think we will get Zach Harrison from our own backyard. Nick Saban would have canned the lot of them, or, never hired them to begin with!
YYZ hit it on the head. Urban's penchant, at this stage in life, of failing to hire the best coaching talent is huge. He seems to want to surround himself with buddies and friends. Not only Is Urban short changing the program with his mediocre selections, he lacks the fire in his belly and will to win to hold them accountable. Can we say with assurance, given Urban's lack of management, that our coaches even show up for practice, or, go on their assigned recruiting trips? Zach Smith didn't over a period of years! As I look back, I cannot think of one game we won over Urban's tenure that we did not have a talent advantage. Urban has not demonstrated at OSU that he is able to actually out coach an opponent. He can only out talent. That is his strength, recruiting. Even that recruiting advantage is rapidly slipping away due to the harsh light of his staff selection and management failings. If you were a 5 star ready to commit, would you choose this shit show? Do you think we will get Zach Harrison now? On a schematic level, Urban and his disfunctional staff cannot seem to be able to produce even a semblance of a running game without a true dual threat zone read QB. Other teams do. And this at Ohio State, a program that has been synonymous with successful running for 100 years! Urban and staff just cannot make the changes to accommodate a QB like Haskins. He should have chosen Joe Burrow and still retained Haskins for a year. I saw it. I said it here. I got pilloried. By the way, what is the use of having a forum at all if real and conversations are discouraged or banned. It's ridiculous. Shame on Eleven Warriors for their censorship of valid criticism.
We would be better with Joe Burrow. This coaching staff with its $11 million dollar payroll, is incapable of implementing a running game without a credible dual threat zone read QB. Burrow can make %98 of the throws Haskins can, and everything else, he does better.. we might just be better with Tate Martell than "Red Zone Dwayne".