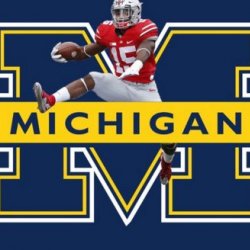 Buckeyevstheworld
---
from Columbus, OH
MEMBER SINCE December 22, 2011
I'd give my entire story, but you'd die from the sheer awesomeness of it. So i'll keep it basic:

Christian(need to work on being a better one)
January baby
Capricorn
I has dimples(on my face you pervs).
Don't drink or smoke

I'm pretty easy to get along with. I like to joke around most of the time, so try not to get insulted by things I say. The only people I have a problem with are those who are conceited, tauruses(they forget that Capricorns are the best), and Bronsexuals. I tend to avoid writing long comments on here since I mostly use my mobile device or gaming system to get online.

This came off like a Match.com profile.....

Join the anti-hanger gif movement. #Save11w
Favorites
SPORTS MOMENT: 2003 National Championship.

Troy Smith to Gonzo '05 M*chigan game.

Braxton to Devin '11 Wisconsin.
COLLEGE FOOTBALL PLAYER: Troy Smith/Pryor/Braxton/Eddie George/Ted Ginn
COLLEGE BASKETBALL PLAYER: Sullinger
NFL TEAM: Beng...:/
NHL TEAM: Pffft
NBA TEAM: Anyone playing LeBron
MLB TEAM: Yanke.......none. lol
Recent Activity
Even if he's innocent the NFL will find a way to suspend him. :/
Kill me now. :/
Don't you usually have to pay extra to pinch a Hooker? :|
Add Nick Wright, Shannon Sharpe, and Jason Whitlock to that list.
To be fair, Colin makes himself look like a fool without Mayfield being around.
:|
0-12 every year.
10 minutes? 30 seconds is enough.
Better question is how can you not love Jim Tressel?
9-1.
Nah. Zombie account.
Good. I was starting to doubt that Urban guy.
Don't know everything that's coming out this year. Black Panther Infinity War Deadpool 2
:/
:/
Georgia has one year where they don't choke and suddenly act like they win every year.
Tennessee fans by a mile. If it weren't for Michigan and Penn State fans, they'd easily be the worst in college football.
I guess this means Peyton Manning won't ever be hired if he wants a job.
:( RIP Terry.
Goodell must have had money on Bama.
This is the song that doesn't end...
Targeting. Roughing the passer. Celebration penalties.
What about on BRR?
Lack of stats vs a quality opponent. If he plays at this level the next two games, he'll be back in it.
Great guy, and great tweets. I'd say everyone should follow him. :|