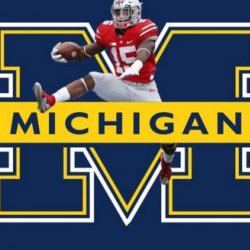 Buckeyevstheworld
---
from Columbus, OH
Member since 22 December 2011 | Blog
I'd give my entire story, but you'd die from the sheer awesomeness of it. So i'll keep it basic:

Christian(need to work on being a better one)
January baby
Capricorn
I has dimples(on my face you pervs).
Don't drink or smoke

I'm pretty easy to get along with. I like to joke around most of the time, so try not to get insulted by things I say. The only people I have a problem with are those who are conceited, tauruses(they forget that Capricorns are the best), and LeBron apologist. I tend to avoid writing long comments on here since I mostly use my mobile device or gaming system to get online.

This came off like a Match.com profile.....

Join the anti-hanger gif movement. #Save11w
Favorites
SPORTS MOMENT: 2003 National Championship.

Troy Smith to Gonzo '05 M*chigan game.

Braxton to Devin '11 Wisconsin.
COLLEGE FOOTBALL PLAYER: Troy Smith/Pryor/Braxton/Eddie George/Ted Ginn
COLLEGE BASKETBALL PLAYER: Sullinger
NFL TEAM: Beng...:/
NHL TEAM: Pffft
NBA TEAM: Lakers(been a fan since the day Shaq was traded)
MLB TEAM: Yanke.......none. lol
Recent Activity
"skip to graph three" Warning: Takes about twenty minutes to scroll past paragraph two.
"Now all that's left to do is put Tom Brady's face in the dirt." The would result in a 50 yard penalty and Raekwon being banned from the NFL. Stop trying to get Buckeyes banned, DJ. :/ I don't want Colin Cowherd's jinx near Ohio State.
They know that we're on to it.
Yesterday: "I am committed, so I am 100 percent," Chatfield told reporters gathered at the event. "You know, I made a choice. The coaches don't mind me visiting and seeing other schools." Life comes at you fast. XD
This rumor has been going around on Twitter for at least 2-3 months.
They used to do a full hour(might have been a half hour) on each camp. Not sure why they changed it.
Yep. People forget that as much as they forget that Herman is the founder of Mensa.
Meh. There's a glitch like this event year.
Bucksfan still has the crown.
Second greatest thread in 11w history.
Thought he was fired after the Va Tech game in 2014.
"it's still without a game-breaking athlete who was expected to play receiver, kick returner, and wildcat quarterback." That's only because Ryan Timmons is in the NFL now.
Never read too much into the things kids tweet, RT, or like on Twitter.
"Carter to the Browns, please and thanks." Why do you hate Duron, Dj?
Toledo, Rutgers and ????
1. Ohio State 2. Michigan 3. MSU 4. Penn State
Can Ohio State sign the '18 class before we even start to care about 2019? :/
It's a DM, not a text to your phone. XD
"I'd be shocked if any of these guys would remember the people they've blocked." I'm sure every Ohio State writer remembers why they blocked Shawn L Martin.
Love Jeremiah. He trolls Michigan and Cleveland Twitter.
Carter, Posey, and Sanzenbacher. What could have been. *sigh*
"Andrew Lind is a tool he tweets recruits asking them to follow him." You must not be on Twitter much. Just about every recruiting "expert" does this. XD
It's ok.
Won LBer of the year, and DPotY. The B1G voting is such a joke.
Pretty sure hiring Beck should be ahead of hiring Urban.