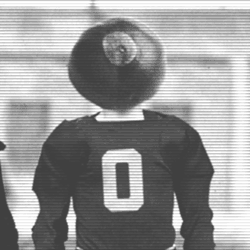 buckeyevet16
---
MEMBER SINCE November 20, 2014
Recent Activity
The video could easily be changed to OSU from USC. Just have to change a few graphics...
No problem! Just wish I could post it to end the "where's Darnay going" threads hahahaha
http://bleacherreport.com/articles/2684878-top-25-college-football-recruiting-classes-post-under-armour-all-america-game
I've gotten the video to pop up three times when visiting this article.
I took a video of the video... but can't figure out how to post it here
I just saw the same video of Holmes. The caption says "Darnay DO NOT SHOW". Clearly a mistake by the website.
Tattoo Cartel is the best in Columbus. Amazing works of art.
Great day to be a buckeye
Sucky day to be a terp
Great buckeye. Hate to see a career end like this.
Proud to be a current vet student!
**hands moving everywhere***
I completely agree with you. This game was HUGE for this season and for seasons to come!
One of the proudest days to be a buckeye!
What time in the video is cardale's speech?
I'm not convinced. I need more reassurance.
Beyond his football talent, Cardale has shown that being at OSU has molded him into a great person. From the infamous tweet to the decision to stay in school he has transformed into a role model for young kids. I'd be happy with him leading this team if he is able to win the job.
Barrett won't leave next year.
But Weber has orange shoes on... Is a Clemson flip inevitable??
I wouldn't mess with Bosa
I'm glad to hear Mr. Walker say, "I'm committed and going to stay loyal to them" in the video. At least this time next year we won't have to worry about a possible flip.
I completely agree. I am from Northern Kentucky (I claim Cincy as my home town) but I am currently a professional student at OSU. Everyone back home seems to see the buckeyes as a rival. I've heard all the things you've mentioned. I would love to see them come play in cincy to finally put to rest all that nonsense talk. I personally loved seeing what they did to the bearcats this season and also loved seeing the bearcats lose to VaTech in their bowl game.