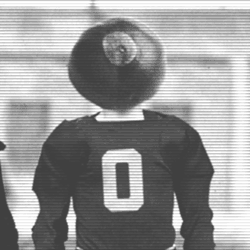 buckeyevb96
---
from Warrenville/Wheaton, IL
MEMBER SINCE June 11, 2012
Attended OSU from 1992-1996. Played Varsity Volleyball while getting my Physical Therapy Degree. Currently work in Out-Patient Rehab for the Wexner Medical Center.
Favorites
SPORTS MOMENT: Personally - beating our rival as a Freshman at OSU and playing in the Final Four in 1993
OSU - Beating Alabama in the Sugar Bowl
COLLEGE FOOTBALL PLAYER: James Laurinaitis, Orlando Pace
Recent Activity
That's a crazy video - what does the bear grab? his ear?
He is a composite top 100 player. I think Urban can work with that
One in the bag is worth two in the bush. Come on down
Getting spit on sucks but it does not validate a felony
The challenge of J Noah is that he has the attitude of an elitist yet I do not find him elite
Urbans track record speaks for itself. Best of luck to him. Look forward to still being awesome in 2016 and beyond
Tendonitis is due typically to two issues: 1) lack of flexibility which creates excessive strain on muscles and tendons in the end ranges and 2) muscle weakness which then causes more forces to have to be absorb by the tendon. The Graston technique is helpful at improving flexibility by breaking up scar tissue and improving the muscle/tendon relationship. There still would be a need to improve strength which can be done in various ways.
In Honor of one of my favorite movies and and the force EE provides - Maximus
I can still see the Springs slip and it makes me sad
What is the ideal number of qb's to have on the roster? Since we took 2 this year, it seems to take the edge off a big time "need"
I really like JT for many reasons - But his sitting in the stands with a broken ankle speaks volumes about the teammate he is
duplicate due to impatience
Just listened to it - they did give some good props to Urban, King and Zeke
Key question I would love to know the answer to - what is the biggest lead a Saban team has lost and ended up losing the game? Seems like a Saban team losing after being up 21-6 with momentum is somewhat unheard of
The Master of Motivation will say something like this "19 point favorites - they are telling you that you suck! Are you gonna take that?"
Buyers remorse is a real thing, especially when it involves a free education, free training tables, free academic help
If it helps the boys stay motivated - I like it, otherwise I hate it
Awesome - words cannot describe
The record could be in reach - The Hurricanes hold the record for most players selected in the first round in a single draft (6, in 2004) - http://en.wikipedia.org/wiki/List_of_Miami_Hurricanes_in_the_NFL