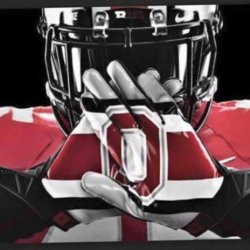 Buckeye_Tuck
---
Ohio (via Wapakoneta)
MEMBER SINCE August 04, 2015
Favorites
NFL TEAM: Bengals
NHL TEAM: Blackhawks
MLB TEAM: Reds
Recent Activity
The future is bright! Go buckeyes!!
Best of luck to Brendon. Quality kid
And not a single hand in the air. Buncha babies! So much for being rough tough football players...lol. Go Bucks!
That's good stuff right there!
Maybe he really wants to stay here for several more years but is posturing for a bigger contract.... A longer contract. He certainly deserves it after all he's been through this year, and president Drake and the trustees need to pony up and keep this guy around for as long as he desires.
Go Buckeyes!!!
Buncha whiny assed bitches. Go Bucks!
I think we need a new "rivalry". This is getting old... :0)
Assuming we don't step on our dicks from here on out....I'm feeling pretty confident about our chances.
officiating Seems somewhat slanted against Ohio State
Killing ourselves on offense with penalties
Playing field position game
Seeing some different jersey numbers out there on D. I like it!
I agree...one game at a time.
Just saying what most people are thinking. Especially those that watched "that defense" absolutely destroy PSU today.
An infusion of fresh hungry players may do the trick, imo. White, Togai, Garrett, etc... seemed to infuse some life into the defense directly, which indirectly helped the offense and even made the fans become more lively. (Which helped the team as a whole). Also, as much as I don't think Tate is the answer to what ails us, maybe it's time to give him a few snaps in the wildcat or in the backfield with Haskins...or as H back. We seem extremely blah and stale.
The young guys may just be the answer....even if it's just in limited roles. Can't hurt
Two areas that need to improve dramatically and quickly or we're gonna get embarrassed in 3 weeks at home- the O-line and the back 7 of our defense. Most importantly the O-line. TTUN's defense is no joke!
We may actually win this game but I'm not all that encouraged honestly... Lots and lots of work to do still!
There's that Werner dude again!
We have some cute cheerleaders!
We have some cute cheerleaders!
Did anyone ever hear why Pryor isn't playing today?
I think awe found our other starting safety. White has manned up!