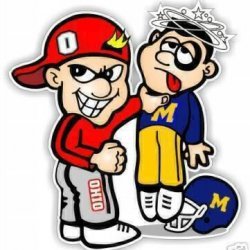 BuckeyeTrappedInSouth
---
MEMBER SINCE April 30, 2012
Favorites
COLLEGE FOOTBALL PLAYER: AJ Hawk
COLLEGE BASKETBALL PLAYER: Aaron Craft
NFL TEAM: Browns or Packers
NBA TEAM: Cavaliers
MLB TEAM: Indians
Recent Activity
oops my bad - didn't see the first two names
I notice fleming is absent from their list. Anyone else?
This article was in the skull session this morning.
Forgive me for not doing the math, but what were Wilson's totals this year in receptions and yards? I ask so I can compare to the list of others mentioned in the article.
He is or was probably having his appendix removed. So no it is not a joke, but yes it is. His appendix will be gone forever, but his career should be fine.
I saw some of the names mentioned in comments on one of the links, but I do not know the names. Are they starters? Is this a significant loss?
B - C - G - F - D (Sorry I do not have the time to do more than a top 5, but I do find this interesting).
JP - it seems as if KJ Hill at times has disappeared from games and when he is in, it seems he is making a lot of drops. Is he really not playing as well this year, or is it more to do with not having the prolific passing of Haskins this year? I do not mean this as a knock on Fields, but our offense is so different with Fields than it was with Haskins.
Dude, Michigan will be down by 21 before halftime and well on their way to another embarrassing loss.
1. Strength - Cardale Jones
2. Accuracy - Dwayne Haskins
3. Pocket/Vision - J.T. Barrett
4. Athleticism - Braxton Miller
5. Frame- Terrell Pryor
6. Intangibles - Craig Krenzel (dude was a winner)
7. Touch (my addition) - Dwayne Haskins (he could do the short passes that Cardale never could, this is more than just being accurate but knowing when to hold back that strength)
Triv, thanks for making me relook. The over three limit is limited to 3 over 85, not 25. So Mich, could sign 30. The NCAA limits the early enrollee numbers that can count to the previous year to 5.
You are partially correct. However, at least it is with the Big 10, you can only ever go over 25 by 3. So 28 is the most ever, and that is if 3 early enrolled and counted towards the previous year.
Basically, there is a deadline of when you have to have your numbers at 85. So, we bring in a class of 25, and say that puts us over the 85. By the cutoff date, that number has to be done to 85. This is accomplished through graduation, transfer, medical hardship, and so on. It was why the early enrollee numbers are kept at a lower amount, to not negatively effect recruiting from previous cycle.
From my understanding it is still the case. What happens is, if you sign 22 this year, you have until sometime in August (I think) to sign up to 3 more. So it is a soft 25, not a hard and B1G is hard 25, with up to 3 additional to account for transfer, medical hardship, etc. There is still the 85 scholarship limit. If we sign 25 to this years numbers, we cannot sign extra next year.
Basically, as long as you keep the numbers for each year at 25, you can sign more. If there is something else I am missing, like what Andrew said, would you mind linking it?
I believe it has everything to do with the timing of when the player is at Ohio State. For instance, if you sign 28 but 3 early enroll, then they are considered part of the previous year. It is still very complicated but I know they can play around with the numbers and when they are officially counted.
Wow! Makes me that much happier to have seen the Buckeyes beat them in the natty.
If we have 5 first rounders on our roster next year, then we best win the National Championship. Also, has 5 first rounders for a team ever happened in one year?
For some odd reason, he just feels like a Michigan defensive lineman. I mean, he sorta reminds me of Winovich. He may choose us, and I am sure he is good, but he just seems to be one of those guys that will be at Michigan and annoy us.
This 2002 game against Texas Tech was my first game ever to watch. I was home alone and bored one Saturday in high school and decided I would watch the game. Nobody in our family watched college football, ever. I still remember the announcers talking about this true freshman running back for Ohio State during pre-game. Been hooked ever since (picked a great season to stumble onto college football and Ohio State football).
Please do not castrate me for asking this question, especially since I am very high on Wilson. My question is, how does Wilson compare to Donavan Peoples Jones coming out of high school? DPJ was heavily hyped but has not been the world changer he was proclaimed to be. Does Wilson play similar style, is he higher rated or lower? Just curious how he compares. I want to be super excited, but I also do not want to be disappointed because I made him out to be far greater than anyone we have seen before.
Urban Meyer: Knock Knock
Jim Harbaugh: Who's there?
Urban Meyer: Owen
Jim Harbaugh: Owen who?
Urban Meyer: Owen 4!
LOL
TCU starting QB throws two interceptions, one of which is a pick six.