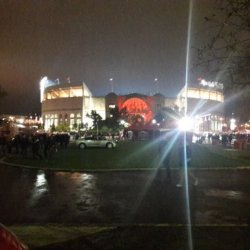 buckeyetjn80
---
Ohio (via South Euclid)
MEMBER SINCE November 05, 2017
Favorites
COLLEGE FOOTBALL PLAYER: Archie Heisman II
NFL TEAM: The Clowns
MLB TEAM: Tribe
Recent Activity
Nobody would have stopped Dwayne7...he would've won the whole dam thing..IMO :)
Please come back next year..Please come back next year...Please come back next year
3rd?????...lost to the little dude???..Haskins needed to carry the trophy out for him...wtf
And when he wins they'll say he's using Meyers boys..lol
Tressel woulda been nice
Agree..not to mention the other sports that have gone through the roof since his hire..yeah Gene has done nothing lol
Lol..you forgot my favorite "we'll make darn sure that doesn't happen again"
My conspiracy is he's saving Tatar for when Haskins gets 'hurt' against scUM!
Definitely not interested in Bethany whoever vs Nebraska
Yeah no difference at all between Columbus and Tuscaloosa..in fact I don't even consider Bama to be in the south..I usually say they're 'somewhat north'. :)
Dabo didn't decide to boot the guy..Bryant is being a whiney little girl. He got beat out by a better QB...calling it a slap in the face is a joke. It's what every sport does..play your best players to give yourself the best shot. He knew he was competing for the starting job and he lost. Deal with it like a big boy and move on. Freakin crybaby players smh.
Agree..if Haskins has a big game this weekend and tua stumbles against his tougher competition then he has a shot. I actually could care less though..this award is just a QB award basically with a history of media bias..it might be better for Haskins to lose this one.
Dustin Fox?..the guy that joined the media witch hunt against Meyer & Ohio State? Backstabbing sellout SOB..hes no Buckeye to me.
He looked mad cause the ball actually hit his hands and he almost hauled it in..doubt that was directed at Haskins for the underthrow
Agree 100%
Basketball cards? That's new to me.
(Price is Right strategy)
68-0
Yeah but how else are you supposed to attract those 3 star recruits?
No doubt about that..I remember when Ted ginn Sr said he couldn't get any college coaches to return his calls even ..cause he was coaching an inner city public school that had no history of success. One coach did..Tressel. He went and sat down in Ginns office and took him seriously. Left with Troy Smith and Ginns son (u may have heard of him) and the rest is history..Glenville became a buckeye factory and a scholarship factory basically. What tressel did was put them on the map as far as getting kids schollies at other schools. All the inner city public schools were now being looked at. Around 19 kids a year from Glenville alone, started getting schollies after Tressel started recruited them. Awesome story.
I was saying that back when it happened..Cooper didn't understand how important it was for him to shut the Ohio door in scUMs face. Tressel obviously knew that's what was keeping that program relevant and he closed it overnight. And put scUM asleep..And today it's like they're in a coma. They have a micro recruiting pool compared to Ohio and rely on out of state talent ...Ohio carried them for decades..you take that away like Tress did and that program became a shell of what it once was. The only way to counter that is with a GREAT coach and GREAT development..aka Dantonio. scUM still doesn't see it like that and is in denial of what they've become. So sad. NOT! :)
Please..everyone knows Nebraska was the real and only champion in 97
Yeah why did they have the arrow pointing him out every play?..he was the man playing pee wee ball!
Yup..2 HUGE championship plays that led to titles..Evan's block to free up Zeke was something else