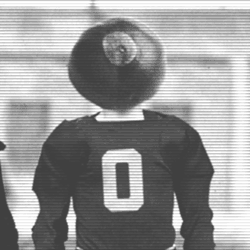 buckeyestu
---
MEMBER SINCE June 27, 2012
Recent Activity
2 commits for the weekend. About what i figured.
BOOOOOOOOOX
BOOX
Maybe take some dance classes to improve his foot work.
boom.
My fine lady makes a great pizza. She is an italian lady. I rarely eat pizza and when i do it is made by her.
I guess i am one of the few not worried or stressing over the defense recruiting.
Maybe open one in whore ann arbor.
Athlon magazine has the Buckeyes ranked number 5. Nice.
Go Student Princes. My hometown college.
Lol
This is a great way to count down to the start of the season. Thanks for your efforts Matt.
Matt; i think the school still goes by Tiffin Columbian. I havent lived in Tiffin since 1994. In fact until you posted this today, i did not know that my old school was in a different league. They use to be in the Northern Ohio League (NOL).
Any one caught using a cell phone, laptop, or other electronic devices while driving should have their driving privileges revoked for 5 years minimum.
Bob Hunt played college ball for Heidelberg and had a brief stint with the Cleveland Browns. Chuck Heater played for the team up north and had a brief NFL career.
I graduated from "Tiffin" Columbian. I do not know of this Columbian you wrote about. 1970 grad here. Chuck Heater and Bob Hunt were the two best players of my time at Tiffin Columbian.
Crow tastes good huh?
It wasnt his ankle last fall.
Have no idea how to post videos and pics and stuff, however i like Radar Love, Twilight Zone, LA Woman, some Tom Petty and Allman Brothers, Green Grass and High Tides, Bob Seger, and many others
So Cleveland settled for this clown. Wtf is wrong with Gilbert?
Does anyone know who commits next, and about when?
This decision is not a black eye for the sport. This was the right call, and if this decision was not made, then perhaps the sport suffers a black eye.
Okay.
My day off and i am just not doing anything useful, drinking some eye opener and just now taking a glance at 11w and a BOOM greets me. Now i am awake. Now my day is off to a nice start. BOOM!
RIP Hondo!