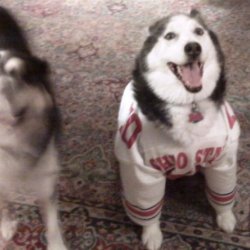 BuckeyeStevo
---
Columbus (via Columbus)
MEMBER SINCE November 15, 2013
Favorites
SPORTS MOMENT: Winning against Miami. Need I say more?
NFL TEAM: Cleveland Browns
NHL TEAM: Do not watch
NBA TEAM: Cavaliers
MLB TEAM: Indians
SOCCER TEAM: Do not watch
Recent Activity
The BaaraOkudah strikes again!
The BarraOkudah killing it!
56-0 Buckeyes. Then the 2nd quarter starts.
The "U" people are idiots. I worked for large company downtown in Cbus when the "U" came here about what 8-9 years ago. I worked many long hours and weekends and shared building with a walkway to the Crown Plaza downtown. I went to work afterhours before the game and these crazy ass "U" fans were running up to me with the stupid U hand game crap. I worked in a business building with large signs that pointed to hotel walkway to the right. Well, I of course have work badge that takes me to the floor I need to go to when I scan in when I got onto elevator or stairs. These dumbass "U" fans were screaming at me when I would simply get on elevator and they would scream and yell at me because those idiot "U" fans thought that since they tried to get into hotel and it wasn't I was total loser. The "U" fans calling me dumbass, Ftard, Ahole, and laughing at me where the same people who failed to see the arrows to the hotel. They were standing around elevator yelling at people who worked in the building as they got on elevator, scanned card, and guess what? Door closed, we went to our offices. While hearing screaming and having them shove the stupid "U" hand crap in our faces. U fans almost as worse as Penn State fans.
I hope Tyvis gets a good gig in the NFL. If not, he has clear opportunity to be on local sports as reporter or even on the radio. Always a home for him in CBus. If the NFL thing don't work out, Tyvis would be huge hit on TV or radio here in CBus by far.
Ever since he committed, I thought he was a 5 star! But was like a 89 4 star. I see he is moving up in rank but man he put on a show along with Gee Jr. Both should be 5 star guys period.
I have huge feeling that when the NFL players hold out, it will be longer than a year. Mike deserves to get paid!!! Incredible dude.
Birm has his pulse on the kids and watches what he puts out there on social media to protect the kids. I remember the Jayln Holmes fiasco and weird Bill K did by spoiled Jaylns moment. I kind of figured the assistant coaches were involved with Birm but listening to Zach affirmed it. Birm good guy, good intel, the kids really respect him.
As a long time Browns fan, I agree with this 100%. I still do not like today and turn tv channel if he comes on.
He going to light it up as a UFA, but I really thought he would have been drafted.
Would really enjoy seeing the Saints pick Parris. The Buckeye Saints I will enjoy watching even more.
Um getting a degree on with TOSU not to be dick. Big stage, all THEE OSU has to offer to the student athletes. Access to many other opportunities available. That, not to be dick, is a path. Not to be dick, but how are charges against him a better path? Not to be a dick, please explain.
Damn shame. Thought he would do better being a father of 5 kids when he ran out of eligibility.
Dwayne will be a long time starting QB in the NFL soon. I hope he lights up for passing 7 TD's in the Rose Bowl and runs for another 2.
I've never heard of him either
No you do not settle when some BS reporter attacks you MSM. I am not ZS fan at all. Just saying if I was attacked all over MSM, I.E. ESPN, Twitter, Facebook, and expected to back down hell no. Kids lives already ruined by that. If backed into a corner, I will fight. If you look at timeline of events, ZS was attacked, and he then fought back. If facts showed he was wrong I would agree. Facts and case outcome shows he was attacked without merit by Brett. If anyone gets sued and wins it's ZS. Can't just believe accuser without facts. Brett is BS MSM reporter looking for clicks.
If I was falsely accused of something I would be pissed as hell and want to state facts. In today's mentality if you stand up for yourself, you are wrong and told to be silent. If silent, they will say you are guilty for not being upset. If I was falsely accused, I would fight back and want to face the person accusing me of it. It's not former assistant coach issue, it's a personal issue. You come at me with false info. I will throw facts and show facts. If you do not like it and feel offended well facts don't care if you feel offended.
Horrible shit right there.
Trampled Under Foot- Led Zeppelin
Doctor said I needed some more Vitamin "B"OOOOOOMMMMMMMs!!!!!!!
I am ready for the Buckeye Mansaw Massacre in Texas this Saturday.
Hoping for a few BOOOOMS after Urban gets back to coaching this team! #soon
What a new low in reporting but at same time it reminded me I need to order a new cock ring.
Upvote LOL!!! I said same thing when I had my single ring when the double ring came out. I was like WTF? LOL
I only watch ESPCNNN for games, not any shows. If OSU game on ESPN I mute and listen to Paul Keels on radio to hear the games.