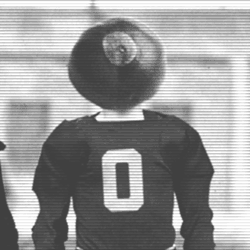 Buckeyes_Terrapins
---
Funkstown, MD (via Rockville, MD)
Member since 31 May 2012 | Blog
Maryland born and raised, went to Ohio Wesleyan, caught Buckeyes fever, never've looked back.

Let's just say the first time I sat in the student section at the 'Shoe I was hooked.
Favorites
COLLEGE FOOTBALL PLAYER: Ryan Shazier
COLLEGE BASKETBALL PLAYER: Aaron Craft
NFL TEAM: Baltimore Ravens
NHL TEAM: Washington Capitals
MLB TEAM: Washington Nationals
Recent Activity
Glad to be able to share :) Love the Mr. Boh!
The flag of Maryland, based on the matriarchal and patriarchal heraldry of George Calvert, First Baron Baltimore, predates the Civil War by over 250 years. We can't help that some assholes co-opted it for their douchebaggery.
Scuto bonæ voluntatis tuæ coronasti nos.
Re-read the title of the article.
Today my boy became a man. So proud.
Yeah, the defender falling backward a charge does not make.
Go easy on LSJr and Amir…this is not the NBA, Buckeyes aren't a rent-a-team like Kentucky—in the end, these are college students. Fellow Ohio State students, so show a little respect and support, guys.
Tommy C. isnt going to shake Thad's hand, I bet.
LOL, seeing Tom C.'s tears is going to be so sweet.
Swiping with no contact does t make a foul.
Craft literally did not touch him…no physical contact whatsoever. Crean really does a good job as an acting coach.
LOL Dan Dakich thinks its a good call!
Valentine is really awful in all respects.
Man those Hoosiers must be really delicate.
True, but does past failure mean you give up and never try again?
A lot of vitriol here for the basketball Buckeyes. I absolutely understand being critical, frustrated, exasperated, but why the hate? LSjr belongs on a D3 team? Aaron Craft shouldn't start? Those simply are untrue statements. You don't have to view the life through scarlet-colored glasses to realize its not the end of the world, or even the end of the basketball world. The B1G is a brutal, ass kicking conference and we've had a few more ups than downs, and a few big downs, but keep the faith. In Matta I trust. And Craft.
Losing DT will be a kick in the balls, but there is a significant chance that Ross, Thompson, Williams, Craft's offense, LSjr will develop in the offseason and surprise some haters. Also, losing DT is not guaranteed.
About 8th paragraph there's an "Oho State" typo. Normally I wouldn't say anything but it's important that the great state of Ohio be properly represented in all its incarnations.
OHa. We need a consistent first scoring option. 16 points? That's not close to good enough to be considered a good performance by someone so highly regarded as Tank.
Football fans generally don't make good basketball fans. All y'all hating on Coach Matta, just...stop it. Come March things will be different.
We look like a bad JV team tonight. Really painful. Kansas has played pretty well but we've just been atrociously bad.
Young took about 7 steps on that one and no call but okay
Shooting 28.3% right now. Disgusting
He hooked his arm like he was walking a date down the street.
Just no consistent scoring ability. Really poor shooting overall, and the decent looks aren't falling. Tank has simply stunk so far. Not feeling good about the rest of this season.