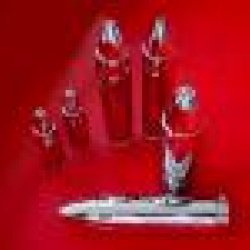 BuckeyeSki
Albany NY
MEMBER SINCE August 30, 2010
Favorites
SPORTS MOMENT: 06 TTUN game
COLLEGE FOOTBALL PLAYER: Chris Spielman
NFL TEAM: Giants/Lions
NHL TEAM: Slappitypuck?
NBA TEAM: Squeaky shoes irritate me
MLB TEAM: Yankees
SOCCER TEAM: Lulz
Recent Activity
She was fast company before her marriage, back when she was Eileen Ulich
<Insert Wisconsin RB here>
I'm always worried about their stud RB, of which they seemingly have a never-ending supply, and thankfully the Silver Bullets are always up to the task of making them look like 3rd string DIII backs instead of the Heisman Trophy candidate they really are
It's alright 'cause I'm saved by the bell
This is also the second highlight video I've seen of Chase Young balling out at a position he doesn't play after he posted a 30-second clip of him dominating some tight end drills as well. I can't wait till he proves he's better at my job, as well.
Well, Chase would never use a Coldplay song as the song of the day, or for anything whatsoever, so he's already got a leg up on you Kevin
That tat wouldn't take that long, it would be over in a Blitzkrieg
Both great bands. If you haven't already, check out a new(ish) band called Saving Vice. New album "Hello There" is really good
Lordey, Lordey, everyone hates Pat Forde
Regarding the song of the day, I'm just gonna leave this right here:
Bill Walton can't tell if he's in the booth or on 3 hits of paper at Joshua Tree
This is how you end up putting the lotion on the skin
Whatever you do, don't play "Where's Harbaugh" it's a fruitless endeavor
I'll call your DS3 and raise you Bloodborne
Chrono Trigger and Final Fantasy 10 stand out immediately
The only book I read is the playbook! An hour in the weight room is greater than a lifetime in the classroom!
City budgets probably need an increase in revenue so the cops are out in force making sure they meet the new quota. Speeding tickets are big money makers for a city/township
Mixed Berry Skittles or Airhead bites (purchased at the gas station on the way to movie and smuggled in)
Ooooooooooof