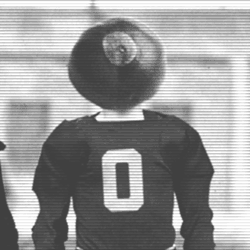 buckeyesfan5581
---
MEMBER SINCE October 16, 2014
Recent Activity
Hey Josh! Love the idea for this segment.
It appears that the preseason questions about the defense, QB and O-line have been seemingly answered in the first 3 games. Do you see the biggest remaining obstacle to a successful season for the Buckeyes being how they handle the success they have had i.e. fighting against complacency? Or is it still too early in the season to worry about that?
Thank you, next.
345
280
Nice troll job lol
"JT won everything." Barrett is a legend, love that dude
Technology is hard
.
Really cool story. Proud to be a buckeye
I understand your frustration WorthyBuck over the WR unit but I think some of this criticism is unwarranted. Guys like Hill and Campbell have shown flashes of greatness even though consistency is their biggest flaw. Other guys like McClaurin do a lot of the underappreciated dirty work like down field blocking to bust open big runs. Personally, Im excited for this unit to return
532
This is the content that sets Eleven Warriors apart. Great article!
Sam Hubbard's experience in 2015 will serve him very, very well this season. He's still coming in well under the radar of most people, which is kind of hilarious but also pretty kickass if you enjoy quarterbacks getting dropped into the very pits of hell by a merciless demon-beast looking to take the mantle of Shruggenstein from his venerated predecessor.
This deserves a Pulitzer.
If I remove my Buckeye tinted glasses for a more neutral perspective I think #11 in the polls would be fair. I'm not sure we have "proved" enough to be top ten in the preseason polls, not that any team has really proved anything without playing a game. But every other team has more returning starters and therefore know more about what kind of team they are putting out on the field. #11 would still be a good enough position to make the final four if we were to take care of our business this season.
You're right I didn't. And I was so close too
Does anyone else find it ironic that this guy is wearing a black Ohio State shirt in his picture while writing a post about not wearing a black shirt to our black-out game?
And saying "well if you don't count those three big runs we held Zeke in check" is such a lame excuse
After a day to digest I realize we are 5-0 and actually in a pretty good spot
The first four were just a warm-up, the real fun starts now. Go Bucks! Let's take the B1G!
I don't know actually. Zeke's thing is tomorrow though so that's a must see
This team seems so focused right now...its amazing