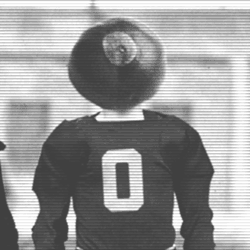 BuckeyesAlumSon
---
MEMBER SINCE October 29, 2018
Favorites
COLLEGE FOOTBALL PLAYER: Ted Ginn Jr.
COLLEGE BASKETBALL PLAYER: Mike Conley Jr.
NFL TEAM: Carolina Panthers
NHL TEAM: Carolina Hurricanes
NBA TEAM: Cleveland Cavaliers
MLB TEAM: The Tribe
Recent Activity
Sick of watching them. Can tell you that.
Fields getting hurt against Penn State was the killer. Would have torched Clemson with a healthy Fields.
Georgia?! Again?! SI guy needs fired.
Obviously not every recruit is concerned about winning in college. No top recruit would go to ND if that was the case. Just a stepping stone to the league.
Can never watch any game when I despise both teams. Hate LSU a tiny bit less. Go Neither.
Love Buckeye Football. College Football, not so much.
Watching on Gamecast is even impossible. Can't win if you miss every shot. This game has nothing to do with the refs. Make shots you win. That's basketball.
Keep gearing up to watch a basketball game. I need to stop.
One side of the field will be locked down. Thank you Wade! The next top 10 DB from Columbus. BIA.
Thank you for the effort Kaleb. Rest of your team owes you an apology.
Thank you for the effort Kaleb. Rest of your team owes you an apology.
Was ready to watch basketball after the football heartbreak. Now I'm ready for football again. Gonna be a long wait.
Offense still has plenty of room to grow. Defense on the other hand is downright nasty. This team's peak is extremely high and we definitely haven't seen it yet.
Agreed. Hoping that Cliff and Kayla Murray is the biggest failed experiment in NFL history. Should have taken Dwayne and hired a real coach.
49-10. This team isplaying down to no one. Go Bucks!
All great things come to an end I guess. Players not on a salary is the reason NCAA football buries the NFL Players who actually care about something other than their paycheck. NCAAF has had a great run. Go Bucks!!!
That pop on the RB was all I needed to see. Urban always claimed he was the man, just had a POS position coach. Go Pete! NFL bound.
No problem with the Black Out idea. Just win. Beat Sparty. Badly.
Best defensive player I've seen on any team for a long while. Got a real "better than Clowney in college" thing going on. Dude is the predator.
Chase is definitely going going to break the single season sack record. Wait until he actually plays an entire game. Dude is unstoppable. And shoutout to Olave. Never seen a better under the radar recruit.
Let the man finish his career as the starter. Gave that scrub franchise 2 SB wins. They will be even more terrible playing the new guy. Not much hope for the Giants in the foreseeable future no matter how good Jones might turn out to be.
Who cares if you don't like him. No off the field issues, graduated, and playing great thus far. Go Arnette! Go Bucks!
Who wouldn't be upset by the orchestrated Patriots and AB deal?
Best route running recieving core in the country I think, minus the blazing speed from last year. Fair tradeoff.
When you do dumb shit over and over and over again. Yes he is worse than Davis and Leonard. Good look Patriots.