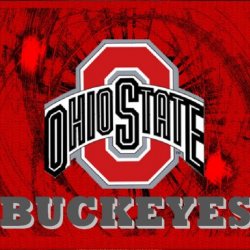 BuckeyesALLDAY1
---
Member since 18 April 2014 | Blog
Recent Activity
My point is he will be successful in the NFL..Tavon Austin a tweener so is tyreke hill, Randall Cobb, Ty Montgomery too, James white also, stefon diggs, Tyler Lockett they are all pretty successful to me that's my point.
He was a tweener at OSU because that's wat an H back is in urban Meyer offense buddy..
I know a lot of guys are excited about McCall but he's a relatively smaller than Dontre Wilson..I don't see him being a full time player remember he has to block, run, and catch passes.Its a lot harder to do that when teams have you on the scouting report rather than being a backup running back in mop up duty.I believe Parris Campbell will emerge as the H back.
Most people are upset and all you guys do is watch the game on tv..I respect Noah decision because all osu does is rotate 8 receivers and run the ball 40-50 times a game..JT isn't going to raise his draft stock no disrespect.Look at Mike Thomas now he should've easily went top 15 in last year draft. I believe his decision was based upon JT returning honestly.
Ok and the point I'm making is teams don't respect JT as a passer that's why we can't run the ball anymore. If you were a defensive coordinator how would u gameplan to play against Ohio st this past year? STOP THE RUN AND KEEP JT IN TBE POCKET SO HE CAN THROW.
I believe we've seen JT ceiling you can't hold back all these 4-5 star recruits.It should be a open competition..Haskins have a cannon for a arm we don't need a QB who runs 20+ times a game that isn't successful no more defense adjust after a couple years. No reason JT should have more rushes then Samuel NO FREAKING WAY..We got dudes on our team, you can give Dontre carries Parris Campbell is dangerous running the ball he's a natural RB/H they're wasting his years of eligibility at WR. McCall could've got carries. JT should only run when the plays are broken down and learn to throw the ball away stop taken so much negative plays.
Honestly I wouldn't come back if JT the signal Caller..He's not going to improve his draft stock he can't throw the deep ball and he gets more carries than Samuel.
Everyone is bashing Campbell and Mclaurin What real opportunities they had.Prettt sure they're obviously more productive then these young guys who have no chance to make a play..Nobody can make a play wit the offensive line getting manhandled every down..JT was terrible this year throwing this team will not go no where if he's the starter and the WRs that can enter the draft will all leave guaranteed.
Insider ED Warriner is gone also they both were fired but Urban Meyer didn't want to make it public.
IF Barrett plays good we will shred Clemson Defense.Curtis will have close to 200yds
Man I feel Gareon Conley get overlooked so much because he just lock receivers down..Not too many DBz in the country can play outside then move to nickel..
How JT Barrett not on the list of players who need to step up
Clemson won't be able to stop our offense at all..Our Defense will be the difference and the reason we get the Win.
Samuel is gone why come to be underutilized again and watch the QB and RB get all the carries when your clearly the best offensive player by far on offense.Especially if JT comes back
Our receivers were open a lot ..JT missed on about 8-10 throws..He make that easy throw to Samuel on that slant he's gone..Had two receivers open down field and overthrew them by 5yards, it's jus so frustrating seeing a veteran player like JT make so much bad throws..
Peppers isn't as good as advertised there's a reason they're talking about putting jourdan Lewis on Samuel..He can't cover that's why he plays outside LB the mistakes in coverage aren't as severe as playing safety..HYPE TRAIN
After Samuel embarrass peppers this Saturday the Heisman Hype will really begin.
He muffed 1 punt in the snow with 20mph wind RELAX please.WHAT THE HELL MCCALL GOING to do at PR in a big game and he never played in a meaningful game.Its easy to field a punt up 60. No disrespect to McCall in no way but please be realistic here who you'll put your money on Samuel or McCall.Lol but JT get every excuse for the weather when he's missing 5yard passes.We a team and will beat TTUN, GO BUCKS !!!!!
Last post..STOP GIVING JT EXCUSES..Every team we play against plays in the same weather..Its ridiculous Urban need to coach JT hard and stop pretending everything is good when it's not..The receivers took the blame for this dude all year but I'll say it's 70% JT 30% the receivers..Can't run straight at bama wit them horrible read options or even TTUN..
Game shouldn't have been close at all.
JT only plays good against sorry teams.Dude can't even complete a screen smh..Offense is way too conservative it's ridiculous...C4 8touches..
Can #4 get the ball plz THX
Save to say JT has regressed every year
Barrett was so much better 2yrs ago